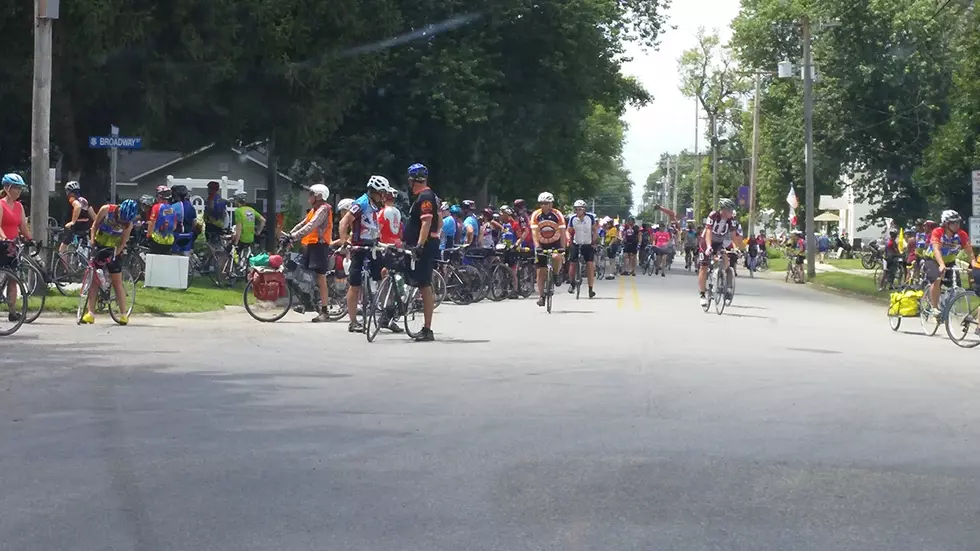 Waterloo, Evansdale RAGBRAI Road Closures Announced
Photo By: Elwin Huffman - Townsquare Media
When a city decides to host a concert or other special events, local residents sometimes have to deal with inconveniences that are associated with the act.
No matter what the city's population is, major events tend to have a large impact on the community. They drive the economy, create culture and develop the town's reputation -- hopefully in a positive way.
When the Register's Annual Great Bicycle Ride Across Iowa rolls through the Cedar Valley Wednesday and Thursday, motorists in Waterloo and Evansdale will likely have to deal with several inconveniences. In an effort to keep RAGBRAI participants safe during their visit, road closures along the designated route will be common both days. Drivers may need to take an alternate route to get to and from work, or allow some extra time to reach another destination.
Waterloo RAGBRAI event organizers expect riders to arrive Wednesday between 10 AM and 6 PM. Coming from Janesville, they will be entering the city from the north on Wagner Road (County Road V-25), W. Big Rock Road and Burton Ave. All three roads will be closed during the eight-hour time frame.
According to information released by local RAGBRAI officials, Burton Ave. between W. Airline Highway and Parker Road will be open to limited traffic between 10 AM and 6 PM. The northbound lane will be open to vehicles, while the southbound lane will be open for bicyclists.
The following roads in Waterloo will be closed Wednesday between 10 AM and midnight, with cross-traffic allowed at lighted intersections:
Conger St.: Both lanes between Burton Ave. and River Road
River Road: Both lanes
Commercial St.: Both lanes between River Road and W. Mullen Ave.
A large section of downtown Waterloo will also be closed to vehicle traffic Wednesday from 6 AM to midnight. The area is bordered by W. 1st St. (U.S. Highway 63 northbound), W. 4th St., Washington St and Cedar River St. Park Ave. between Sycamore St. and Cedar St. will be closed Tuesday, starting at 1 PM.
While in Waterloo, RAGBRAI participants will be camping overnight at Cedar River Exchange Park near Riverfront Stadium (main site), San Souci Island Park, Water Works Park near Kingsley Elementary School and Tibbitts Park. RAGBRAI participants in support vehicles will camp overnight at Central Middle School and the former site of Waterloo Greyhound Park.
Some RAGBRAI participants will be spending the night in Evansdale, a pass-through town.
RAGBRAI participants will be leaving Waterloo Thursday between 6 AM and 10 AM, exiting through Cedar River Exchange Park. The designated routes out of the city are Fairview Ave. and Lafayette St. The following city streets will be closed during RAGBRAI's four-hour departure, with cross-traffic allowed at lighted intersections:
Park Road: Both lanes closed at Fairview St. into and out of Cedar River Exchange Park
Fairview St.: Both lanes closed Between Park Road and Lafayette St.
Lafayette St.: Both lanes closed between Fairview St. and Lane St.
Lafayette St.: Between Lane St. and Fay St. - Eastbound lane closed for bicyclists, Westbound lane open to traffic (expect delays)
Lafayette St.: Both lanes closed between Fay St. and city limits at Evansdale
Evansdale is serving as a pass-through town for the first time. When RAGBRAI goes through the community Thursday between 6 AM and 10 AM, here's how the event will impact local traffic:
Source: City of Evansdale
As indicated in the above graphic, RAGBRAI's official route between Evansdale and Jesup is Dubuque Road.
Motorists should be aware of the extra bicycle traffic no matter where they traveling. RAGBRAI participants sometime will go off the official route to pass through other areas.
RAGBRAI riders are spending the night in Iowa Falls Tuesday evening and Wednesday morning, before they peddle toward Waterloo. After leaving the Cedar Valley Thursday morning, RAGBRAI passes through Buchanan County on the way to Anamosa for the next overnight stop. For RAGBRAI's official designated route between Iowa Falls and Anamosa, CLICK HERE.
8 Best Selfie Spots In C.V.
Top Things Everyone Knows (Or Should Know) About The Cedar Valley