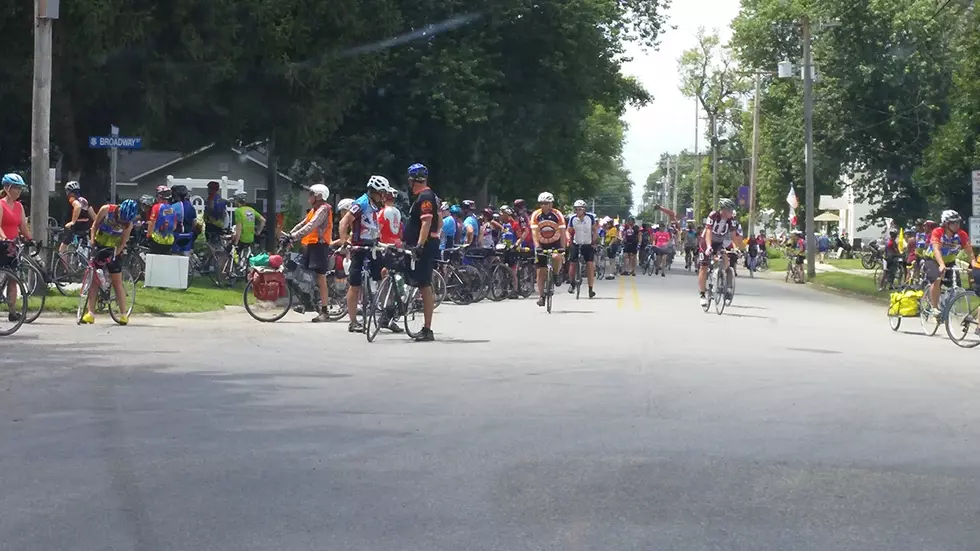 RAGBRAI's Route From Iowa Falls Through Waterloo To Anamosa
Photo By: Elwin Huffman - Townsquare Media
When RAGBRAI crosses the state this summer, the 426-mile route will pass through several eastern Iowa cities.
The 48th annual week-long event is scheduled for July 25-31, starting in Le Mars and ending in Clinton. Organizers announced in January that Sac City, Fort Dodge, Iowa Falls, Waterloo, Anamosa, DeWitt and Clinton will host the overnight stops.
This week, RAGBRAI officials released the daily maps for the 2021 event. They show specific roads that will be used, along with pass-through and meeting towns.
The estimated 10,000-20,000 participants will spend the evening in Iowa Falls on Tuesday, July 27, before making the 67.9-mile trek to Waterloo on Wednesday, July 28. On Day 4, bicyclists will pass through Ackley, Austinville, Aplington, Parkersburg (meeting town), New Hartford and Janesville.
Between Iowa Falls and Waterloo, the designated routes are as follows:
Hardin County Road D-15 from Iowa Falls to Ackley
Iowa Highway 57 from Ackley to New Hartford
Butler County Roads T-55 (U Ave.) and C-67 (Beaver Valley Road)
Black Hawk County Roads T-75 (N. Union Road) and C-55 (Winslow/Taylor/W. Marquis Roads) to Janesville
At Janesville: Black Hawk County Road V-14 (W. 7th Street/Pine Street/Waverly Road-Old U.S. 218)
Black Hawk County Roads C-57 (W. Cedar-Wapsi Road) and V-25 (Wagner Road), then W. Big Rock Road and Burton Ave. to Waterloo
In Waterloo: Burton Ave., Conger Street River Road and Commercial Street to downtown festival site at RiverLoop Expo Plaza.
Downtown Waterloo streets bounded by U.S. Highway 63 North (1st Street), West 4th Street, Washington Street and Cedar Street will be closed from 6 AM to midnight on July 28. Additionally, Park Ave. between Sycamore and Cedar Streets will be closed on July 27 after 1 PM.
Overnight campgrounds in Waterloo will be at Exchange Park, San Souci Park, Tibbetts Park and the Waterloo Water Works grounds near Lincoln Elementary School and Cedar Bend Park.
Day 5 of the Register's Annual Great Bicycle Ride Across Iowa features an 83.7-mile trek -- the second-longest leg of this year's event -- from Waterloo to Anamosa, with an optional 100-mile loop. When they leave Waterloo, riders will use Burton Ave. and Conger Street to get to Fairview Ave. Then, they'll follow Lafayette Street to a breakfast stop in Evansdale.
This will be the first time in RAGBRAI's 48-year history that Evansdale is part of the event. City officials plan to close the downtown portion of Lafayette Road while the RAGBRAI bicyclists are in town.
Once the riders leave Evansdale, they'll pass through Elk Run Heights, Raymond, Jesup, Shady Grove, Rowley, Walker, Center Point (meeting town) and Central City on their journey to Anamosa.
Between Evansdale and Anamosa, the designated routes are as follows:
In Evansdale: Lafayette Road, N. Evans Road, Dubuque Road (Old U.S. 20) to Elk Run Heights and Raymond.
Black Hawk County Road D-22 (Dubuque Road-Old U.S. 20) from Raymond to Jesup.
Buchanan County Road V-65 (Benson Shady Grove Ave.) from Jesup to Shady Grove
Buchanan County Road D-47 (282nd Street/Dugan Ave./290th Street) through Rowley
Buchanan County Road W-35 (Quasqueton Ave./Betty's Grove Road in Linn County) to Walker.
In Walker: Linn Street, Greene Street, Grant Street (Linn County Road D-62) and Mill Street
Iowa Highway 920 (N. Center Point Road) from Walker to Center Point
At Center Point [meeting town]: Vine Street, Main Street, Iowa Street, Central Ave. and Grubbs Street/Central City Road
Linn County Road E-16 (Grubbs Street/Central City Road) to Central City.
In Central City: Marion Road South, South Ave., River Street South, E. Main Street, E. Main Street, E. Maple Street/Sawyer Road
Linn County Road E-16 (Sawyer Road)
Linn County Road X-20 (Prairieburg Road/Buffalo Ridge Road/Ridge Road) to Anamosa.
In Anamosa: Cherry Street and Main Street.
Before riders get to Anamosa, they have the option of taking the Karris Loop to increase the daily mileage to 100. The Karris Loop is between Central City and Anamosa.
The route for RAGBRAI 2021 is the same one that organizers planned to use last year. The 2020 event was canceled due to COVID-19.
This year's event will feature a climb of 11,481 feet, making it the 16th flattest in RAGBRAI history.
Sunday, July 25th: Le Mars to Sac City (79.5 miles -- 2,665 feet)
Monday, July 26th-Sac City to Fort Dodge (53.7 miles -- 807 feet)
Tuesday, July 27th-Fort Dodge to Iowa Falls (54.9 miles -- 1,006 feet
Wednesday, July 28th, Iowa Falls to Waterloo (68 miles -- 1,619 feet)
Thursday, July 29th-Waterloo to Anamosa (77.8 miles -- 2,546)
Friday, July 30th-Anamosa to DeWitt (60.3 miles -- 1,690)
Saturday, July 31st-DeWitt to Clinton (31.6 miles -- 1,148)
The full 2021 route with all the towns, roads and special events can be found online at ragbrai.com.
Small Town Iowa: World's Smallest Church-Ft. Atkinson
"Small Town Iowa" series: St. Anthony of Padua Chapel - 1120 Little Church Road, about 5 miles southeast of
Fort Atkinson
.
LOOK: Stunning vintage photos capture the beauty of America's national parks
Today these parks are located throughout the country in 25 states and the U.S. Virgin Islands. The land encompassing them was either purchased or donated, though much of it had been inhabited by native people for thousands of years before the founding of the United States. These areas are protected and revered as educational resources about the natural world, and as spaces for exploration.
Keep scrolling for 50 vintage photos that show the beauty of America's national parks.