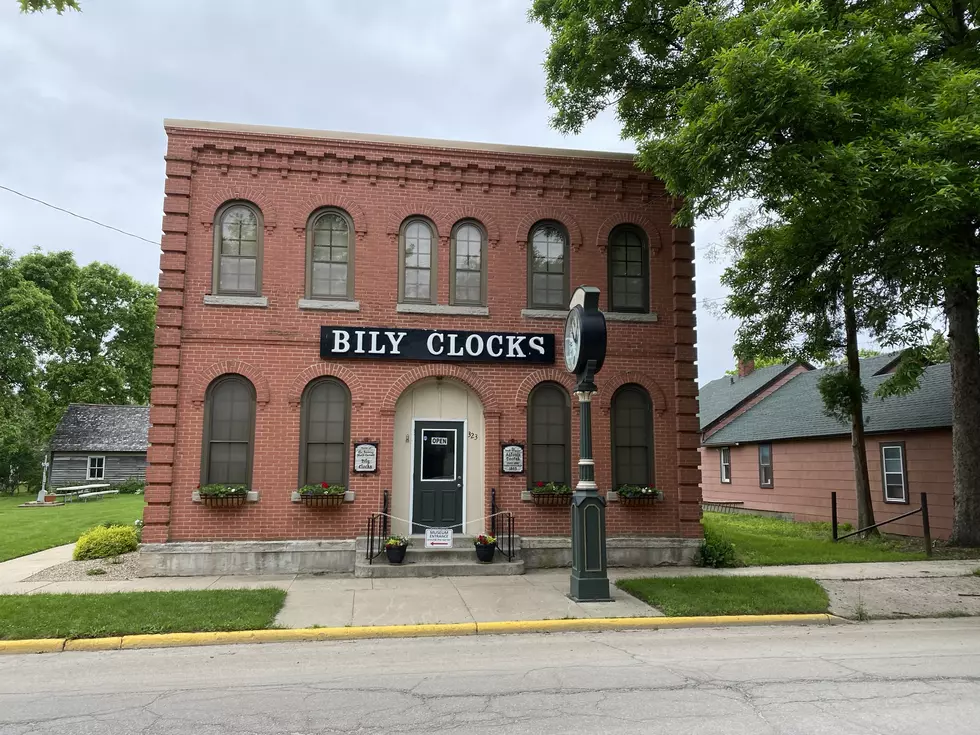 Small Town Iowa: Bily Clocks Museum in Spillville [Photos]
Photo by: Shawn McKenna/Townsquare Media
Over the past few months, our "Small Town Iowa" series has made virtual stops in Gladbrook at the Matchstick Marvels Museum and near Ft. Atkinson at the World's Smallest Church. Now, we travel a few miles north to Spillville to check out a world-famous museum that goes back in time.
When you step into the Bily Clocks Museum & Antonin Dvorak Exhibit, you turn back the clock to over 100 years ago. As their website mentions, people come from all around the midwest, country, and the world to "marvel at the unique clocks that two brothers, Frank and Joseph Bily (bee-lee) hand-carved. The clocks depict history, art, religion, and culture and are covered with hundreds of expertly carved figures."
The Bily brothers carved their first clock in 1915/16
Life on the farm in northeast Iowa in the early 1900's was filled with both a lot of hard work and plenty of "downtime" during the winter months. Frank and Joseph worked the farm (located between Ridgeway and Spillville) doing their regular chores. They were not only farmers but also carpenters, and picked up carving as a hobby. In 1913, they began to fill the long, cold winter days perfecting their skills of carving clocks.
Over the following years, the brothers carved over a dozen clocks, along with models of the World's Smallest Church near Festina and the Little Brown Church in Nashua. In 1946, they decided to immortalize their precious artwork in a museum, located on Main Street in Spillville.
Make sure not to miss the Dvorak exhibit
When you're done with your guided tour, head upstairs and check out the Antonin Dvorak exhibit. Homesick for this homeland, the famous Czech composer spent the summer of 1893 in the predominately Czech village of Spillville. Dvorak lived with his family in the building that now houses the museum, and you can view pump organs that he played and composed music on during his visit.
Keep scrolling to see photos of the clocks and learn more about this treasured piece of Iowa history.
Small Town Iowa: Bily Clocks Museum in Spillville - Photo Gallery
No photo can do "justice" to show the true beauty of these historic clocks. You have to see them in person to fully appreciate the intricacy of each piece, along with their working and moving parts. Plus, the relaxing sounds of the chimes going off or music playing. Before you make the trip to Spillville to see them for yourself, let's take a virtual trip and see the highlights of Frank and Joseph Bily's work. (Photos taken by permission)
KEEP EXPLORING: Small Town Iowa: World's Smallest Church-Ft. Atkinson
"Small Town Iowa" series: St. Anthony of Padua Chapel - 1120 Little Church Road, about 5 miles southeast of
Fort Atkinson
.
SUMMER ROAD TRIP IDEA: Small Town Iowa: Matchstick Marvels Museum in Gladbrook
Don't miss out on what people from all around the world have come to see. The museum is located at 319 2nd Street in Gladbrook. Open Thursday, Friday, Saturday & Sunday from 1:00pm to 5:00pm, or by appointment.