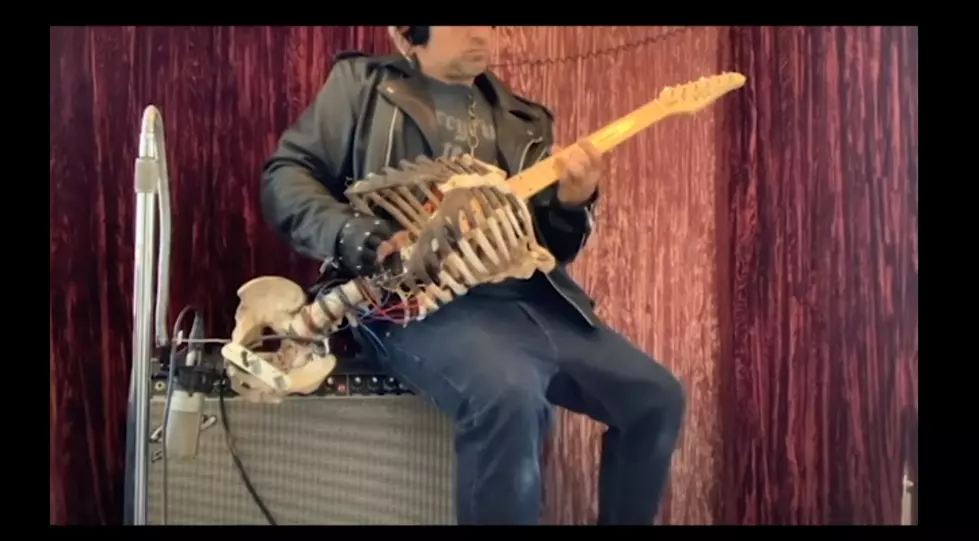 Florida Man Turns His Uncle's Skeleton Into a Guitar
Prince Midnight via Twitter
He calls it a "Skelecaster." It's part Fender Telecast and part Human Skeleton. 
A Florida musician who goes by the name Prince Midnight told The Huffington Post that his uncle died in a motorcycle accident in Greece in 1996 at the age of 28, and his skeleton was donated to a college.
Eventually, Prince Midnight had his uncle's remains sent to Florida from Greece.
But he didn't want to buy a cemetery plot for his uncle. He decided that since his uncle had always been a metalhead, that he was going to turn his bones into a guitar.
Prince Midnight – whose Twitter Page states that he is the "Supreme ruler of the abyss" -- had to weld a metal bar to the spine to attach the guitar's neck to the skeleton. He also had to put an amp jack for the cord into Uncle Filip's hip bone.
KEEP READING: See the richest person in every state