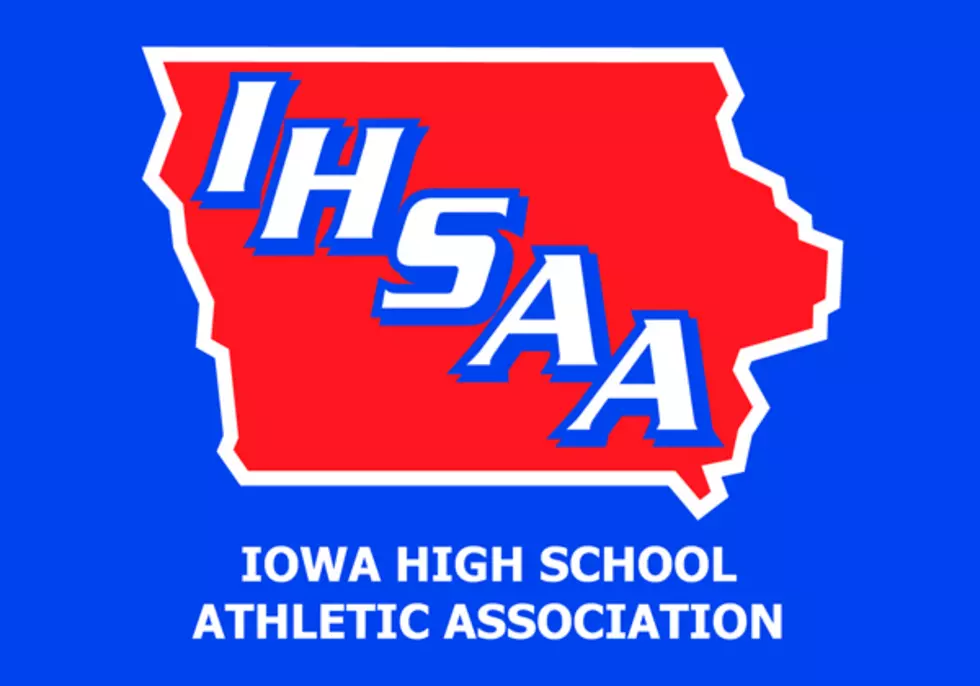 IHSAA Hall Of Fame Getting 13 New Members
Source: Iowa High School Athletic Association
Three former players with ties to the Cedar Valley are being inducted into the Iowa High School Athletic Association's Basketball Hall of Fame at this week's state tournament.
The 13-member class includes Cortez McGhee, Kerwin Dunham and Jordan Eglseder. McGhee was a standout on Waterloo East 1990 state championship team. Dunham and Eglseder both played college basketball at UNI.
Two coaches with area ties are also part of the group. They include: Mark Bigler, who guided Denver a the 1984 state championship, and Russ Banzhaf, the long-time AGWSR and Ackley-Geneva leader, who retired after the 2018-19 season.
In all, eight players and five coaches are being enshrined on championship night at Wells Fargo Arena in Des Moines. The players will all be honored at halftime of the Class 3A title game, which tips off at 6:35 PM Friday. The coaches' inductions will happen at intermission of the Class 4A championship, which follows the 3A contest at 8:35 PM.
This year's honorees were nominated through their schools, picked by the Basketball Hall of Fame selection committe, and approved by the IHSAA Board of Control this winter.
The 2020 Hall of Fame Class includes the following players:
Cortez McGhee - Waterloo, East: All-state and All-Tournament Team guard for East's 3A state championship team in 1990. Averaged nearly 20 points per game alongside Hall of Fame inductee Mike Davis.
Kerwin Dunham - Bondurant-Farrar: Graduated as No. 8 on all-time career scoring list (2,285 points) and led team to state semifinals in 2005 and 2006. Four-year starter, four-time conference champ, won every home game of varsity career. Three-time all-state selection went on to play at UNI.
Jordan Eglseder - Marquette Catholic, Bellevue: A three-time first team all-state post and two-time state tournament qualifier, Egleseder graduated with 1,911 points and 1,109 rebounds. Best finish in 1A was runner-up in 2006. Played at UNI until 2010, graduating with 1,066 points and 656 rebounds in his career.
Matt Gatens - Iowa City, City High: All-Tournament Team captain in 2008 leading City High to 4A title and 25-1 season. Program's top career scorer (1,928 points) was Mr. Basketball and Gatorade Player of the Year as a senior. Became All-Big Ten player at Iowa, finishing career sixth in scoring and second in three-pointers made.
Casey Harriman, Battle Creek-Ida Grove: Twice a first-team all-state player and twice led the state in scoring as a 2006 grad. State tournament qualifier in 2006 for school's first trip in 76 years. Graduated with 2,243 career points, then a four-year player at Creighton University.
Brandon Myers - PCM, Monroe: Known better as an All-Big Ten tight end for Iowa football and later an eight-year NFL career, Myers was a four-year starter and four-time state tournament qualifier. Led team to unbeaten season and 2A state title in 2004. Graduated with 2,198 career points and 857 rebounds and three all-state selections.
Jake Wenig - Danville: Two-time All-Tournament Team captain in 2A as key player in Danville's back-to-back titles of 2001 and 2002. Graduated in 2003 with 2,179 career points and 941 career rebounds. The three-time all-state selection went on to play at South Dakota State.
Glen Worley - Iowa City, West: Three-time all-state player who led the Trojans to the 1997 tournament and state titles in 1998 and 2000. He graduated as West's all-time leader in career points (1,431) and rebounds (744), then went on to star at the University of Iowa. He was a four-year letterwinner who scored more than 1,000 career collegiate points.
The 2020 Hall of Fame Class includes the following coaches:
Russ Banzhaf: Longtime coach at AGWSR and Ackley-Geneva won 423 games over 33 seasons, including a runner-up finish in 2001 and a third-place finish in 2005. He guided the Cougars and Raiders to six North Iowa Cedar League West Division titles before retiring last season.
Tim Bell: Won 527 games over 40 seasons, all at Westside Ar-We-Va. He amassed a .636 career winning percentage at the Class 1A school.
Mark Bigler: Guided Denver to the 1984 state championship. He coached in over 800 games at Denver, Fort Madison, Burlington, and Davenport West. He retired in 2018 after 36 years as head coach.
Dan Correy: Notched 288 of his 401 career wins at Dyersville Beckman Catholic, where he went to the state tournament in 2002, 2005, and 2007. He also coached Marquette West Point.to the state tournament, prior to taking charge of the Trail Blazers' program.
Bob Sandquist: A five-time state tournament qualifier – three at Des Moines Hoover and two at Johnston. He guided Hoover to a second-place finish at the 1998 state tournament, his best finished. He retired with 498 wins over 35 seasons.
Enter your number to get our free mobile app