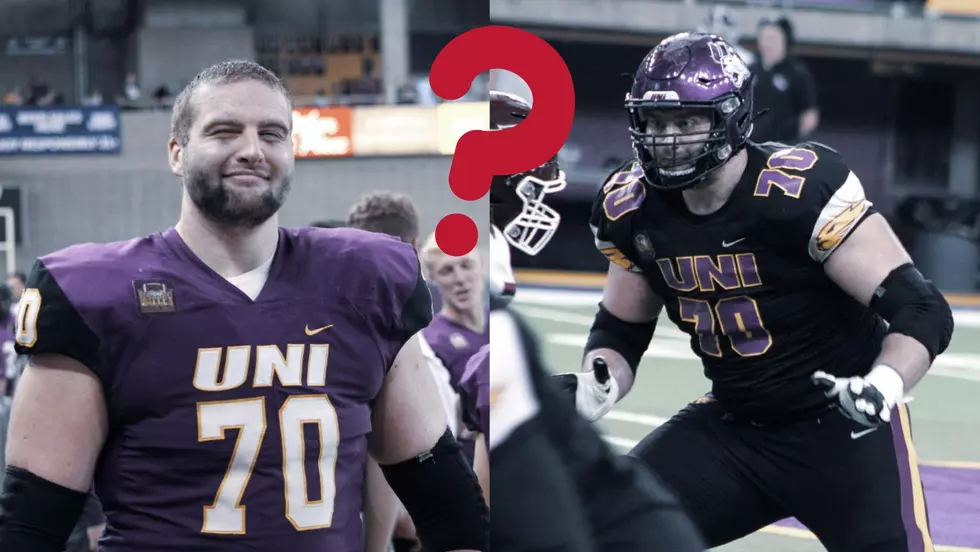 What the Experts are Grading Saints' Selection of UNI's Penning
Andy Saigh / Canva
UNI's Trevor Penning was selected by the New Orleans Saints with the 19th pick in the 2022 NFL Draft last night. He's the first-ever first round draft pick in UNI football history.
As I wrote last night:
I talked to Penning last week at UNI's spring game in The Dome. This is what he told me in regards to what he'll bring to the team he's drafted:
I'm going to go in there and work. (I'll) learn from the vets, from the best guys in the world. (I'll) go out there and compete and help them win.
With the accolades, production, and film Penning has put together, he quickly rose up draft boards and was considered to be one of the highest-valued players in this year's draft.
Let's take a look at what the "experts" think of the Saints' selection of the Panther offensive lineman:
Eric Edholm, Yahoo! Sports:
Remember Kyle Turley? The Saints just drafted his modern-day doppelganger. Penning is big, seriously nasty and a pain in the butt to deal with as a defender. He needs work in pass protection, can be penalty-prone and he steps into a big void with Terron Armstead gone. This is interesting as he fits from a need and temperament standpoint. Grade: B-
Rob Rang, Fox Sports:
The Saints waited three more picks than I anticipated with their projected selection of Penning. The Northern Iowa product has the frame, athleticism and sheer ferocity to fill a gaping hole at left tackle with Terron Armstead leaving in free agency. Grade: B
Pete Prisco, CBS Sports:
This fills a need for the Saints. They had to get a left tackle and Penning fits the bill. He is an aggressive player that will give them a nice tackle combo to go with Ryan Ramczyk. They are both maulers. Grade: B-
Brent Sobleski, Bleacher Report:
Northern Iowa's Trevor Penning is the rare prospect who has both (attitude and athletic) qualities. ... He remains a work in progress. The FCS product's pad level is consistently high, and his hands can be all over the place. Then again, those things can be taught with proper coaching. ... He'll take over left tackle and complete a Saints offensive front that will likely be a premier unit for years. Grade: B+
Kevin Hanson, Sports Illustrated:
The Saints fill their need at left tackle now that Terron Armstead is in Miami. Penning plays to the echo of the whistle and has the tenacity and nasty demeanor that will endear him to New Orleans's coaches. He has prototypical size and length, outstanding strength and athletic feet. Plus, he has primarily started at left tackle (31 of 33 starts). GRADE: B+
Mel Kiper Jr. of ESPN wrote this, calling the Saints "winners" on the first day of the draft:
The Saints were able to get a starting left tackle in Penning. I thought they might have to trade up to take him, but he fell into their lap. Penning is a nasty and punishing blocker who can replace Terron Armstead.
One last comment I have to share from Chris Simms of NBC Sports, who I'm pretty sure is legally blind. Because, wow. The second part of this tweet is just blatantly false:
25 UNI Panthers that Went Pro
Northern Iowa has some of the best athletes and athletic programs in all of mid-major sports. With their consistent placement towards the top of the Missouri Valley Conference, it's no surprise they have a few professional athletes to their name -- here's a few.
The Best Coffee Shops in the Cedar Valley
Everybody loves a good brew to start their day -- here are the best stops you can make between Cedar Falls and Waterloo for your next sip!