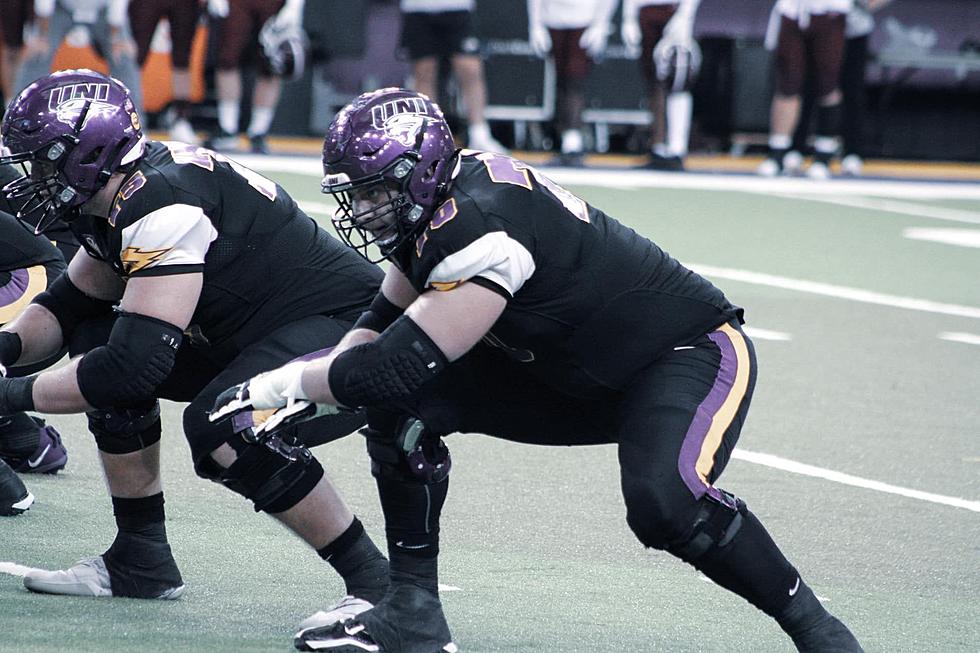 UNI's Trevor Penning Selected 19th in NFL Draft by New Orleans Saints
Andy Saigh
UNI football fans knew that Trevor Penning was a rare talent during his time in Cedar Falls. The 6'7 330-pound offensive tackle dominated in each and every one of his starts on the left end of the line, and quickly gained attention from scouts at the NFL level.
Selected 19th overall by the New Orleans Saints tonight, he's the first-ever NFL first-round draft pick in school history for the Panthers.
Turn on a highlight clip on YouTube and you'll understand why in the first five seconds.
The Clear Lake, Iowa native is the highest selected Panther since Brad Meester was taken with the 60th pick by the Jacksonville Jaguars in 2000. He's the most recent draft pick from UNI since Spencer Brown was taken by the Buffalo Bills with the 93rd pick and Elerson Smith was selected by the New York Giants with the 116th pick in 2021.
With the success Brown had in his rookie season in Buffalo, don't be surprised if UNI begins to become a pipeline for NFL draft picks at the left tackle position. The Panther coaching staff has shown that they can develop young men into what offensive line coach Ryan Clanton calls "#DOGS."
Not only is it historic for the UNI football program, but he fills a gargantuan hole on the Saints' O-line with the loss of their previous starting left tackle, Terron Armstead, to the Miami Dolphins in free agency.
Over this last season with the Panthers, Penning earned First-Team All-Missouri Valley Football Conference and AP First-Team All American.
As I wrote earlier in the year, he was the lone offensive lineman named as a finalist for the Walter Payton Award, which is presented to the national offensive player of the year in the FCS.
That almost never happens.
I talked to Penning last week at UNI's spring game in The Dome. This is what he told me, in regards to what he'll bring to the team he's drafted:
I'm going to go in there and work. (I'll) learn from the vets, from the best guys in the world. (I'll) go out there and compete and help them win.
The Saints got a good one.
A Breakdown of UNI's 2022 Football Schedule
The Panthers will embark on their 2022 season in September of this year. Let's take a look at who they'll face, including some of the best in the Missouri Valley Football Conference.
Iowa, UNI, and Iowa State Football Players Headed to NFL Combine
The state of Iowa is absolutely loaded with next-level talent: here are some of the best of the best that will be representing our state in the NFL Combine.