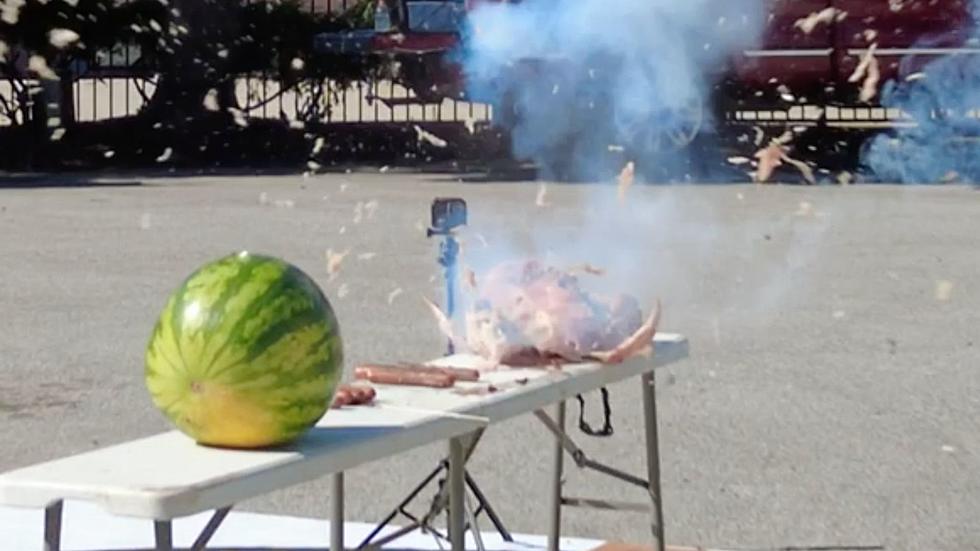 WATCH: Sticking Fireworks In a Raw Turkey
Townsquare Media
We here at the Dwyer & Michaels Morning Show believe in two things when it comes to fireworks; there's no better way to celebrate your country's birth than blowing up a small piece of it, and safety being the number one priority.
Obviously, that doesn't mean we didn't send Hairball out to get the biggest raw turkey he could find.
We had DFD and our friends at Uncle Norm's Fireworks come over to demo what even small fireworks can do to tendons, muscle, and skin.
Hot dogs and turkey were harmed in the demo, showing what anything from sparklers to basic firecrackers can do if you're not careful.
The full demo is toward the bottom of this article.
Davenport Fire Department would like to remind everyone of some safe practices, like buying consumer fireworks legally.  That means the fireworks you have display the certificate and aren't some thing your uncle pulled out of the back of his garage. Also, buy your fireworks from an approved tent or store... They'll have a printed certificate on display or that they're able to show you.
A few other safe practices they recommend:
Never let children play with or ignite fireworks.
Have a garden hose or bucket of water available in case of a firework not igniting.
Alcohol and fireworks don't mix. Lead by example and always have a sober, responsible adult in charge.
Know the proper dates and times to discharge fireworks in your neighborhood.
Only buy fireworks from legal, approved dealers.
Aim fireworks away from flammable material and people; don't use them inside.
Never extend body parts over the device.
Never relight a 'dud' firework.
Don't light off fireworks on public property, like schools, parks or streets.
Watch the full demo:
Million Dollar Quad Cities Home vs Million Dollar Los Angeles Home
We all know the joke about how much houses cost in LA. I decided that it would be fun to look at a million dollar home in LA and compare that to a million dollar home right here in the Quad Cities.
Here are the two spot we are comparing:
12513 Walsh Ave, Los Angeles, CA 90066
Cost: $1,195,000
984 sqft | 3 Bed | 2 Bath
VS
901 46th Street Dr, Moline, IL 61265
Cost: $995,000
15,291 sqft | 6 Bed | 11 Bath
Clearly one is a bit bigger than the other.