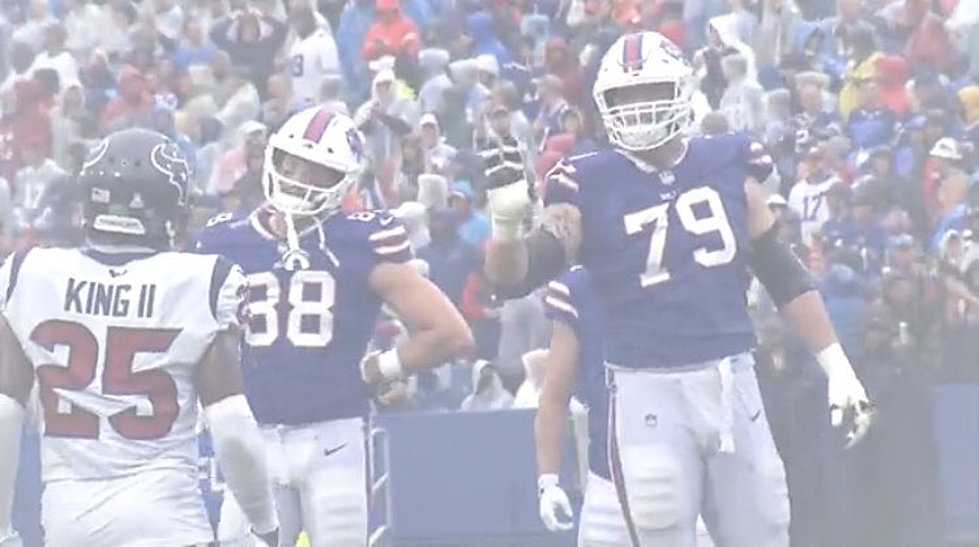 Former UNI Offensive Lineman Goes Viral [VIDEO]
Credit: Ted Goldberg Twitter
Spencer Brown is a rather large individual. Standing at 6'8 and 311 lbs., the Lenox, IA native is easily identified in just about every single room he would ever walk into.
The former left tackle for the University of Northern Iowa joined an illustrious group of individuals -- otherwise known as #Dogs by offensive line coach for the Panthers, Ryan Clanton -- this spring when he was selected in the third round of the 2021 NFL Draft by the Buffalo Bills.
Other draftees from the UNI offensive line include Brad Meester, Brandon Keith, and Chad Rinehart. It appears that tradition will continue with a few current linemen for the purple and gold:
Having been chosen in the draft is an honor in itself, but Brown has taken the opportunity and run with it, earning his very first start for the AFC East-leading Bills this weekend against the Houston Texans.
Not only did he earn his first start, he went viral on Twitter.
As seen below, Brown had an exchange of words with former University of Iowa cornerback, Desmond King II, and decided to remind the 2015 Jim Thorpe Award winner of his height.
Here's the thing -- it's not like King is all that short. He stands at 5'10, which is taller than the average American male, who is 5'9. He also weighs 200 lbs., largely comprised of muscle. To reiterate, Spencer Brown is a big dude. Like a really, really big dude.
To get a solid idea of just how dominant the former 8-man football tight end was at the FCS level take a look at the highlight video below:
Iowa Born Sports Stars
What do each of these stellar athletes have in common? They all hail from the Hawkeye State.
TACKLE THESE: Check Out the Best Uniforms In Each NFL Team's History