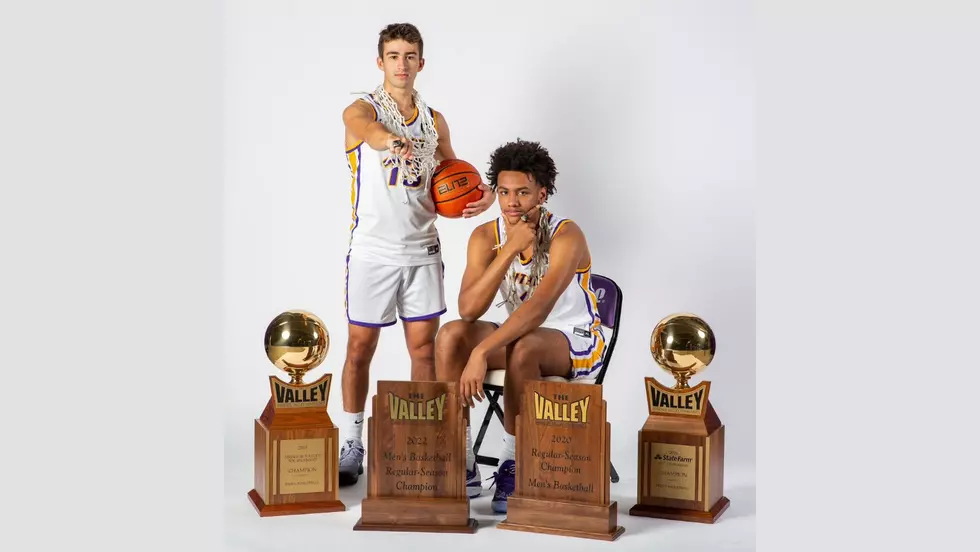 UNI Rounds Out Star-Studded 2023 Class with Newest Commit
RJ Taylor Twitter
After Coach Ben Jacobson landed two stellar, out-of-state commitments to UNI's 2023 recruiting class, it only makes sense to keep the trend going -- this time with a versatile 6'8 forward from Chicago, Illinois.
As he announced on Twitter and Instagram today, Wes Rubin out of Simeon High School in the Windy City has committed to play basketball for Northern Iowa.
Described as a player that "has the potential to be a valuable 4-man with skill and versatility," and "shows hints of shooting range out to the three-point line while being able to put it on the floor in small doses," by the Chicago Sun-Times, Wes and his brother Miles were significant pieces in their high school team finishing with 28 wins last season. They also finished fourth in the state tournament.
Miles is committed to Loyola-Chicago, who recently left the Missouri Valley Conference for the Atlantic-10 Conference. He and Wes were initially planning on playing together for Coach Drew Valentine and the Ramblers, sharing their choice in June.
It wasn't long after the pair's decision that Wes decided that Loyola wasn't a fit for him. He decided to decommit in early September.
Prior to his initial commitment, Rubin had received scholarship offers from the likes of Western Illinois, Northern Illinois, Toledo, Akron, Pacific, Illinois State, DePaul, and Southern Illinois.
Initially, UNI hadn't even offered.
That quickly changed with Rubin's decision to re-open his recruitment. The Panthers quickly pounced on the opportunity, having the two-star prospect (according to Verbal Commits) visit campus. He joined EYBL Meanstreets teammate RJ Taylor who took his official visit on October 1, and that's when he received his scholarship offer from Coach Jake.
Taylor and Rubin are joined in the 2023 class by Bolivar, Missouri forward Kyle Pock, who shared his decision to commit to the Panthers last Saturday.
Though AJ Green's decision to stay home in 2018 and play for the Panthers was a big one, this group of young men coming into the program may have the most prestige a collective recruiting class has had in a long time for the Panthers.
Some Iowans Will Appear in One of 2022's Most Popular Video Games
A few kids that grew up right here in Iowa will represent their home state in this year's edition of NBA 2K23. They'll be joined by a few guys representing the Hawkeyes and the Cyclones.
Biggest Winners in the History of the Lottery in Iowa
These are the people who have cashed the biggest checks since the Iowa Lottery debuted in the summer of 1985.