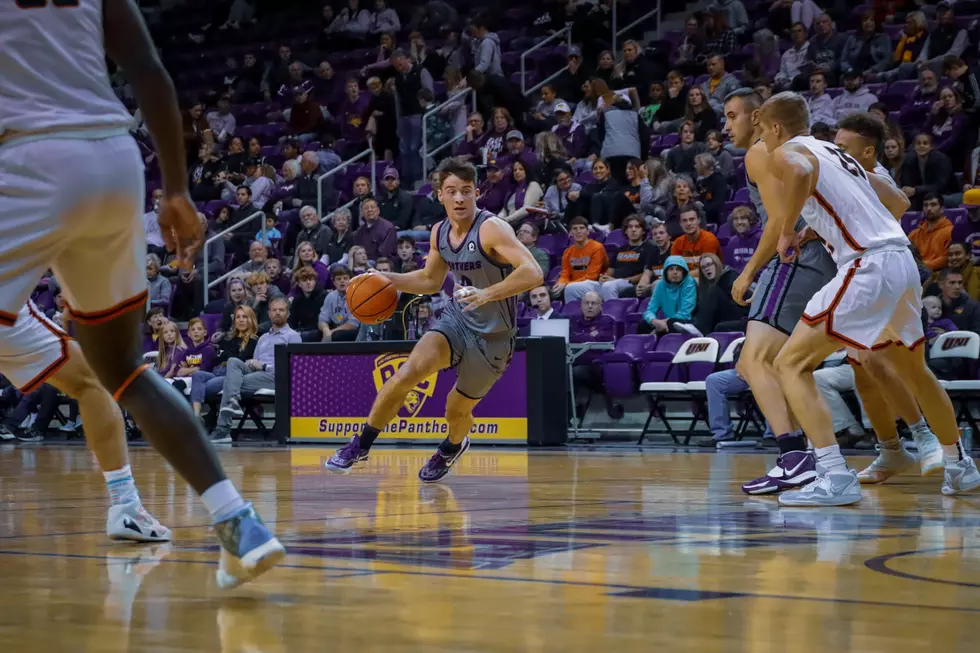 UNI Three-Year Starter Set to Return After Significant Injury
Andy Saigh for UNI Athletics
UNI Athletics announced on Monday, November 21 that starting guard Nate Heise would miss significant time after sustaining a left-hand/wrist injury in practice. The initial prognosis was set at four-to-six weeks of missed time.
With roughly four weeks down, Heise was seen at the Legends of Basketball Showcase during pregame warmups without a cast on the hand. As of yesterday, Coach Ben Jacobson told Cole Bair that he is expected to be available for the Panthers' matchup with Missouri State on Wednesday, December 28 after missing the last nine contests.
Over the stretch of time the three-year starter missed, Coach Jake's squad posted a record of just 3-6 with wins over Northern Illinois, Evansville, and Towson. Of the six losses sustained in his absence, five were by single digits, and three were by three points or less. One loss came in a buy-game to McNeese State, and another on a last-second, 40-foot shot versus South Florida.
Prior to his injury, Heise was averaging 12 points and three rebounds a game and shooting 47.1 percent from the floor. As of now, Bowen Born (19.7) and Tytan Anderson (13.0) are the only two players for the Panthers that are scoring more than Heise on average.
The Lake City, Minnesota native was also tasked with guarding the opposing team's best player.
There have been some benefits of missing one of the most experienced players on the team, though. Over that time frame, freshman Trey Campbell and redshirt freshmen Landon Wolf and Michael Duax have received significantly more minutes on the floor than they otherwise would have.
"Each of those guys have had games where they've played 32+ minutes," Jacobson told Bair. "That most likely doesn't happen if Nate is healthy. ... Then you learn about having success at this level when you're tired, against good teams, against good players, against older guys."
We think this will really help our team," he added. "Either way, (we'll have) a different comfort level when Bowen, Nate, or Tytan are out of the game. ... I really feel like our depth will be better."
Though Heise is expected to be back, the amount of time he sees on the floor is still up in the air.
"As Nate gets back and gets going -- I don't know what that means for the 28th," Jacobson told Bair. "I don't know if it'll be 12-15 minutes or if he's going to be ready for his 30-32 minutes that we expect him to be playing."
Before next week's game, UNI will face St. Bonaventure at home on Wednesday, December 21 at 6 p.m. following a schedule change due to inclement weather.
Some Iowans Will Appear in One of 2022's Most Popular Video Games
A few kids that grew up right here in Iowa will represent their home state in this year's edition of NBA 2K23. They'll be joined by a few guys representing the Hawkeyes and the Cyclones.
New Restaurants That Have Opened in Eastern Iowa in 2022
The next time you're looking for a new place to go eat, you might want to check out this list! A ton of new restaurants have opened in the Cedar Rapids area this year, with even more on the way in early 2023. Here are the the places that began welcoming customers in 2022: