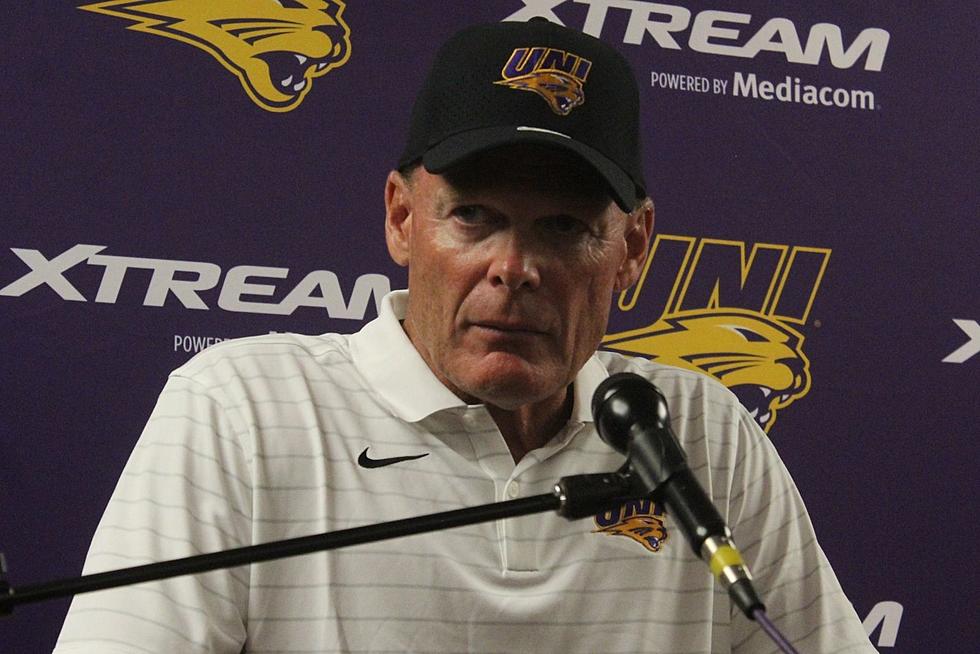 UNI Preparing For Another 2021 Football Season
Photo By: Elwin Huffman - Townsquare Media
There are always several questions college football coaches have when preparations for a new season begin.
Most years, those unknowns are focused on such things as: filling holes in the line-up that are created by injury or graduation, developing depth at each position, establishing a system within the program that leads to success and creating a game plan to beat an opponent. As usual, those issues are being addressed by UNI Head Coach Mark Farley and his staff. But Farley has an even bigger concern as the Panthers get ready for their 2021 fall season.
Camp is underway just a few short months after a 2021 spring season, which UNI finished in April with a 3-4 record. At Tuesday's media day, Farley was asked about the unprecedented challenge of preparing his team to play two full seasons in one calendar year.
"I think that's the 25 million dollar question," Farley answered. "We're the only division that did this and now we're going to see what the pros and the cons are moving forward. The entire team didn't get to lift January through May (because of games), something that's done for safety and quality. What injury will happen that we didn't get to establish the strength in, going into another season? I think that's going to play out, and we'll have to adapt for it."
Regarding UNI's workouts, Farley said: "I'm not going to change the way we conduct camp because I think then I'd be continuing the non-normalcy of what we just experienced (with the spring season). I'd rather get back to what we know works, even though it may have a hiccup due to some things that we're in our control."
The Panthers' Sept. 4 opener at Iowa State will be a challenge. The Cyclones are ranked No. 8 in the USA Today coaches poll released Tuesday, the highest ranking in program history since the newspaper started administering the survey in 1991. In the Missouri Valley Football Conference preseason poll, UNI is picked to finish fifth.
Farley has created competition at quarterback by adding a pair of transfers, bringing in redshirt sophomore Theo Day (Canton, Mich.) from Michigan State and redshirt freshman Matt Morrissey (Elmhurst, Ill.) from Trinity Valley Community College. Des Moines native Will McElvain has been the starter the past two seasons. McElvain completed 51 percent of his passes during the COVID shortened spring season.
In an attempt to boost a ground game that averaged only 103 yards during the spring season, the Panthers also have added depth at running back.
"The only way you get ready for competition on Saturday is to create competition Monday through Thursday," Farley said. "The decision I made was to create competition in the quarterback room and competition in the running back room. The purpose is to make the team better and the individuals better at that position."
Due to construction inside the UNI-Dome, UNI is conducting fall camp at Memorial Stadium in Waterloo. A new team meeting room is being added to the northeast corner of the facility, and crews are finishing work on a new outdoor practice field near the Dome.
After a pair of road trips to start the season, UNI's first home game is scheduled for Sept. 18 against St. Thomas (Minn.).
UNI's quarterbacks for the 2021 fall season are (left to right): Theo Day, Justin Fomby, Aiden Dunne, Will McElvain, Nate Martins, Cael Loecher and Matt Morrissey.
Source: USA Today
Iowa Born Sports Stars
What do each of these stellar athletes have in common? They all hail from the Hawkeye State.
LOOK: 20 Fascinating Photos From the First Modern Olympic Games in 1896
To celebrate the history of international sports cooperation,
Stacker
 took a look back at that groundbreaking event in Athens, when the modern Olympics were born in 1896. Keep reading to learn more about the athletes, spectators, and sports at that iconic event.