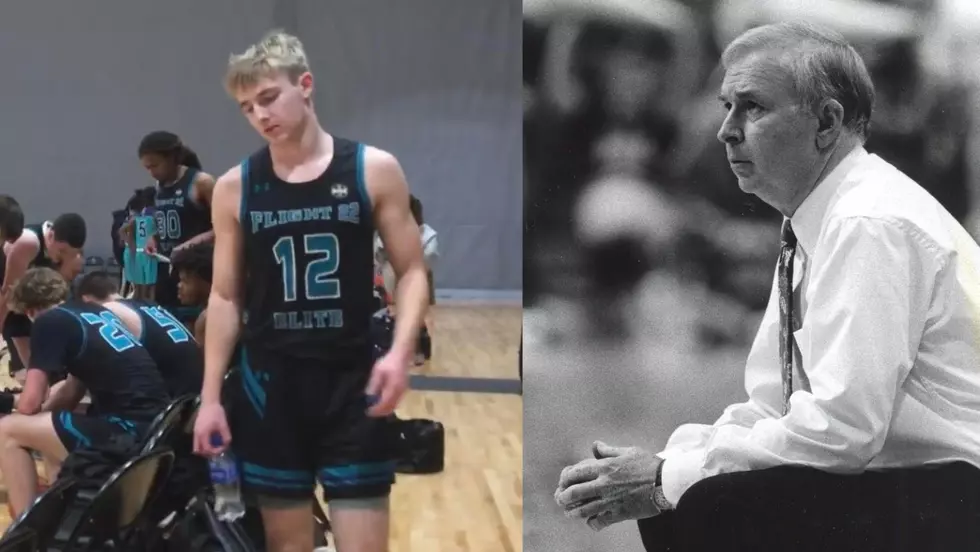 UNI Adds Grandson of Legendary Coach to 2022 Recruiting Class
Flight 22 Media YouTube Channel / UNI Athletics / Canva
Prior to the tenure of the current head coach for UNI men's basketball Ben Jacobson, one man was widely considered the greatest to ever lead the Panther program -- Eldon Miller.
While in Cedar Falls, Miller led the Panthers to their first ever postseason appearance at the NCAA Division I level, as they played in the 1990 Association of Mid-Continent Universities Tournament. UNI upset Missouri in the first round of the tournament and fell to Minnesota by three in their next contest. That year, the Panthers went 23-9.
Miller also led UNI through its first years as a member of the Missouri Valley Conference (MVC), posting winning records in three of their first seven seasons in the MVC. In 1993 (16-13), 1995 (14-13), and 1996 (16-12).
He was inducted into the UNI Athletics Hall of Fame in 2002.
The family legacy will now have the chance to live on in the Cedar Valley.
As he announced last night, the grandson of Eldon, Charlie Miller has committed to play his collegiate basketball for the Panthers.
Charlie is a 6'0 shooting guard out of the Flight 22 prep school -- 2021-2022 was the first year for the post-grad Flight 22 program. The school is based out of Wilmington, NC. Per Yahoo!News, "Post-grad basketball features players who have graduated from high school and are waiting an extra year before playing college basketball. They can take up to 11 hours of community college classes and will not lose a year of collegiate eligibility."
This is what Charlie said regarding the decision to attend prep school in 2021:
This year, it was a weird year, but we knew that coming in with COVID and everything. Seniors can come back, there are limited scholarships, so this is a route we can take to give us another year to get better, and hopefully give us some more looks for the next year.
Prior to that, he played his high school ball in Lumberton, North Carolina, a city of just over 20,000 people in the southeast part of the state. He held offers from two NCAA Division II programs in UNC-Pembroke and Mount Olive after his four years.
Charlie's dad and Eldon's son, Ben was once the head coach at UNCP and stepped down in November of 2019. Eldon also served as a volunteer assistant for a brief stint under his son.
As a senior at Lumberton, Charlie averaged 16.3 points, 4.8 rebounds, 5.1 assists, and 2.1 steals while shooting 50 percent from the floor and 45 percent from three this season according to Phenom Hoop Report.
I was unable to find season averages for his tenure at the prep school level, but the tape speaks for itself with Charlie. He's got a soft touch around the rim, is a smooth shooter, and sees the floor well. Watching tape and looking at game-by-game stats, one can see his ability to score in bunches.
Charlie will join the Panthers as a walk-on.
25 UNI Panthers that Went Pro
Northern Iowa has some of the best athletes and athletic programs in all of mid-major sports. With their consistent placement towards the top of the Missouri Valley Conference, it's no surprise they have a few professional athletes to their name -- here's a few.
You HAVE To See This Midwestern Home That's ALL Basement
Doomsday peeper? Psst, we see you!