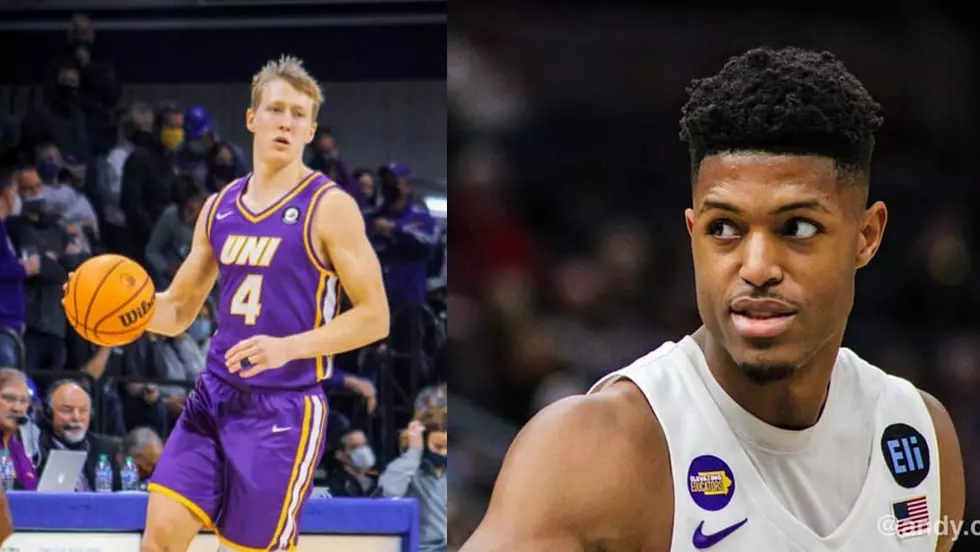 UNI Panthers Take on NBA Summer League: When and Where to Watch
Andy Saigh / Canva
For the first time in the history of UNI men's basketball, two former Panthers will play in the NBA Summer League. Isaiah Brown and AJ Green made names for themselves in Cedar Falls, but they're about to continue their respective legacies as well as UNI's, and they'll do it on the same day.
Tomorrow afternoon, Brown makes his debut for the Dallas Mavericks when they take on the Chicago Bulls at 3 PM CT and Green will play his first minutes for the Milwaukee Bucks at 6 PM CT when they play the Brooklyn Nets. Brown and the Mavericks will be on ESPNU while Green and the Bucks will play on NBA TV.
Green, two-time Missouri Valley Conference (MVC) Player of the Year, is coming off signing his first NBA contract. He signed a two-way deal with Milwaukee on June 23 after going undrafted and will spend time with both the Bucks and their G-League affiliate, the Wisconsin Herd, during the coming season.
This is what the Cedar Falls native told me on last week's episode of Cornstalks and Sports Talk regarding his signing and participating in training camp in Milwaukee:
It's everything I imagined it would be. It's pretty special, but it's also motivation for me -- knowing that I've put in the time and I'm fortunate enough to get to this point. I want to see what else I can do. So, I'm going to keep pushing and keep working hard and see where God can take me. ... But it's very special. It's hard to describe.
You can watch the whole interview with AJ below or listen on Apple Podcasts, Spotify, or wherever else you get your podcasts.
Things have been a bit different for Brown. A 2020 graduate who won MVC Defensive Player of the Year that season, the Flower Mound, Texas native has been playing in the professional ranks for two years now. He was also just selected to represent the United States in the FIBA 3x3 World Tour.
Over his last two seasons in the NBA G-League, the 6'7 forward has suited up for the Santa Cruz Warriors and the Texas Legends of the NBA G-League. Last season for the Legends, he averaged 6.4 points, 3.3 rebounds, 1.4 assists, and 1.2 steals over 34 games.
This is what Brown told me about playing professionally so close to his hometown:
It's definitely been nice -- not just that -- I have a younger brother that plays and all throughout college I couldn't watch him. ... Being home is a great opportunity for them to watch me play but also to watch some family play as well.
You can watch the whole interview with Isaiah below or listen on Apple Podcasts, Spotify, or wherever else you get your podcasts.
A Breakdown of UNI's 2022 Football Schedule
The Panthers will embark on their 2022 season in September of this year. Let's take a look at who they'll face, including some of the best in the Missouri Valley Football Conference.
Here is All The House You Get for $1 Million Dollar in Cedar Falls vs. Los Angeles
Got an extra mil? Don't move to Los Angeles, you can get waaay more house in the Cedar Valley.