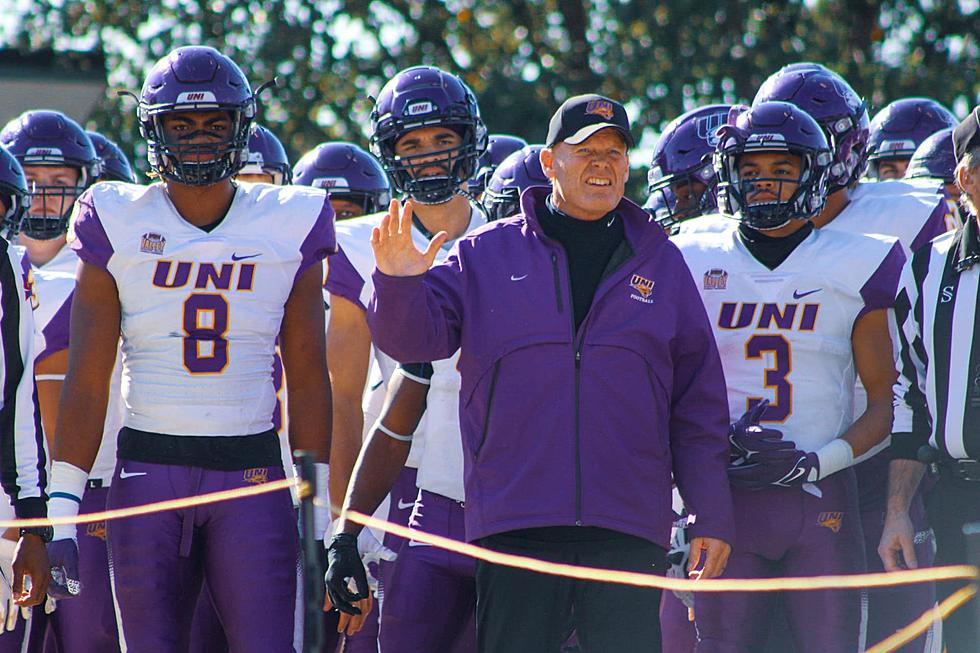 UNI Football's Back Against the Wall vs. No. 16 Missouri State
Andy Saigh
The Panthers had a perfect opportunity to get their offense in sync versus unranked Missouri Valley Football Conference (MVFC) opponent Illinois State last week.
The Redbirds had other ideas.
The purple and gold could get absolutely nothing going on the ground, as ISU had one of their most dominant performances against the run all season. The Panthers put up 63 yards on 42 attempts. With an offense whose bread and butter starts with its running attack, missing big-play runner Vance McShane hurt. The thunder and lightning combination of he and Bradrick Shaw was pivotal in their victories over then-No. 6 South Dakota State and then-No. 6 Southern Illinois.
Illinois State's defense also sacked quarterback Theo Day six times resulting in 42 yards lost, and Day completed just 15 of his 30 passing attempts.
Behind another stellar performance by the UNI defense, the ISU offense didn't put up a single touchdown in a regulation that ended with a 10-10 score. The lone touchdown for the Redbirds came on a pick-six towards the end of the first quarter.
In overtime, Illinois State scored within the first two plays, resulting in a 17-10 victory over the Panthers, who were ranked No. 13 at the time.
A win against another top 25 team in Missouri State this weekend is now essential for them to get into the FCS playoffs. Here are UNI's three keys to victory:
GET FIRST DOWNS
While the Bears sit atop the MVFC in total first downs this season, the Panthers rank third to last, just ahead of North Dakota State and Illinois State.
Somehow, last week they doubled what the Redbirds were able to put up in that category. By watching that contest, it'd be easy to guess all those first downs came when UNI made the drive that led to their lone touchdown. Other than that, the offense looked utterly inept.
When facing an offense like that Missouri State who has the highest third-down conversion rate in the MVFC at 48.1%, it will be gravely important to return the favor.
And here's the thing -- not every first down has to be via run or a longball to Isaiah Weston. Day has a plethora of weapons at his disposal and trusting those other weapons will be a big part of if and how the Cats can tally up first downs.
A death-by-1000-cuts offense isn't the worst thing in the world, especially when facing a team who's undefeated at home. Keep the ball away from their offense, and beat them in a knockdown, drag-out fight.
Don't Beat Yourself
UNI is tied for 54th in the country in fewest penalties -- they've committed 53 on the season. They're fourth in MVFC play in the same category with 36.
These penalties have piled up at the most pivotal of times for the Panthers. On touchdowns, long runs, and other big plays of different varieties that would ultimately be called back. Holding, pick plays (essentially offensive pass interference), unsportsmanlike conduct, are among the main reasons why markers have been thrown by MVFC officials.
That can't continue to happen. In football, you have to make the other team beat you -- don't help them.
Luckily, Missouri State ranks below UNI in this category, and that should help the purple and gold in their effort.
Establish the run before it's too late
We've talked about this in a variety of ways with the Panthers over, and over, and over again.
Whether it's time of possession, mixing up the running attack, or leaning on Shaw when necessary. The reason the Panthers were able to defeat No. 3 SIU is because they fed Bradrick the ball the entire second half.
If he, Williams, and McShane can remain patient, and navigate where the offensive line allows, this team is beyond dangerous. I mean, look at Trevor Penning who was the first player in the country to be invited to the Senior Bowl and was also recently added to the Walter Payton Award Watchlist -- the first offensive linemen in the country so far this season to be added. He's going places in this game. Get behind him and churn out yard after yard.
UNI constantly puts out one of the best lines in the country. It's time to lean on it.
Final Thoughts
You may have noticed that there is nothing pertaining to the defense here. That's for a good reason. We know the purple and gold defense will show up game in and game out. It's up to the Panther offense. If they show up, it's a win against the Bears.
25 UNI Panthers that Went Pro
Northern Iowa has some of the best athletes and athletic programs in all of mid-major sports. With their consistent placement towards the top of the Missouri Valley Conference, it's no surprise they have a few professional athletes to their name -- here's a few.
Top 10 Fantastic Breweries in the Cedar Valley & Northeast Iowa - List
It's a quote that rings true, "Local Beer is Better". Why? Because you're supporting your friends and neighbors. Heck, you might even personally know the brewmaster of your favorite local beer. How cool is that? The "dive bar" down on the corner might have it's own place in society, but they're quickly being replaced by local breweries with unique themes and spacious taprooms. On top of that, they take the joy of beer to the next level, with some really good (and sometimes award-winning) beer! Scroll down for our virtual brewery tour.