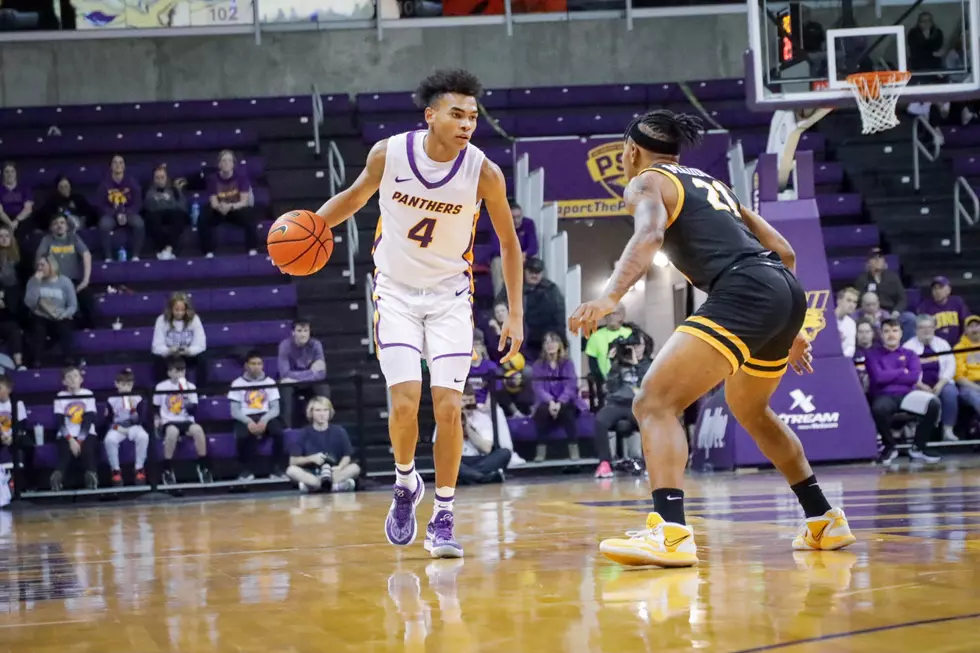 UNI Can't Overcome Top 12 Offense and Turnovers in Home Loss
Andy Saigh for UNI Athletics
In a matchup with Toledo, a top 12 top offensive team in the country that averages 85.1 points per game, UNI kept pace for almost 35 minutes before the Rockets took control and defeated the Panthers, 83-75.
As one of many old sports adages goes, basketball is a game of runs.
Though UNI kept the game within five points for the first seven minutes, one could tell that when one of the two teams started missing shots, things could get out of hand. After the Rockets went on a 9-2 run between 12:21 and 11:01 in the first half and pushed their lead to 28-16, it looked like they might run away with the victory over a young Panther squad.
Then it was UNI's turn.
The purple and gold went on a scoring streak of their own, putting up 12 unanswered points over the ensuing three minutes, including a three-pointer by redshirt freshman Michael Duax to knot the game up at 28 with 8:08 to go.
"Everybody is getting used to playing with each other now," leading scorer Bowen Born said postgame. "We're ready to adjust to whatever is thrown at us."
Then the Panthers didn't score for the next 7:46 of play, and Toledo responded with another run of their own, outscoring UNI 12-3 and taking a 40-31 lead into halftime.
"I feel like there have been stretches where (our defense) has been really good," Born said. "Tonight, it was their transition offense in the first half that really killed us."
The Rockets outscored the Panthers 17-8 in fastbreak points in the first half.
For the first ten minutes of the second frame, the game of runs continued.
To start the second half, UNI went on a 14-4 run over the first four minutes, powered by eight points from Born on two threes and a jumper. The two-point shot gave the Panthers their first and only lead of the game, 45-44 with 16:06 remaining.
That lead lasted all of 20 seconds.
RayJ Dennis hit a jumper to retake the lead for the Rockets,46-45, and they never went away. Over the following 12 and a half minutes, UNI had moments of hope and kept the game close, with the Toledo lead staying firmly around five to seven points.
The final minutes left the Panthers playing catchup before the away team took the victory, 83-75 in the McLeod Center.
"We made our run and were playing really well," Born said. "But it came down to us getting one more stop to get it under five. We needed to box out. That was an area we struggled with. Tytan (Anderson) did a great job but we needed to help him out."
"Mostly, it was two things (keeping us from getting the lead under five)," Coach Ben Jacobson added. "They're a good, experienced team, and they execute their stuff really well. ... They're a hard team to try to outscore."
Born led all scorers with 27 points, Anderson added 13 and 10 to finish with his fourth double-double of the season, and freshman Trey Campbell scored a career-high 15 points.
The Panthers also finished with 18 turnovers.
"We've really been focusing on hitting the roller and trying to get the ball into the middle of the floor," Born said. "We want to get it into the heart of their defense so we can (pass it to an open shooter). The times we did get it there it worked. ... But we don't have a lot of guys who have done that, (which led to turning the ball over). ... It's just going to take some time."
JT Shumate put up 24 and Dennis added 21 to lead Toledo.
Up next, UNI (3-5) will face McNeese State (2-6) at home on Friday, December 9 at 7 PM.
The Best Coffee Shops in the Cedar Valley
Everybody loves a good brew to start their day -- here are the best stops you can make between Cedar Falls and Waterloo for your next sip!
5 Easy Ways to Tick Off Someone From Iowa
We're a pretty nice bunch, but there is still something you just don't say to someone who's from or living in Iowa