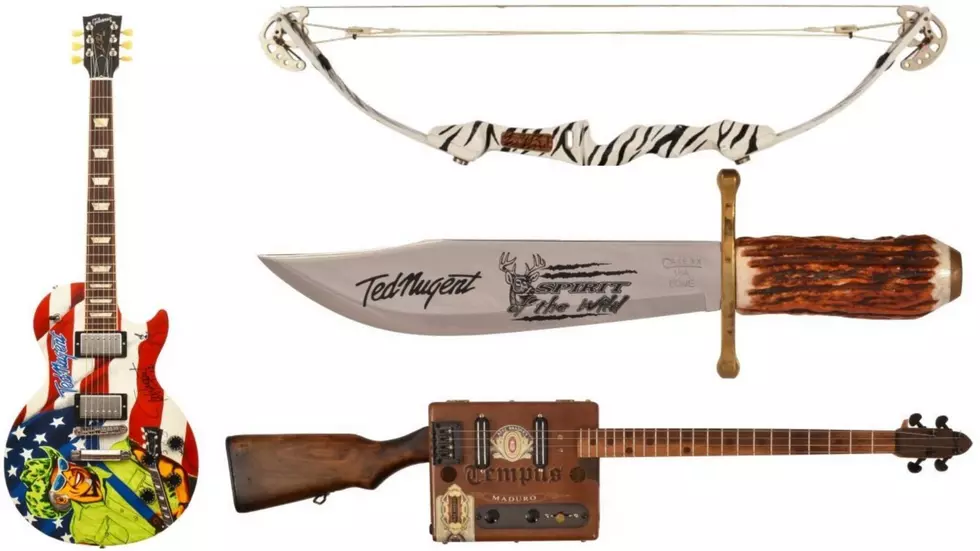 Ted Nugent's Guns, Guitars, & Hot Rod Cars Auction
iCollector
Ted Nugent is one of the more universally known names because of his love of many hobbies. He's known for his music, obviously, but he's also known for his car collecting, and is well known in the hunting community for his love of bowhunting and gun collecting.
Apparently he's decided he has too many guns, too many guitars, and too many cars, so he's listed a whole lot with iCollector Auction House.
While many of the items are listed online, there will still be an in-person auction held Saturday, March 27th at Tucker Hall in Waco, Texas.
The auction features 200 personal firearms, including custom built Ted Nugent guns (some of even engraved), Ted Nugent Ammo, plus a bunch of his personal archery equipment.
Also listed are multiple one-of-a-kind guitars, like his 1958 and 1959 Gibson Les Pauls, 1956 Fender Strat, Black Gibson Byrdland, Gibson Custom Shop Les Paul, early Paul Reed Smith prototype and more.
Ted's fully restored 1968 Ford Bronco and custom 2015 Dodge Hellcat Challenger are also listed.
My personal favorite and wish list item is the Nuge's Rifle Cigar Box Guitar, combining 3 different hobbies of Ted's into one item.
This stimulus check better show up or I'm not going to make rent if I stay on this website much longer.
Read more at PR Newswire
$17 Million Condo For Sale Less Than 3 Hours From The QC