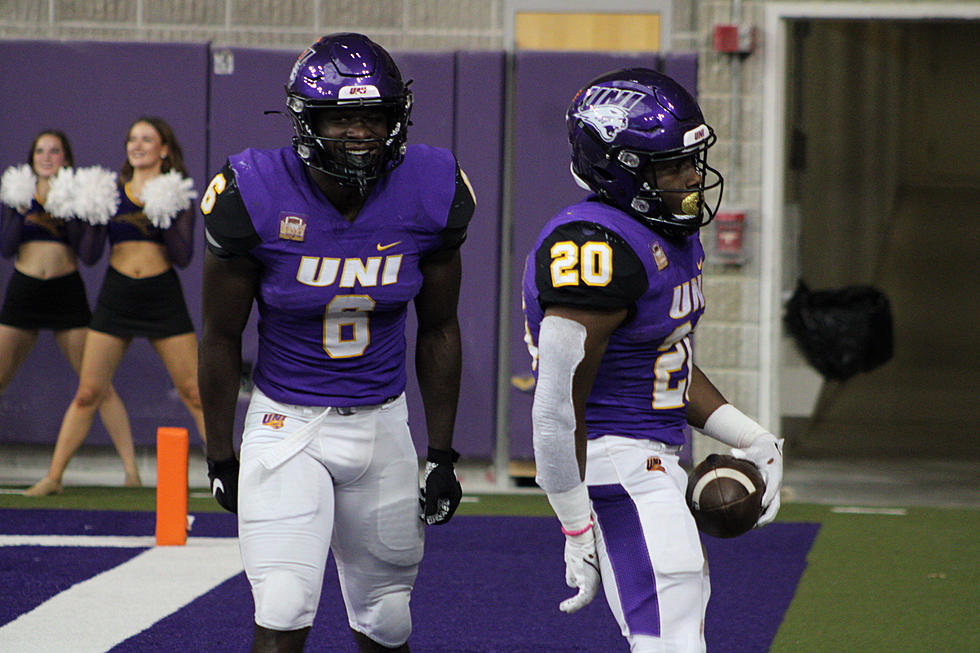 No. 16 UNI Will Faceoff with ANOTHER Top 10 Opponent, No. 3 Southern Illinois
Andy Saigh
UNI Football had one of the biggest bounce backs in program history last week after defeating the then No. 6 team in the country, the South Dakota State Jackrabbits in Brookings, South Dakota.
The Panthers had lost two in a row at that point in time, and they proceeded to beat SDSU, never relenting the lead to their Missouri Valley Football Conference rivals.
There's no such thing as an off week in this conference, though.
This coming weekend, the purple and gold will take on another top 10 team in the nation -- the No. 3 Southern Illinois Salukis.
In recent memory, the Panthers have had the edge over the team from Carbondale. Although they dropped last year's contest 17-16 on the road, UNI has taken four of the last five matchups.
This is a different Saluki squad this year, though. Their only loss came at the hands of the Kansas State Wildcats, 31-23 in Manhattan, Kansas. This game will be a tough one.
Put the game out of reach EARLY and play keep away
The Salukis have a big-play offense. Nic Baker, the quarterback of the Southern Illinois offense, has passed for 1889 yards and 18 touchdowns along with seven interceptions this season. He's also mobile. The play is never dead with Baker.
One of his receivers, Landon Lenoir, has 43 catches for 627 yards and eight touchdowns.
This offense can score at any time.
With that said, if the Panthers can give their defense a bit of a cushion early, it will be much more likely we see a win for UNI. Should time of possession fall the way of the purple and gold, that'd be beneficial, too. The Salukis can't score if they don't have the football.
Maintaining the lead shouldn't be too much of a problem, either.
Given the running-back-by-committee style the Panthers run, putting the ball in the hands of Bradrick Shaw, Vance McShane, and Dom Williams will bode well for the Panthers. Eat, eat, eat the clock. Southern Illinois ranks just 52nd in the country in run defense.
As mentioned in last week's preview,
With Minnesota-transfer and elite safety Benny Sapp III, Honorable Mention All-MVFC corner Omar Brown, Second-Team All-MVFC corner Austin Evans, press-coverage corner in Stefan Black II, and knock-your-teeth-out safety Korby Sander, there aren't going to be many offenses that can avoid all five in the passing game.
The defense will need to stay disciplined against a playmaker the likes of Baker, and with this group of defensive backs, it can be done.
Take Advantage of Opportunities
The Salukis have won their last three games by a combined five points. 
In their matchup with the Jackrabbits, SDSU's quarterback Chris Oladokun threw two interceptions and fumbled the ball in the red zone. Their offense was in the red zone several times and twice it ended in a field goal. Their kicker missed a field goal later in the game. The Jackrabbits went for two and didn't convert in OT. The Salukis won 42-41 in OT.
When facing Western Illinois (who is now 1-7), the Leathernecks' quarterback Connor Sampson threw two picks. Southern Illinois was up 21-0 and ultimately won after WIU attempted a two-point conversion that failed -- SIU won 31-30 in OT.
Taking on North Dakota two weeks ago, the Fighting Hawks missed TWO field goals late that could have either tied or won the contest. UND ran 28 more plays and accumulated 474 total yards compared to 363 for the Salukis. They also had 10 more first downs than SIU. They held Baker to 177 yards passing and made him throw a pick. Southern Illinois won 31-28.
UNI must avoid turnovers, and when an opportunity presents itself, the Cats have to take advantage.
Minimize Penalties
The purple and gold has committed 41 penalties to their opponents' 24.
While SIU has committed close to the same amount as UNI with 35, the Panthers must be aware of this. Against a team as talented as the Salukis, the trend has to stop here.
There will be penalties one way or another -- whether it's a correct or incorrect call (like Sapp III being ejected for targeting last week, which he handled incredibly well, by the way), there will be penalties. They must be held to a minimum, though.
UNI cannot continue to shoot themselves in the foot. Especially this Saturday.
Final thoughts
The Salukis aren't as good as their record or ranking show. They leave plenty of chances for their opponents to win football games. If UNI takes advantage, we may see yet another upset victory for the Panthers in the UNI-Dome this weekend.
Iowa Born Sports Stars
What do each of these stellar athletes have in common? They all hail from the Hawkeye State.
Yep, You Can Stay in an Actual Iowa Grain Bin!
This Airbnb is so totally Iowa! Stay in a real grain bin converted into a pretty luxurious, cozy rental.