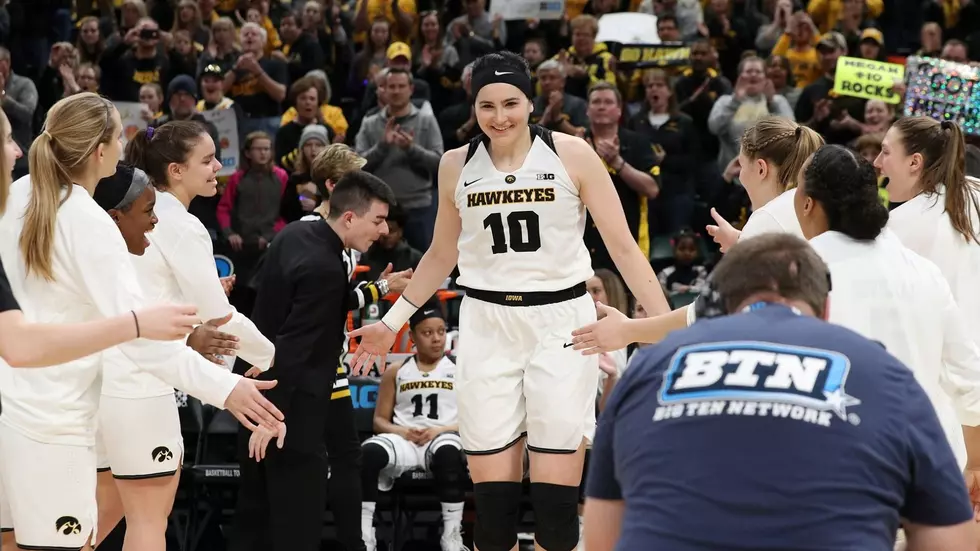 Megan Gustafson "Thankful the University of Iowa Chose Me" [WATCH]
Brian Ray/HawkeyeSports.com
It goes without saying that last night's Iowa women's Elite 8 game against top-ranked Baylor didn't go as planned for the Hawkeyes, who lost 85-53. It spelled the end of an illustrious Iowa career for Megan Gustafson and fellow seniors Tania Davis and Hannah Stewart. As you might imagine, things were very emotional afterward.
Monday night was the end to an amazing career for Megan Gustafson who ended her senior campaign with 1,001 points. Her career stats are absolutely incredible: 2,804 points, 1,459 rebounds, 88 double-doubles (points and rebounds in a game).
According to the Gazette, when you add in Tania Davis' 1,007 career points and the 808 scored by Hannah Stewart, the three combined for a total of 4,619 points. That's more than any graduating class in the history of Iowa women's basketball has scored and 240 more than Melissa Dixon, Bethany Doolittle, and Samantha Logic put up. They graduated in 2015.
The 2019 seniors were led by Gustafson and their love for one another was evident. Megan Gustafson couldn't help but break down when talking about what Tania Davis went through during her Iowa career. And her words for the University of Iowa... well, grab a tissue. You'll need it.
Thanks to all of you for representing the University of Iowa, and our state, so well. And thanks for the thrilling ride that was your senior season(s).
A welcome home ceremony for the team will be held at approximately 12:45 this afternoon on the Von Maur side of the Coralville Transit Intermodal Facility.