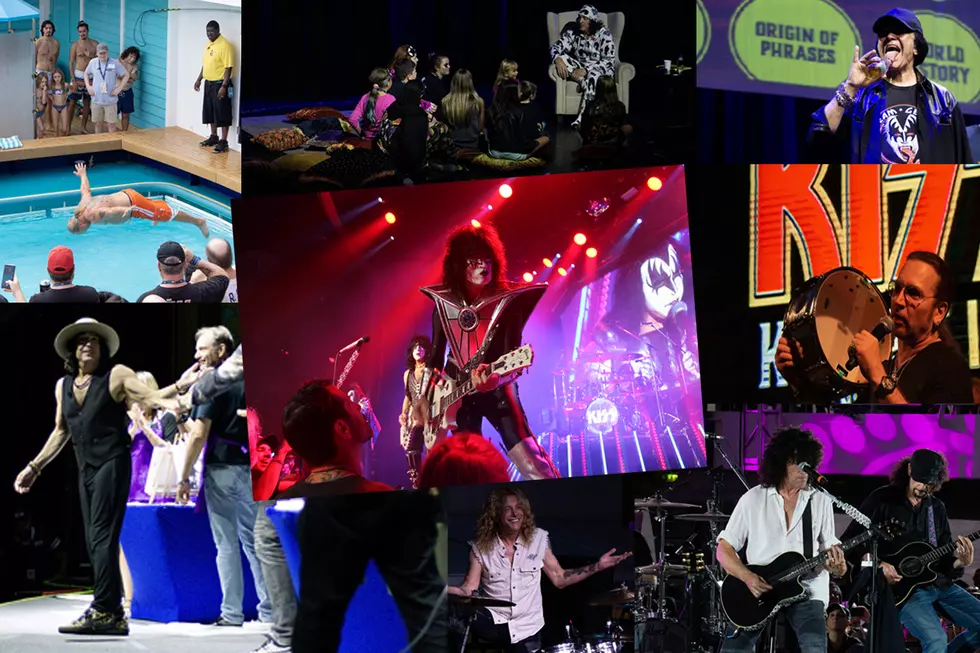 Kiss Kruise IX Photos: Rock 'n' Roll, Pajamas and Belly Flops
Eric Haggard / Matthew Wilkening, UCR
The ninth-annual Kiss Kruise was a nonstop parade of concerts, activities and laughs.
You can see exclusive photos from the five-day cruise below.
Regardless of the intended nature of the fan events, the members of Kiss wound up answering a lot of fan questions. Their collective upbeat attitude and good-natured humor were on display throughout, as they playfully teased each other about pre-show rituals and tastes in music. They answered questions they've probably heard a thousand times politely and seriously, and deftly turned any negatively tinged inquiries ("How come Tommy and Eric wear Peter and Ace's makeup?") around on the person doing the asking.
Their answers also returned to the themes of self-belief and hard work. While Stanley at one point admitted, "I know we sound like a self-help book up here," the band members declared that a positive attitude and self-confidence were the keys to everything they've been able to accomplish.
Kiss also announced that next year's Kiss Kruise X will take place Oct. 30 to Nov. 4, sailing from Miami to Harvest Caye, Belize and Roatan, Honduras. They revealed the date and location of their last-ever End of the Road concert too, as well as the dates and cities for another 75 shows before that final performance.