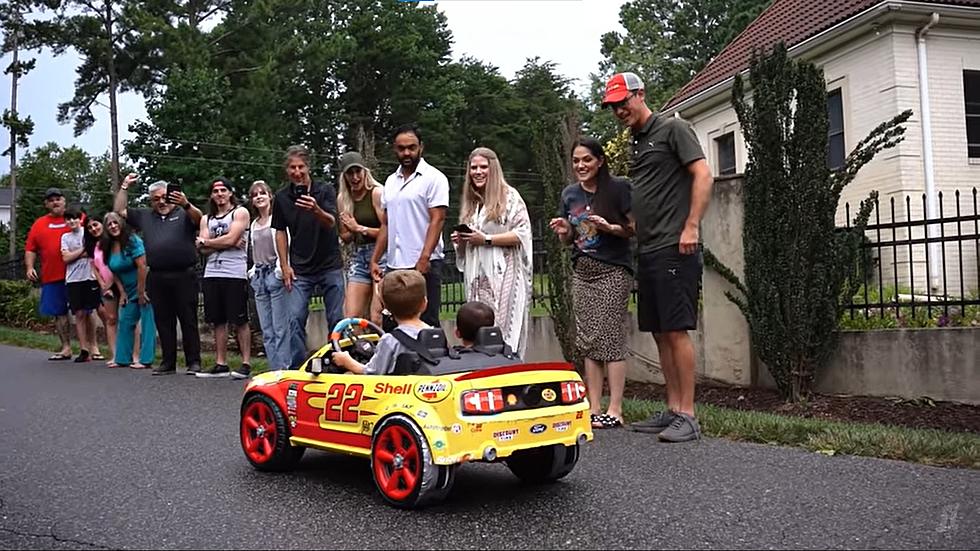 Joey Logano Holds Gender Reveal, Nobody Gets Hurt or Dies
Joey Logano via YouTube
Acres of forest land, thousands of homes, and lives were saved in a gender reveal that Joey Logano held.
In a unique and completely safe gender reveal, Joey Logano announced the gender of his third child.
Video shared to his YouTube account showed the reveal. His two sons, Hudson and Jameson, hopped into a toy Power Wheels-style version of Logano's #22 Penzoil Mustang, which had been souped-up.
Check out the full reveal here:
Hudson stomped on the throttle, just as Joey asked, and the car did a burn out, throwing pink powder everywhere, showing they'd be having a girl.
In the style of his daddy, Hudson celebrated the news of a little sister by doing some victory donuts.
LOOK: Here Are 30 Foods That Are Poisonous to Dogs
To prepare yourself for a potential incident, always keep your vet's phone number handy, along with an after-hours clinic you can call in an emergency. The ASPCA Animal Poison Control Center also has a hotline you can call at (888) 426-4435 for advice.
Even with all of these resources, however, the best cure for food poisoning is preventing it in the first place. To give you an idea of what human foods can be dangerous, Stacker has put together a slideshow of 30 common foods to avoid. Take a look to see if there are any that surprise you.