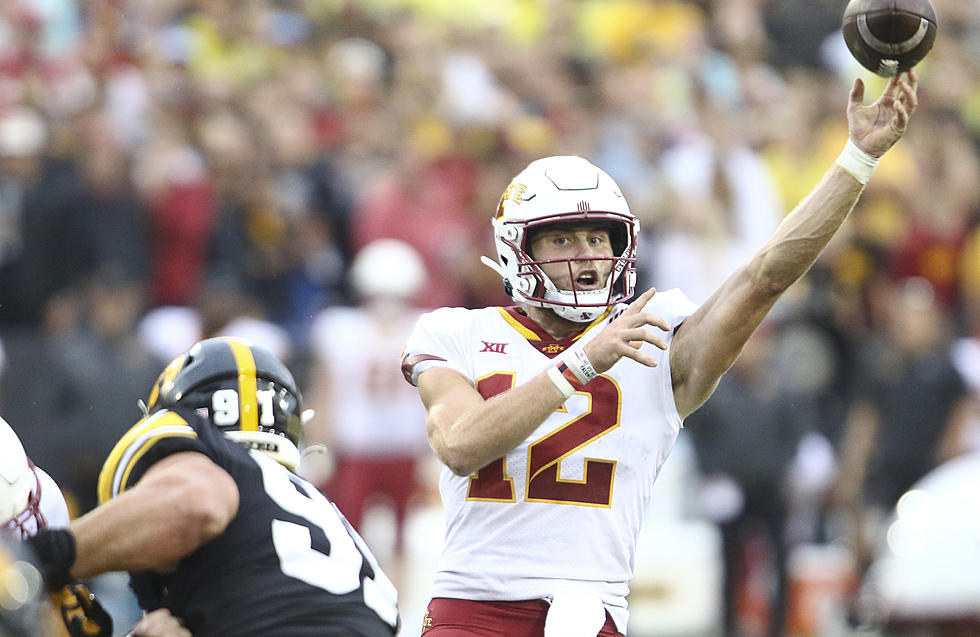 ISU Starting Quarterback Charged With Gambling on Football
Getty Images
The Iowa State Cyclone's starting quarterback is facing the loss of his college eligibility due to his ties to gambling on college sports, including Iowa State football games.
The Des Moines Register reports that Hunter Dekkers is accused of placing 26 wagers on Iowa State sporting events, including a 2021 football game against Oklahoma State when he was a sophomore. Dekkers was the backup QB in that game. The Register reports that the criminal complaint alleges the DraftKings account controlled by Dekkers completed 366 online or mobile wagers totaling "over $2,799." Dekkers, who started all 12 of Iowa State's football games a season ago, face permanent loss of eligibility under current NCAA guidelines that prohibit student-athletes from gambling on sports.
A statement was issued on Dekker's behalf yesterday via the Weinhardt Law Firm in Des Moines.

Dekkers will not participate in the Cyclone's fall preseason football camp to "focus on his studies and on the defense of this criminal charge." Two other current Iowa State athletes were also charged. Paniro Johnson, a sophomore wrestler, and Dodge Sauser, a sophomore offensive lineman, are also both accused of wagering on Iowa State sporting events, according to the Register. 
The Register reports that the Iowa Racing and Gaming Commission stated in May that it did not believe that betting markets had been compromised by the conduct of the charged athletes. The charges that Dekkers and the other athletes face are aggravated misdemeanors and carry a maximum sentence of one year in a county jail or up to two years in prison if convicted.
KEEP READING: Here are 50 of the most famous sports goofs
The 100 Best Places to Live in the Midwest