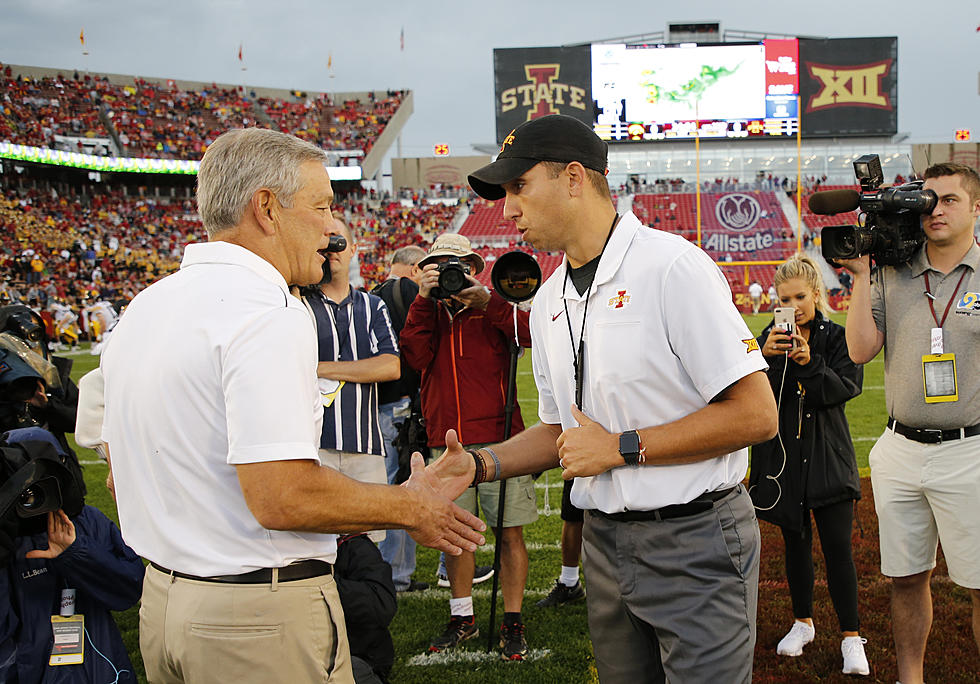 ISU, Iowa Football Making Adjustments But Planning for On-Time Fall Start
Getty Images
KCCI reports Iowa State Athletic Director Jamie Pollard made a long-winded but very important announcement to fans and prospective ticket buyers about the program's plans for Fall.
Pollard says they are planning for an on-time start on September 5. It gets more complicated when you start to think about if or how many fans will be allowed into Jack Trice Stadium, given the uncertainties of the ongoing Coronavirus pandemic.
As of now, if and when Jack Trice opens this fall, it will only be to 50 percent capacity. That 50 percent will be comprised, first and foremost, of season ticket renewal holders and those who submit a donation to the Cyclone Club by June 12.
About 22,000 seats are already spoken for, leaving 8,000 prioritized to the above. Renewed season ticket holders who are antsy about the current situation can transfer their season tickets to 2021 without penalty or ask for a refund.
On this front, Pollard said "We believe it is very important to honor prior loyalty, as there may be some fans who are not comfortable attending games this fall or are experiencing financial challenges.
To make a long story short: renew your Iowa State football season tickets or pay by June 12, or don't get into Cyclone games this Fall.
They will soon present mitigation measures they will put in place to protect those willing to come into Jack Trice Stadium this Fall without, Pollard says rather transparently, any guarantee they won't contract COVID-19
Meanwhile, it's business as usual for now at Kinnick Stadium where they also plan to start in just over 100 days. They haven't announced any changes to their capacity limits, although there will very likely be some that we will keep you posted on, and season ticket renewals for students and the general public are now being sold. Single-game tickets go on sale on June 30th.
Learn more from KCCI, who also printed Pollard's full statement here.
Enter your number to get our free mobile app
Did You Know These Famous People Were From Iowa?