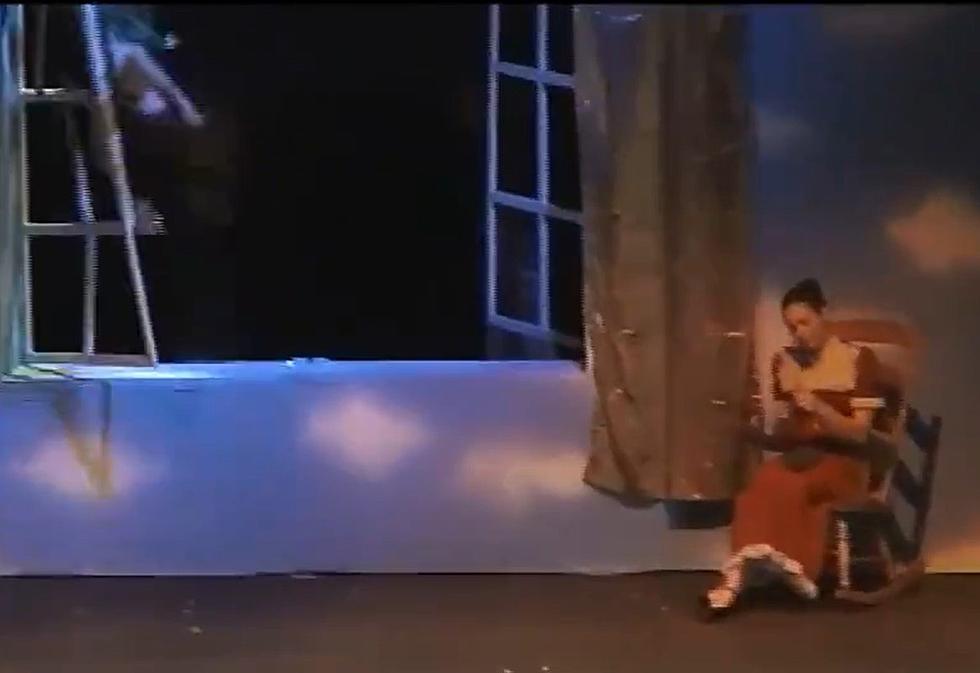 Flying Peter Pan Crashes On Set of Play, Delivers Line Like Nothing Happened
Nathan Cykiert via Twitter
The thing about high school musical productions is that the kids who do these shows may look professional with their costumes, perfectly tailored set design, and special effects, but at the end of the day, they're still high school kids.
A video shared by a guy named Nathan Cykiert, who is actually an associate producer for Jimmy Fallon, shows a mistake made during a live performance of Peter Pan. 
"I can't wait for school plays again so we can get more moments like when my friend played Peter Pan," he wrote along with the video.
Being operated by high school kids, someone pulled too hard on the flying rig a little too hard, and rather than have a smooth fly in to the window sill, just yanked the poor Peter through the window frame.
If you look closely, Peter flies in upside down through the wood window panel.
"OOOHHHH!" The audience can be heard yelling.
Being nimble, Peter Pan lands on his feet, composes himself, turns and delivers the line, "Hello, Wendy!"
It just goes to show that while these kids are kids, they still can perform like professionals.
KEEP READING: Here are the most popular baby names in every state
Using March 2019 data from the
Social Security Administration
,
Stacker
compiled a list of the most popular names in each of the 50 states and Washington D.C., according to their 2018 SSA rankings. The top five boy names and top five girl names are listed for each state, as well as the number of babies born in 2018 with that name. Historically common names like Michael only made the top five in three states, while the less common name Harper ranks in the top five for 22 states.
Curious what names are trending in your home state? Keep reading to see if your name made the top five -- or to find inspiration for naming your baby.