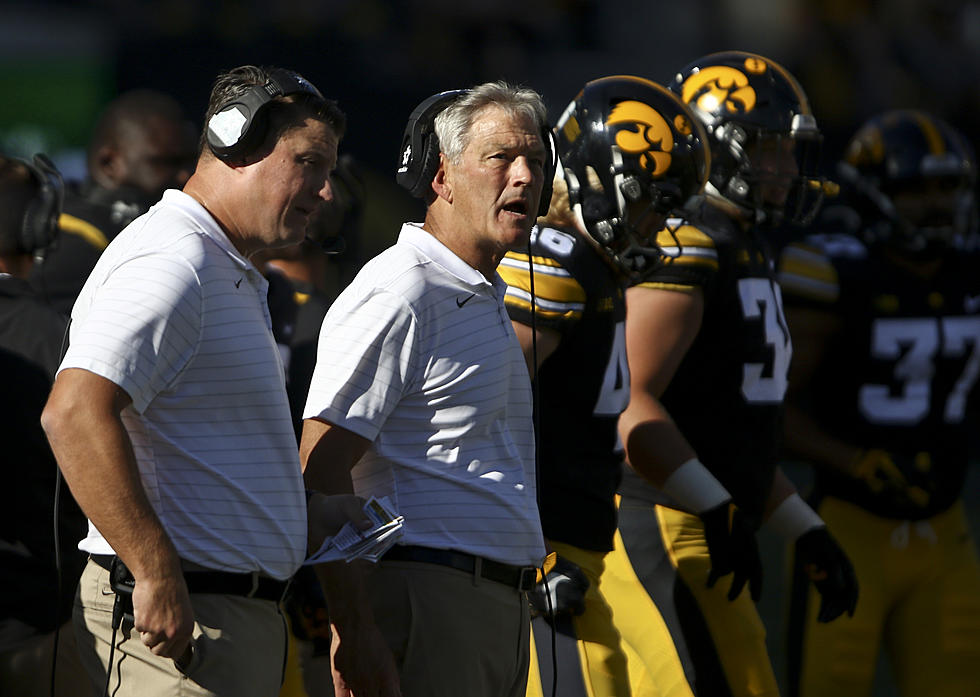 Ferentz Says "Our Fans Aren't Stupid…They Smelled a Rat"
Getty Images
Sportsmanship is an important part of not only participating in athletic events but also watching them. Iowans are usually pretty good at this. Whether it's a high school game or a college game in Iowa City or Ames, when an opposing player is clearly injured, fans will give them some respect and applause when they rise and leave the field. Notice I stated when they are 'clearly' injured. One of the lingering issues from Iowa's win over Penn State this past weekend could be summed up as 'Injury-gate'. Many Iowa fans thought some Penn State players were faking injuries during the game to slow Iowa's momentum on offense. And Kirk Ferentz backed up those claims on Tuesday.
Ferentz didn't come right out and accuse Penn State of faking injuries yesterday, but he didn't exactly dismiss the claims either. The Cedar Rapids Gazette reports that Ferentz defended Iowa fans saying,
Our fans aren't stupid. They're watching. They know whats going on. They smelled a rat, I guess.
Ouch. Penn State players are rats. Ferentz certainly didn't take the high road. He went on to note that this isn't the first time in his 23 years of coaching that he's seen something like this happen. The Gazette reports that Ferentz is aware that this strategy does exist in some places in the world of college football. His Iowa teams though, do NOT coach it. Ferentz did note that several of the injuries to Penn State players were legitimate. Senior quarterback Sean Clifford suffered a shoulder injury and didn't play the second half. Another player was taken off the field and seen icing his leg. But other players who were down for the count returned after a play or two.
As you might imagine, PSU coach James Franklin saw things differently. While Ferentz calls the Kinnick crowd smart, Franklin called them disrespectful. Franklin stated, "I don't think it's the right thing for college football, booing guys when they get hurt". All this talk of rats will have to wait. But can you imagine if these two teams meet in the Big Ten Championship game?
$4 Million Home For Sale in North Liberty
Iowans Share the Weird Things That Freak Them Out