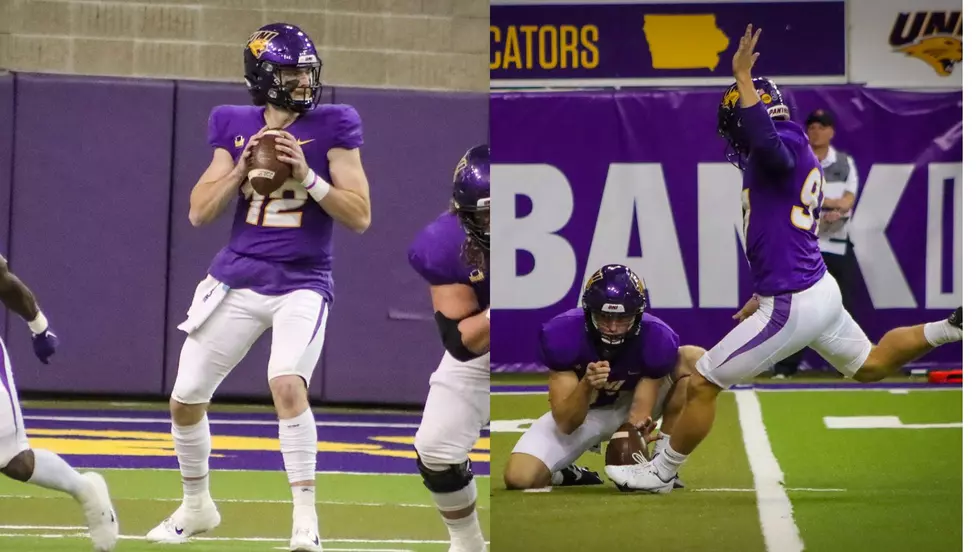 Day Time, Cook Gets Record, and Panthers Hold to Playoff Hopes
Andy Saigh for UNI Athletics
With their playoff hopes on the line heading into the final game of the 2022 regular season, the Northern Iowa Panthers thrashed the South Dakota Coyotes, 58-14.
And it wasn't even as close as the 44-point discrepancy showed.
49 of the UNI's points came in the first half, and 42 of them came from starting quarterback Theo Day. The Panthers didn't just score early and often. They scored ridiculously early and often.
Day tossed his first three touchdown passes in the first quarter.
The initial touchdown came on a seven-yard toss to tight end Layne Prior for his first score in purple and gold, the second came on a 37-yard bullet over the middle to sophomore wideout Sergio Morancy, and the third was a dart to Sam Schnee on the far sideline before he cut back to the opposite side of the field, and scored from 35-yards out.
Day finished the first quarter 9-11 for 202 yards and those three touchdowns -- not to mention a QBR of 326.1.
"Theo Day is a difference maker," Coach Mark Farley said. "He has grown exponentially. ... From our last game last year to this game today, there's a significant difference."
If things weren't already out of hand after the first 15 minutes, they definitely got there in the second quarter.
Just 39 seconds in, Day took the ball to the left side of his offensive line on an option play to score his fourth touchdown of the half. After a Woo Governor interception (his fourth of 2022), senior running back Vance McShane galloped 18 yards to the endzone untouched and made the lead 35-0 with 12:51 before the half.
Things just kept going UNI's way as Travis Theis fumbled the ensuing kickoff and Day proceeded to find Kansas transfer Quan Hampton for an 11-yard score just two plays and 49 seconds later to make it 42-0.
"I'm really pleased with (the team) because they were prepared," said Farley. "That's what you should look like coming out of an open date, and of course, we're playing really good football right now."
Before the end of the half, USD added a score of their own and then Day found Noah Abbott for his sixth and final touchdown of the afternoon. Abbott's first career touchdown as a Panther gave UNI a 49-7 lead at the half.
"I couldn't be more proud of our offense," senior linebacker Bryce Flater said postgame. "That was fun to watch."
The second half wasn't quite as explosive, but it was record-breaking.
On the first drive of the third quarter, junior Matthew Cook officially took hold of the Missouri Valley Football Conference and UNI career record for field goals made, booting through a 26-yarder to reach 65. He passed the previous leader, Billy Hallgren who put up 64 between 2006 and 2010.
"It's been good to come here and do what I've done, to have all these opportunities I've had," Cook said postgame. "It's been amazing."
Cook went on to add one from 36 and another from 37 before the end of the contest, moving his career total to 67. The USD offense added another touchdown to make the final 58-14. Day finished the contest with 21 completions for 380 yards and six total scores.
The UNI defense allowed just 236 total yards, much of which came in the second half.
"We knew we had to come out and start fast," Flater said. "We're in a position (to play) like we're in the playoffs right now. We knew we had to win big for us to potentially make the playoffs."
Following the win, Coach Farley and the Panthers will wait to watch the FCS Playoff Selection Show on ESPNU at 11:30 CT to determine if their 6-5 record is good enough to earn them a spot in the 2022 bracket.
"It's my belief that (the committee) will take four from (the MVFC)," Farley said postgame. "If they go to four, then I hope we'll be the fourth team."
Iowa, Iowa State, and UNI Football Players Headed to the NFL
Young men from all three state schools are getting their opportunities to play at the next level, whether they were drafted or picked up as free agents. Here's where they landed!
A Breakdown of UNI's 2022 Football Schedule
The Panthers will embark on their 2022 season in September of this year. Let's take a look at who they'll face, including some of the best in the Missouri Valley Football Conference.