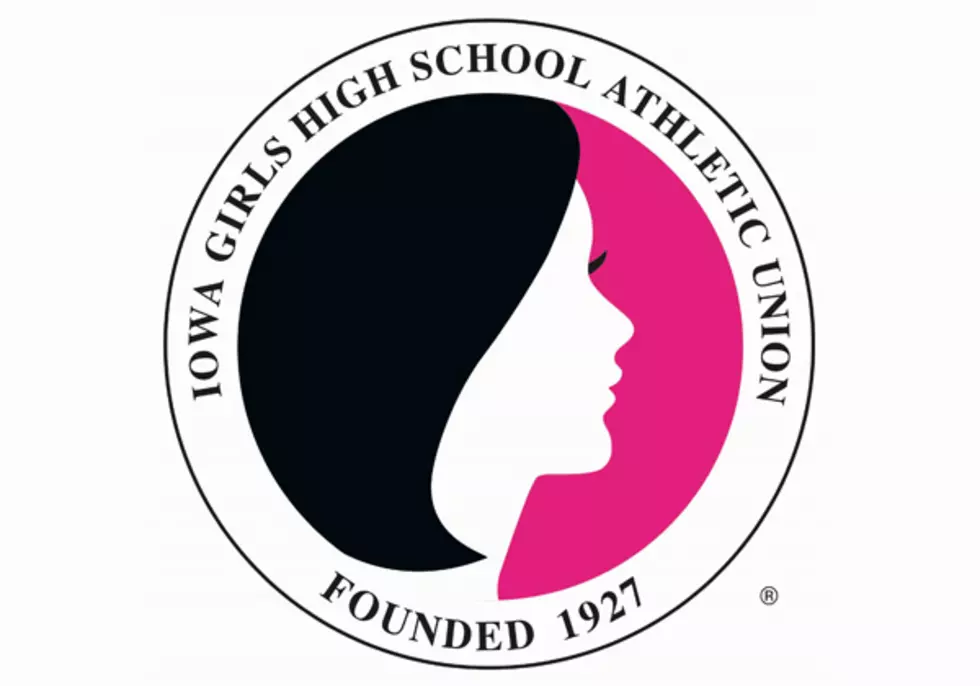 WDM Valley Defeats Cedar Falls To Claim First Title
Source: Iowa Girls High School Athletic Union
One big second-quarter burst sent West Des Moines Valley on its way to a state championship.
It's the first title for Valley and came in the school's 12th trip to the state tournament and fourth appearance in the finals.
Valley did it with the type of balance that has carried the team all season. Sophomore Zoe Young led Valley with 21 points, including a long 3-pointer to help blunt a late Cedar Falls comeback attempt.
Drake University recruit Hannah Fuller added 16 points and seven rebounds, while freshman Alex Honold scored 13 to go with nine rebounds and Jamie Feldt had 11. Jamie's twin, Jackie, helped out with four points and six rebounds.
The victory was especially satisfying for Fuller and the Feldt sisters. They played on the Valley team that lost to Waukee in the 2015 championship game.
Cynthia Wolf led Cedar Falls with 18 points and 10 rebounds. Kiana Barney scored 15, Ally Conrad added 11 and Emerson Green had eight.
Fifth-ranked Cedar Falls had knocked off No. 1 Indianola in the semifinals, but Valley was too deep and talented and once Valley got the lead, Cedar Falls faced a long scramble to try to get back in it.
Cedar Falls was leading 21-14 early in the second quarter when Valley took off, finishing its big run with 11 straight points. Young, Honold and Shea Fuller hit consecutive 3-pointers and Fuller scored on a fastbreak layup, putting Valley ahead 32-23.
The lead grew to 18 before Cedar Falls started chopping away at that margin, drawing to 61-54 when Green stole the ball and drove for a layup.
Then, when it appeared Valley was content to run some clock, Young knocked down a 3 from NBA range. Young fed Jamie Feldt for a layup on Valley's next possession and Fuller sank two free throws, taking the lead back to 68-54 with 59 seconds left and Valley was home free.
Fuller was named captain of the all-tournament team and was joined by Young, Wolf, Barney, Grace Berg of Indianola and Logan Cook of Iowa City West.
Valley finishes its memorable season with a 24-2 record. Cedar Falls goes home with a 23-3 mark.
---

West Des Moines Valley vs Cedar Falls
03/04/17 8:00 PM at Wells Fargo Arena, Des Moines, IA

--------------------------------------------------------------------------------
VISITORS: West Des Moines Valley 24-2
                          TOT-FG  3-PT         REBOUNDS
## Player Name            FG-FGA FG-FGA FT-FTA OF DE TOT PF  TP  A TO BLK S MIN
03 Young, Zoe.......... *  8-12   3-6    2-3    2  2  4   3  21  5  3  1  0  30
13 Feldt, Jackie....... *  2-8    0-1    0-0    1  5  6   4   4  1  3  1  2  22
23 Honnold, Alex....... *  6-9    0-0    1-3    6  3  9   2  13  0  4  1  3  29
25 Feldt, Jamie........ *  4-8    1-2    2-2    1  4  5   3  11  0  1  0  0  26
35 Fuller, Hannah...... *  5-10   0-1    6-8    4  3  7   3  16  1  2  0  3  32
01 Carr, Casey.........    0-1    0-0    0-0    0  0  0   1   0  0  0  0  0   4
05 Plummer, Grace......    0-0    0-0    0-0    0  0  0   0   0  0  0  0  0  0+
11 Fuller, Shea........    1-4    1-2    3-4    0  0  0   2   6  1  0  0  1  17
15 Helverson, Libby....    0-0    0-0    0-0    0  0  0   0   0  0  0  0  0  0+
21 Evans, Bethany......    0-0    0-0    0-0    0  0  0   0   0  0  0  0  0  0+
31 Schoop, Sydney......    0-0    0-0    0-0    0  0  0   0   0  0  0  0  0  0+
33 Roush, Callie.......    0-0    0-0    0-0    0  0  0   0   0  0  0  0  0  0+
43 Hinkle, Grace.......    0-0    0-0    0-0    0  1  1   0   0  0  0  0  0  0+
   TEAM................                         1  1  2
   Totals..............   26-52   5-12  14-20  15 19 34  18  71  8 13  3  9 160

TOTAL FG% 1st Half: 13-30 43.3%   2nd Half: 13-22 59.1%   Game: 50.0%  DEADB
3-Pt. FG% 1st Half:  3-8  37.5%   2nd Half:  2-4  50.0%   Game: 41.7%   REBS
F Throw % 1st Half:  6-10 60.0%   2nd Half:  8-10 80.0%   Game: 70.0%   2,1


--------------------------------------------------------------------------------
HOME TEAM: Cedar Falls 23-3
                          TOT-FG  3-PT         REBOUNDS
## Player Name            FG-FGA FG-FGA FT-FTA OF DE TOT PF  TP  A TO BLK S MIN
10 Johnson, Reilly..... *  2-2    2-2    0-0    0  1  1   4   6  0  2  0  2  13
14 Johnson, Calli...... *  0-7    0-7    0-0    1  1  2   5   0  1  3  1  1  25
24 Conrad, Ally........ *  2-6    2-4    5-6    2  2  4   2  11  6  6  0  0  31
32 Barney, Kiana....... *  4-13   0-5    7-7    3  2  5   3  15  1  1  1  1  31
50 Wolf, Cynthia....... *  6-9    2-3    4-5    5  5 10   0  18  0  1  0  0  26
02 Green, Emerson......    2-7    0-2    4-5    0  1  1   3   8  2  1  0  2  18
04 Kvale, Paige........    0-0    0-0    0-0    0  0  0   0   0  0  0  0  0  0+
12 Remmert, Olivia.....    0-1    0-1    0-0    0  1  1   3   0  0  1  0  0   7
20 Becker, Taylor......    0-1    0-0    0-0    0  0  0   0   0  0  0  0  0   1
22 Schulte, Madison....    0-0    0-0    0-0    0  0  0   0   0  0  0  0  0   1
30 Bermel, Hannah......    0-1    0-0    0-0    0  0  0   0   0  0  0  0  0   1
40 Paup, Hailey........    0-0    0-0    1-2    0  0  0   0   1  0  0  2  0   6
42 Lynch, Taylor.......    0-0    0-0    0-0    1  0  1   0   0  0  0  0  0  0+
   TEAM................                         1  2  3
   Totals..............   16-47   6-24  21-25  13 15 28  20  59 10 15  4  6 160

TOTAL FG% 1st Half:  8-22 36.4%   2nd Half:  8-25 32.0%   Game: 34.0%  DEADB
3-Pt. FG% 1st Half:  3-12 25.0%   2nd Half:  3-12 25.0%   Game: 25.0%   REBS
F Throw % 1st Half:  8-9  88.9%   2nd Half: 13-16 81.3%   Game: 84.0%    2


--------------------------------------------------------------------------------
Officials: Dave Rittman, Rich Choponis, Ben Applegate
Technical fouls: West Des Moines Valley-None. Cedar Falls-None.
Attendance:
Score by Periods                1st  2nd  3rd  4th   Total
West Des Moines Valley........   12   23   20   16  -   71
Cedar Falls...................   16   11   11   21  -   59
Fouled Out: CF: #14C. Johnson @ 38.3 (4th)