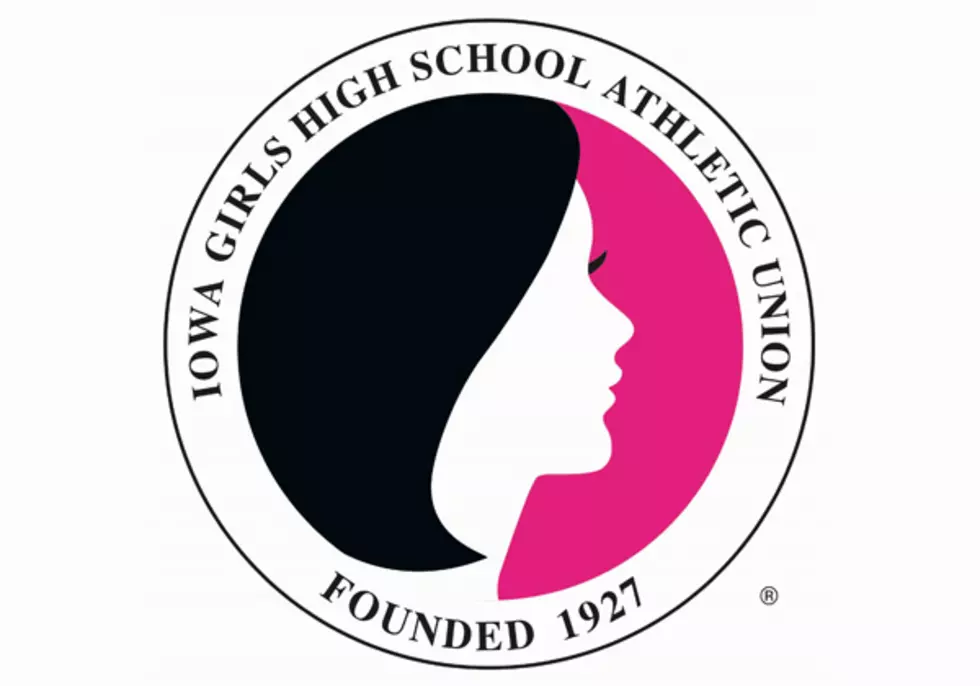 Turkey Valley Earns Title Rematch With Springville
Source: Iowa Girls High School Athletic Union
Second-ranked Turkey Valley completed that pairing by pulling out a 48-46 overtime victory over Exira/Elk Horn-Kimballton. The Trojans will take a 23-2 record against No. 1 Springville at 6 p.m.
Elli Winter and Kayla Gebel led Turkey Valley with 13 points each. Gebel scored 11 of her points in the second half, including three key buckets in the third quarter to bring the Trojans back with a seven-point halftime deficit. Winter grabbed 10 rebounds to finish with a double-double.
Shelby Reicks added 10 points, six steals and four assists for Turkey Valley, including two free throws that broke the game's final tie. Morgen Kuennen scored eight for the Trojans.
Exira/EHK got most of its scoring from its strong inside duo of Sophia Peppers and Kealey Nelson. Peppers finished with 21 points and 10 rebounds, while Nelson had 12 points and 11 rebounds. The two were especially strong on the offensive boards, helping the Spartans put up 18 second-chance points.
Peppers scored on a putback to tie it at 42-all with 18 seconds left in regulation, then blocked a shot at the other end to force overtime.
Her two free throws tied it at 44 with 2:33 left in the extra session, but Reicks was fouled 11 seconds later and made both shots for a 46-44 lead. Three turnovers hurt the Spartans in the final two minutes and Gebel sank two free throws for the final points.
Exira/Elk Horn-Kimballton played at state for the third straight year and finishes 24-2.
---

Exira-EHK vs Turkey Valley
03/02/17 11:45 AM at Wells Fargo Arena, Des Moines, IA

--------------------------------------------------------------------------------
VISITORS: Exira-EHK 24-2
                          TOT-FG  3-PT         REBOUNDS
## Player Name            FG-FGA FG-FGA FT-FTA OF DE TOT PF  TP  A TO BLK S MIN
13 Schultes, Sadie..... *  0-0    0-0    0-0    1  1  2   2   0  0  1  0  0  32
21 Rasmussen, Maggie... *  1-8    0-6    2-2    2  4  6   2   4  2  4  0  1  35
23 Burmeister, Mara.... *  0-4    0-4    1-2    0  3  3   5   1  2  5  1  1  22
31 Nelson, Kealey...... *  5-13   0-0    2-2    4  7 11   2  12  0  4  2  1  35
41 Peppers, Sophia..... *  9-16   0-2    3-4    5  5 10   3  21  1  4  1  2  30
15 Walker, Rachel......    1-4    0-3    1-2    1  0  1   1   3  1  2  0  0  15
33 Schultes, Ellie.....    0-1    0-0    0-0    0  1  1   0   0  0  0  0  0   4
43 Caniglia, Leslie....    2-3    0-0    1-1    0  0  0   0   5  0  2  0  0   7
   TEAM................                         1  2  3
   Totals..............   18-49   0-15  10-13  14 23 37  15  46  6 22  4  5 180


TOTAL FG% 1st Half:  9-26 34.6%   2nd Half:  8-19 42.1%   OT:  1-4  25.0%   Game: 36.7%  DEADB
3-Pt. FG% 1st Half:  0-8   0.0%   2nd Half:  0-5   0.0%   OT:  0-2   0.0%   Game:  0.0%   REBS
F Throw % 1st Half:  6-7  85.7%   2nd Half:  2-4  50.0%   OT:  2-2  100 %   Game: 76.9%    1



--------------------------------------------------------------------------------
HOME TEAM: Turkey Valley 23-2
                          TOT-FG  3-PT         REBOUNDS
## Player Name            FG-FGA FG-FGA FT-FTA OF DE TOT PF  TP  A TO BLK S MIN
11 Gebel, Kayla........ *  5-12   0-3    3-4    2  4  6   3  13  2  3  0  1  35
12 Reicks, Shelby...... *  4-8    0-1    2-2    0  0  0   3  10  4  3  0  6  36
33 Winter, Elli........ *  5-11   0-0    3-7    3  7 10   2  13  0  3  0  1  32
34 Nymeyer, Sadie...... *  1-3    0-1    0-0    1  5  6   2   2  1  2  0  1  36
35 Kuennen, Morgen..... *  4-14   0-0    0-0    2  2  4   4   8  3  2  0  2  23
04 Reicks, Kassidy.....    0-1    0-0    0-0    0  0  0   0   0  0  0  0  0   1
14 Schuchhardt, Lydia..    1-1    0-0    0-0    0  0  0   0   2  0  0  0  0   7
23 Baumier, Katlyn.....    0-0    0-0    0-0    1  0  1   0   0  0  1  0  0  10
   TEAM................                            1  1
   Totals..............   20-50   0-5    8-13   9 19 28  14  48 10 14  0 11 180


TOTAL FG% 1st Half:  8-29 27.6%   2nd Half: 11-19 57.9%   OT:  1-2  50.0%   Game: 40.0%  DEADB
3-Pt. FG% 1st Half:  0-4   0.0%   2nd Half:  0-1   0.0%   OT:  0-0   0.0%   Game:  0.0%   REBS
F Throw % 1st Half:  1-2  50.0%   2nd Half:  3-6  50.0%   OT:  4-5  80.0%   Game: 61.5%    3



--------------------------------------------------------------------------------
Officials: Jeff Bermel, Steve Klein, Will Dotson
Technical fouls: Exira-EHK-None. Turkey Valley-None.
Attendance:
Score by Periods                1st  2nd  3rd  4th   OT   Total
Exira-EHK.....................    8   16    5   13    4  -   46
Turkey Valley.................    9    8   15   10    6  -   48
FOULED OUT: EXIRA #23 Burmeister at 8.5 in OT