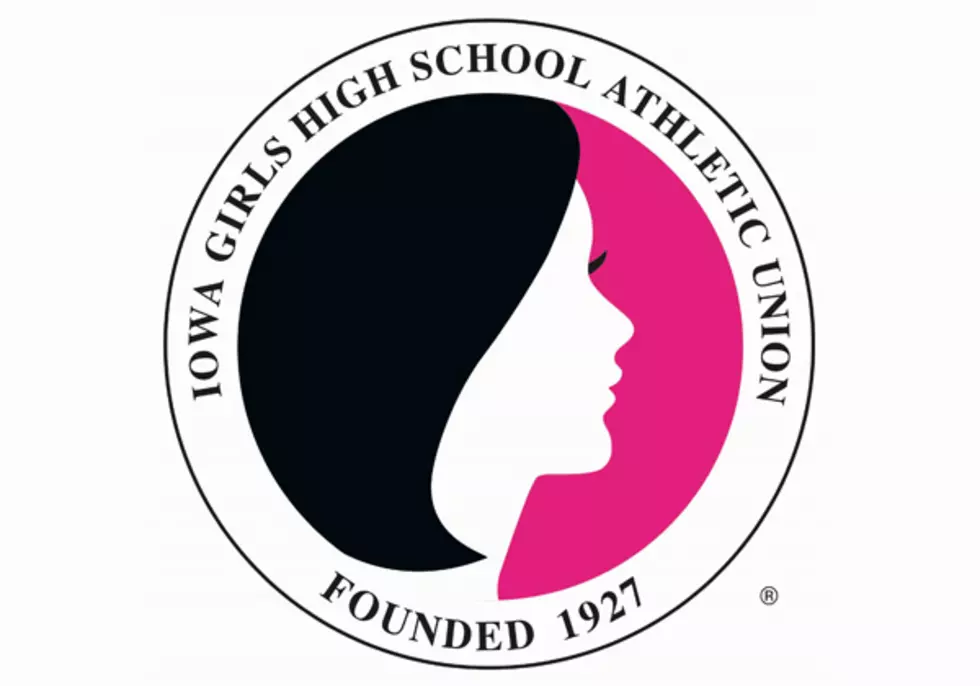 Springville Gets Chance To Defend Championship
Source: Iowa Girls High School Athletic Union
Sharp-shooting Mikayla Nachazel is leading Springville back to the state championship game for the third straight year.
Nachazel scored 32 points on 13-for-19 shooting and the top-ranked Orioles beat Kingsley-Pierson 61-43, putting them in position to win a second consecutive Class 1A title at the Iowa High School Girls State Basketball Tournament. They'll play for the championship at 6 p.m. Friday.
Since the tournament went to classes in 1994, no 1A team has repeated since Rock Valley in 2002 and 2003. Springville also won the 2008 crown and was second in 2009 and 2015.
Springville survived the foul problems of lead guard Rylee Menster to earn this title shot. Menster picked up three fouls in the first quarter and sat the entire second quarter.
Despite her absence, the Orioles increased their lead -- from 20-8 after one quarter to 37-16 at halftime. Nachazel scored 12 points in the quarter and had 22 at halftime.
Menster finished with 11 points and six steals, while Madi Wagaman had nine points and five assists. The Orioles had assists on 16 of their 24 baskets.'
Nachazel, the all-tournament captain last year, added 10 rebounds and five steals. She now has 50 points in this year's tournament and is shooting 64.5 percent (20-for-31).
Allison Bailey had 14 points, six rebounds and four steals for seventh-ranked Kingsley-Pierson, which lost to Springville in the first round last year. The Panthers played hard but did not shoot the ball well enough to keep pace.
Bradi Harvey added 10 points for Kingsley-Pierson and Bri Jensen scored eight to go with four assists.
Springville improves to 24-2, while Kingsley-Pierson finishes a fine season with a 24-2 record.
---

Kingsley-Pierson vs Springville
03/02/17 10:00 AM at Wells Fargo Arena, Des Moines, IA

--------------------------------------------------------------------------------
VISITORS: Kingsley-Pierson 24-2
                          TOT-FG  3-PT         REBOUNDS
## Player Name            FG-FGA FG-FGA FT-FTA OF DE TOT PF  TP  A TO BLK S MIN
15 Harvey, Bradi....... *  3-10   2-8    2-2    1  1  2   2  10  0  8  0  2  30
21 Jensen, Bri......... *  4-7    0-2    0-0    1  3  4   5   8  4  2  1  3  24
25 Goodwin, Madison.... *  1-6    1-5    2-2    1  2  3   2   5  3  4  0  1  29
43 Bailey, Allison..... *  5-10   0-2    4-7    3  3  6   5  14  0  2  1  4  21
53 Hirschman, Addison.. *  0-7    0-2    6-8    2  7  9   2   6  1  1  1  1  27
11 Schmid, Jena........    0-0    0-0    0-0    0  0  0   0   0  0  0  0  0   1
13 Dunne, Camryn.......    0-0    0-0    0-0    0  0  0   0   0  0  0  0  0   1
23 Seggerman, Faith....    0-0    0-0    0-0    0  2  2   0   0  0  1  0  0   2
31 Wurth, Madison......    0-3    0-2    0-0    0  0  0   0   0  0  1  0  0   7
33 Barto, Jayde........    0-5    0-2    0-0    1  1  2   3   0  1  2  0  1  18
   TEAM................                         1  2  3
   Totals..............   13-48   3-23  14-19  10 21 31  19  43  9 21  3 12 160

TOTAL FG% 1st Half:  4-22 18.2%   2nd Half:  9-26 34.6%   Game: 27.1%  DEADB
3-Pt. FG% 1st Half:  1-13  7.7%   2nd Half:  2-10 20.0%   Game: 13.0%   REBS
F Throw % 1st Half:  7-10 70.0%   2nd Half:  7-9  77.8%   Game: 73.7%    3


--------------------------------------------------------------------------------
HOME TEAM: Springville 24-2
                          TOT-FG  3-PT         REBOUNDS
## Player Name            FG-FGA FG-FGA FT-FTA OF DE TOT PF  TP  A TO BLK S MIN
12 Kane Nichole........ *  1-5    0-0    0-0    1  3  4   3   2  3  3  0  1  25
20 Menster, Rylee...... *  5-11   0-0    1-2    1  3  4   3  11  3  4  0  6  22
23 Wagaman, Madi....... *  3-8    0-0    3-8    2  2  4   3   9  5  0  1  3  31
31 Jaeger, Alyssa...... *  1-4    0-0    1-2    3  3  6   3   3  3  4  2  1  28
51 Nachazel, Mikayla... * 13-19   0-0    6-7    1  9 10   1  32  2  6  1  5  28
15 Nulle, Melissa......    0-0    0-0    0-0    0  0  0   0   0  0  0  0  0   1
21 Gloeckner, Katelyn..    0-0    0-0    0-0    0  0  0   1   0  0  0  0  0   5
22 Chapman, Rylee......    0-2    0-0    0-0    0  0  0   0   0  0  0  0  0   1
24 Boland, Courtney....    0-0    0-0    0-0    0  0  0   0   0  0  0  0  0   1
25 Johnson, Sami.......    1-2    0-0    2-2    1  6  7   1   4  0  1  0  0  18
   TEAM................                         2     2
   Totals..............   24-51   0-0   13-21  11 26 37  15  61 16 18  4 16 160

TOTAL FG% 1st Half: 16-26 61.5%   2nd Half:  8-25 32.0%   Game: 47.1%  DEADB
3-Pt. FG% 1st Half:  0-0   0.0%   2nd Half:  0-0   0.0%   Game:  0.0%   REBS
F Throw % 1st Half:  5-7  71.4%   2nd Half:  8-14 57.1%   Game: 61.9%   3,1


--------------------------------------------------------------------------------
Officials: Jeff Horst, Mark Gassmann, Bob Squiers
Technical fouls: Kingsley-Pierson-None. Springville-None.
Attendance:
Score by Periods                1st  2nd  3rd  4th   Total
Kingsley-Pierson..............    8    8   17   10  -   43
Springville...................   20   17   12   12  -   61
FOULED OUT: KP #43 Bailey at 1:41 in the 4th
            KP #21 Jensen at 1:28 in the 4th