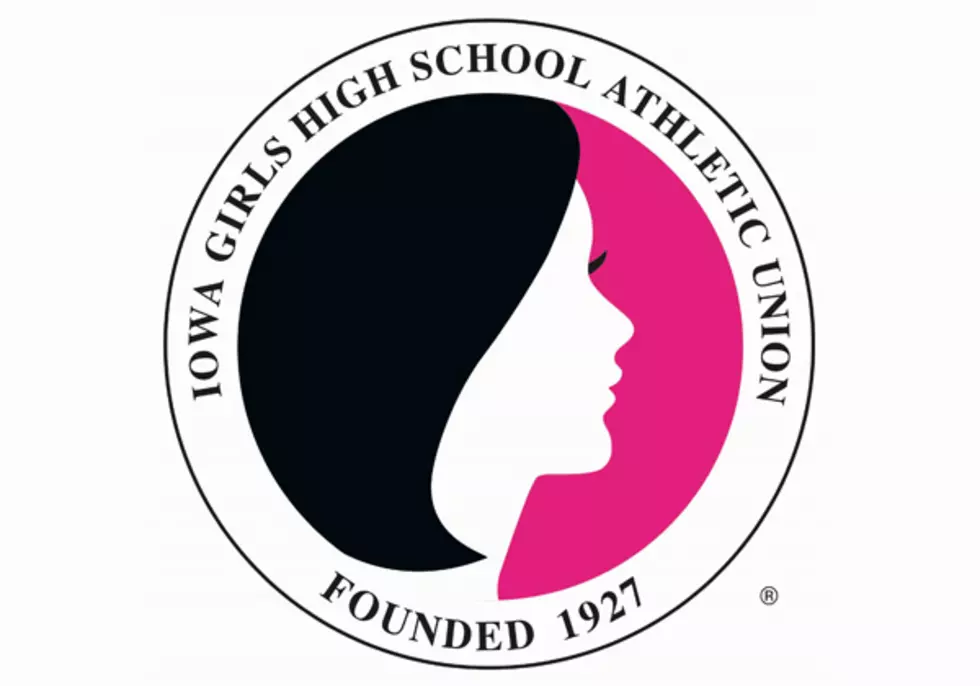 Offense Carries Sioux Center To Championship Game
Source: Iowa Girls High School Athletic Union
This has been quite a season for Sioux Center -- and it will continue for one more game.
The Warriors had excellent balance on offense, came up with 18 steals and rolled to their 26th victory without a loss. They'll play for the title at 4 p.m. on Saturday.
Sioux Center's only other appearance in the state finals came in 1927, when the Warriors lost to Newhall.
Hannah Dykshorn led Sioux Center with 24 points, including a 3-for-5 performance from 3-point range. Jessica Harald added 17 points, seven rebounds and four assists for the Warriors, while Lexi Toering was solid all-around with 14 points, 13 rebounds and five steals. Jordyn Van Maanen scored 10 points.
Fifth-ranked Cherokee likes to play at a fast pace but could not keep up with the Warriors in this one. Kassidy Pingel led the Braves with 16 points and seven reobunds, while MaKenna Carver scored 13 and Paityn Hagberg 10.
Sioux Center built a double-digit lead by late in the first quarter and was threatened only once, when Hagberg's 3-pointer drew the Braves to 45-39 early in the third quarter. But Cherokee got no closer and the Warriors closed that quarter with a 12-2 run to go up 65-45.
Cherokee made it to state for the second straight year and finishes 21-4. Two of the Braves' other losses were to Class 2A finalist Western Christian.
---

Cherokee vs Sioux Center
3/2/17 5:15 at Wells Fargo Arena, Des Moines, Iowa

--------------------------------------------------------------------------------
VISITORS: Cherokee 21-4
                          TOT-FG  3-PT         REBOUNDS
## Player Name            FG-FGA FG-FGA FT-FTA OF DE TOT PF  TP  A TO BLK S MIN
11 Slaughter, Payton... *  1-12   0-5    2-10   3  6  9   4   4  4  9  2  4  30
13 Hagberg, Paityn..... *  4-15   2-9    0-0    2  0  2   1  10  3  5  0  4  29
14 Carver, MaKenna..... *  5-10   1-3    2-2    3  1  4   2  13  2  4  0  0  27
30 Pingel, Kassidy..... *  7-8    0-0    2-2    0  7  7   4  16  1  7  1  2  27
54 Dagel, Olivia....... *  2-2    0-0    5-6    2  4  6   2   9  1  1  1  0  28
10 Kennebeck, Kiley....    0-1    0-0    0-0    0  0  0   0   0  0  0  0  0   1
15 Gerdes, Skylar......    1-3    1-2    0-0    0  0  0   0   3  0  1  0  0   6
22 Sleezer, Brianna....    0-3    0-2    0-0    0  1  1   3   0  0  1  0  0   9
24 Mesler, Apryl.......    0-0    0-0    1-2    0  0  0   0   1  0  0  0  0   1
32 Anderson, Lily......    0-0    0-0    0-0    0  0  0   0   0  0  0  0  0   1
40 Barritt, Jenn.......    0-0    0-0    0-0    0  0  0   0   0  0  0  0  1   1
   TEAM................                         1  1  2
   Totals..............   20-54   4-21  12-22  11 20 31  16  56 11 28  4 11 160

TOTAL FG% 1st Half: 13-26 50.0%   2nd Half:  7-28 25.0%   Game: 37.0%  DEADB
3-Pt. FG% 1st Half:  2-9  22.2%   2nd Half:  2-12 16.7%   Game: 19.0%   REBS
F Throw % 1st Half:  8-12 66.7%   2nd Half:  4-10 40.0%   Game: 54.5%    2


--------------------------------------------------------------------------------
HOME TEAM: Sioux Center 26-0
                          TOT-FG  3-PT         REBOUNDS
## Player Name            FG-FGA FG-FGA FT-FTA OF DE TOT PF  TP  A TO BLK S MIN
04 Harald, Jessica..... *  7-17   1-6    2-3    3  4  7   2  17  4  3  1  2  29
12 Dykshorn, Hannah.... * 10-19   3-5    1-2    1  2  3   1  24  1  3  0  4  20
20 Van Maanen, Jordyn.. *  4-10   2-4    0-1    5  2  7   3  10  5  2  1  3  20
24 Post, Shayla........ *  2-5    2-4    0-0    4  0  4   2   6  0  2  0  2  19
31 Toering, Lexi....... *  5-6    0-0    4-6    5  8 13   4  14  3  5  2  5  27
02 Sandbulte, Aubrey...    0-3    0-1    0-0    2  0  2   1   0  0  5  0  0   7
03 Fritz, Lindi........    1-2    0-0    0-0    0  1  1   2   2  0  0  0  0   8
05 Verburg, Andrea.....    0-0    0-0    0-0    0  0  0   0   0  0  0  0  0   2
10 Winterfeld, Asha....    1-1    0-0    0-0    0  0  0   0   2  0  0  0  0   1
11 Bomgaars, Kayla.....    0-0    0-0    0-0    0  0  0   0   0  0  1  0  0   1
21 Harshbarger, Olivia.    0-0    0-0    0-0    0  0  0   0   0  0  1  0  0   1
22 Cleveringa, Camryn..    2-4    0-0    0-0    0  5  5   1   4  2  3  1  2  15
32 Rensink, Victoria...    1-4    0-1    0-0    0  1  1   1   2  1  1  0  0   9
34 Hulshof, Kacey......    0-0    0-0    0-0    0  1  1   1   0  0  0  1  0   1
   TEAM................                         2  6  8
   Totals..............   33-71   8-21   7-12  22 30 52  18  81 16 26  6 18 160

TOTAL FG% 1st Half: 18-39 46.2%   2nd Half: 15-32 46.9%   Game: 46.5%  DEADB
3-Pt. FG% 1st Half:  5-13 38.5%   2nd Half:  3-8  37.5%   Game: 38.1%   REBS
F Throw % 1st Half:  4-5  80.0%   2nd Half:  3-7  42.9%   Game: 58.3%   1,1


--------------------------------------------------------------------------------
Officials: Scott Koch, Dave Suther, Joe Townsell
Technical fouls: Cherokee-None. Sioux Center-None.
Attendance:
Score by Periods                1st  2nd  3rd  4th   Total
Cherokee......................   11   25    9   11  -   56
Sioux Center..................   21   24   20   16  -   81