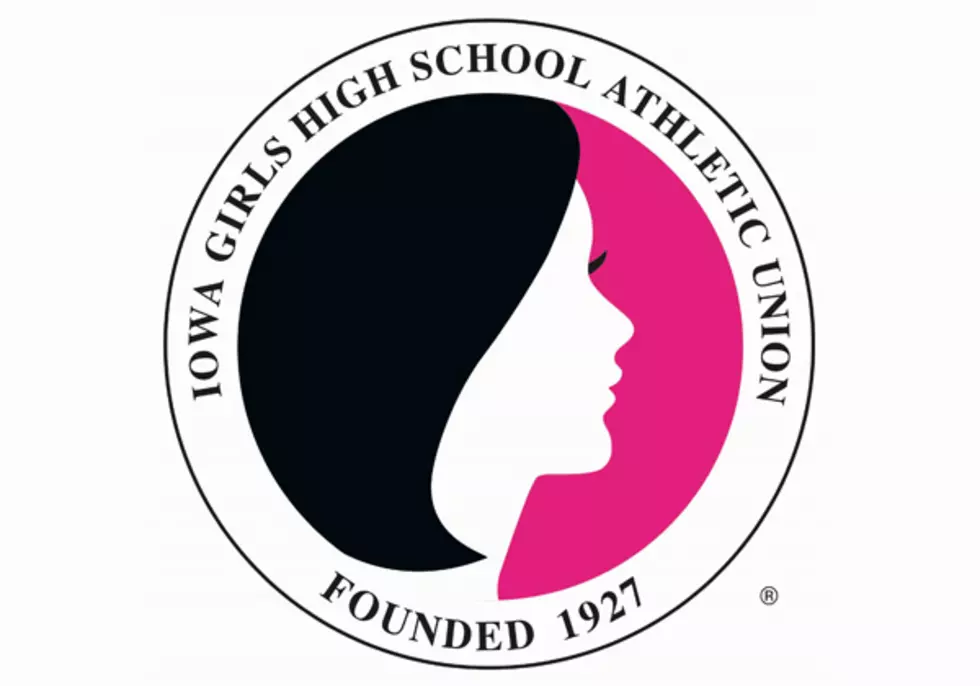 Clutch Plays Send Iowa City West To 5A Semifinals
Source: Iowa Girls High School Athletic Union
Morgan scored the winning basket with 50 seconds remaining, then grabbed the game's final rebound to secure the victory as third-ranked West beat No. 4 Waukee 40-38.
The Women of Troy survived despite playing most of the game without No. 2 scorer Rachael Saunders. Saunders, who was averaging 12.8 points, injured her left knee after making an early 3-pointer and did not return.
Logan Cook led West with 13 points and Morgan finished with nine. Emma Koch added seven points and 14 rebounds for the Women of Troy.
The Morgan name, of course, is familiar in West circles. Her brother Jeremy and sister Mikaela both played at West and are now at Northern Iowa.
Carlie Littlefield led Waukee with 15 points, Rebecca Corbett scored eight and Jori Nieman had seven.
After six second-half lead changes, West had the ball and 38-35 lead when Littlefield leaped and intercepted a pass with just under 2 minutes left. Seconds later, she swished a 3-pointer from the right wing to tie it at 38 with 1:46 to go.
West then worked the ball patiently and got it to Morgan on the right side. She saw an opening, took the ball to the basket and flicked it through the hoop for the go-ahead points.
When Waukee missed close-in shot, Morgan was there to collar the rebound and was fouled with nine-tenths of a second left. The Women of Troy weren't in the bonus yet, so they inbounded from the baseline. Waukee's Kylie Coleman picked off the pass at half court and her desperation heave was on line but short and West was moving on.
West takes a 21-4 record against No. 2 West Des Moines Valley at 3:15 p.m. Friday. Waukee, in the tournament for the ninth time in 10 years, finishes 18-5.
---

Waukee vs Iowa City West
3/1/17 6:45 p.m. at Wells Fargo Arena, Des Moines, Iowa

--------------------------------------------------------------------------------
VISITORS: Waukee 18-5
                          TOT-FG  3-PT         REBOUNDS
## Player Name            FG-FGA FG-FGA FT-FTA OF DE TOT PF  TP  A TO BLK S MIN
04 Coleman, Kylie...... *  2-6    2-3    0-0    0  5  5   1   6  1  0  0  1  32
20 Corbett, Rebecca.... *  3-9    0-4    2-2    0  4  4   1   8  1  2  0  0  31
22 Littlefield, Carlie. *  5-13   1-1    4-6    0  2  2   3  15  1  3  0  6  32
24 Nieman, Jori........ *  3-12   1-2    0-2    2  3  5   1   7  4  0  0  0  29
32 Hartman, Brianna.... *  1-2    0-0    0-0    0  5  5   1   2  0  1  2  0  18
30 Fogt, Kelli.........    0-2    0-1    0-0    0  0  0   1   0  0  0  0  0   3
34 Earney, Callie......    0-2    0-0    0-0    1  1  2   2   0  0  1  0  0  14
44 Rau, Paityn.........    0-0    0-0    0-0    0  0  0   0   0  0  0  0  0   1
   TEAM................                         2  1  3
   Totals..............   14-46   4-11   6-10   5 21 26  10  38  7  7  2  7 160

TOTAL FG% 1st Half:  6-24 25.0%   2nd Half:  8-22 36.4%   Game: 30.4%  DEADB
3-Pt. FG% 1st Half:  1-5  20.0%   2nd Half:  3-6  50.0%   Game: 36.4%   REBS
F Throw % 1st Half:  5-5  100 %   2nd Half:  1-5  20.0%   Game: 60.0%    2


--------------------------------------------------------------------------------
HOME TEAM: Iowa City West 21-3
                          TOT-FG  3-PT         REBOUNDS
## Player Name            FG-FGA FG-FGA FT-FTA OF DE TOT PF  TP  A TO BLK S MIN
04 Zacharias, Lauren... *  2-4    1-2    0-0    0  3  3   2   5  3  6  0  0  26
13 Saunders, Rachael... *  1-1    1-1    0-0    0  0  0   1   3  0  0  0  0   4
20 Huinker, Maddie..... *  1-6    1-5    0-0    0  1  1   3   3  2  0  0  0  27
22 Cook, Logan......... *  6-13   0-2    1-2    0  5  5   2  13  0  1  1  1  27
24 Koch, Emma.......... *  1-3    0-1    5-6    4 10 14   2   7  0  1  0  1  27
02 Morgan, Cailyn......    4-11   1-4    0-0    0  6  6   3   9  2  3  0  1  28
15 McGrane, Katie......    0-0    0-0    0-0    0  0  0   0   0  0  1  0  0  11
30 Beckner, Paige......    0-0    0-0    0-0    0  1  1   0   0  1  0  2  0  10
   TEAM................                            3  3
   Totals..............   15-38   4-15   6-8    4 29 33  13  40  8 12  3  3 160

TOTAL FG% 1st Half:  8-21 38.1%   2nd Half:  7-17 41.2%   Game: 39.5%  DEADB
3-Pt. FG% 1st Half:  2-9  22.2%   2nd Half:  2-6  33.3%   Game: 26.7%   REBS
F Throw % 1st Half:  2-2  100 %   2nd Half:  4-6  66.7%   Game: 75.0%    0


--------------------------------------------------------------------------------
Officials: Todd Sadler, Lance Ploeger, Chris Ehlers
Technical fouls: Waukee-None. Iowa City West-None.
Attendance:
Score by Periods                1st  2nd  3rd  4th   Total
Waukee........................   10    8   12    8  -   38
Iowa City West................   12    8    9   11  -   40