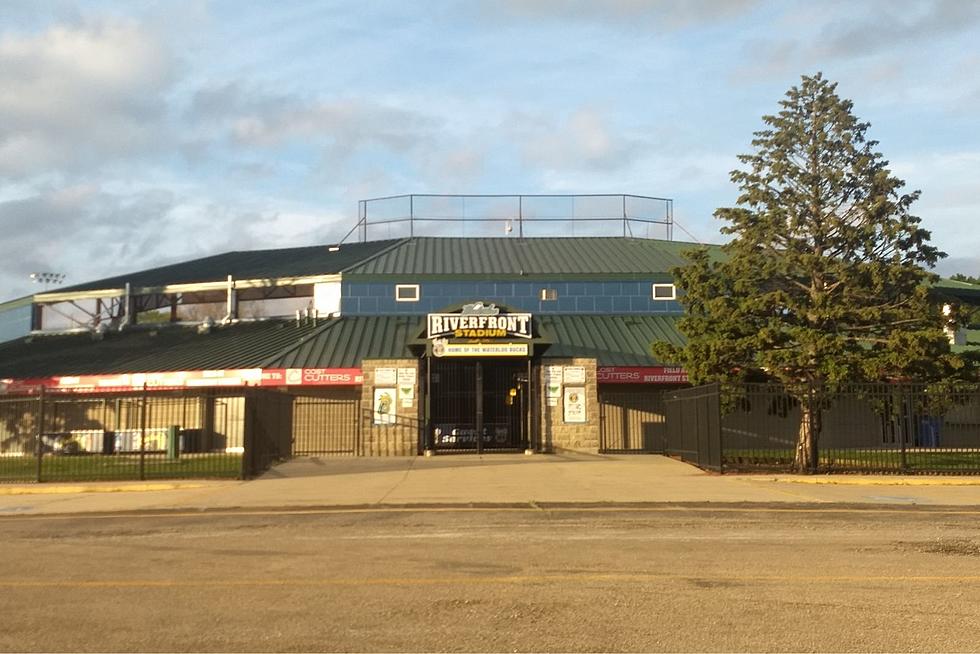 Bucks Clinch Home-Field Advantage For NWL Playoff Series Opener
Photo By: Elwin Huffman - Townsquare Media
With their regular season winding down, the Waterloo Bucks have positioned themselves to make a run at the Northwoods League championship.
The Bucks clinched home-field advantage for the first round of the playoffs Sunday afternoon with a wild 21-12 victory over the Bismarck Larks at Riverfront Stadium. The 33 total runs tied for the fourth-most in league history.
Waterloo drew 16 of the game's 29 combined walks and collected 13 hits. Sam Biller, Luke Fennelly, Garrett McGowan and Chris Seng each had multiple hits and every player in Manager Ryan Gaynor's line-up scored at least one run.
Biller and Seng drove in five runs apiece. Fennelly, Emi Gonzalez, McGowan and Jacob Ruley all had two RBI.
McGowan led the Bucks' offense, going 4-for-6 and reaching base on an error. He also stole a base and scored three times.
Anthony Pron (1-0) pitched three scoreless innings in relief to earn the victory for Waterloo, which matched its best record of the season at 13 games over .500 with the victory. The Bucks, who have won seven of their last eight games, improved to 35-22 overall and 12-11 in the second half.
Waterloo, which earned a postseason berth by winning the Great Plains East first-half title, will face the sub-division's second-half champion in the first-round of the Northwoods League playoffs beginning on Sunday, Aug. 15. The Bucks currently lead the Great Plains East second-half race by a half-game. If Waterloo claims the second-half title, the Bucks will face the team with the second-best overall record in the sub-division.
The Great Plains East Sub-Divisional Championship is a best-of-three series, with a 1-2 format. Waterloo will host Game 2 of the series on Monday, Aug. 16 and, if needed, Game 3 on Tuesday, Aug. 17. The winner advances to face the Great Plains West Sub-divisional series champion in a one-game playoff. That winner moves on to play the Great Lakes champion in the Summer Collegiate World Series, also a winner-take-all-game to determine the Northwoods League champion.
Waterloo's home stand continues Monday, when the Bucks host the Willmar Stingers at 6:35 PM.
Waterloo Bucks Field Managers
The Waterloo Bucks have had 14 field managers since the franchise was formed in 1995. One of the field managers was an interim, who guided the club for 22 games.
Iowa Born Sports Stars
What do each of these stellar athletes have in common? They all hail from the Hawkeye State.