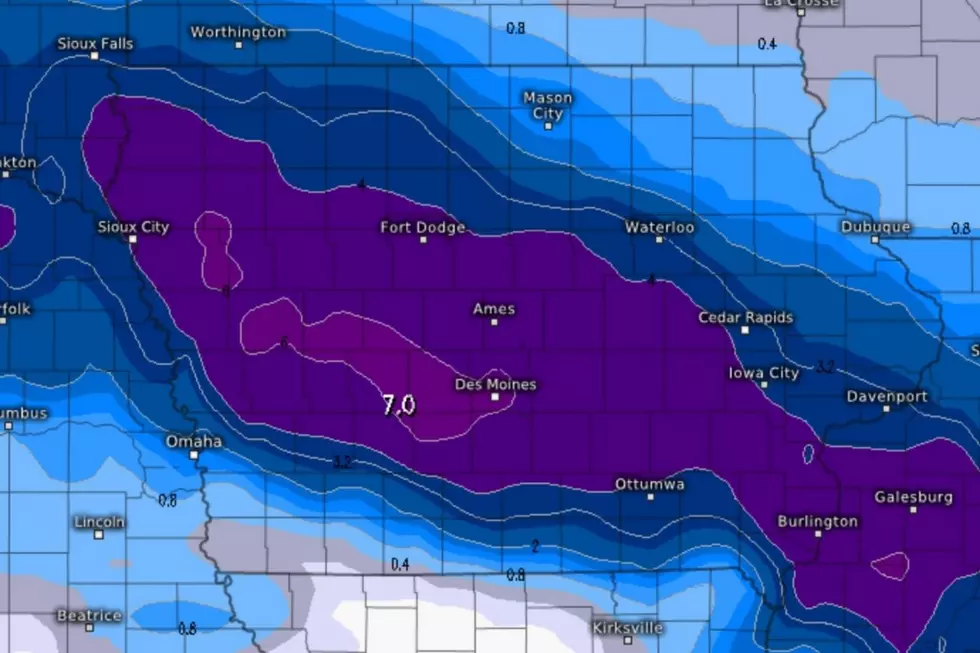 BIG WINTER STORM HITTING IOWA NEXT WEEK?
https://weather.us/
**Updated Friday 3/12 at 5 AM**
Mother Nature can be cruel.
After setting record high temperatures in parts of Iowa on both Tuesday and Wednesday, there's a chance that the state could get drilled by Winter Weather early next week…seriously.
The National Weather Service says that a powerful system that is currently located in California (as of Thursday) and will slowly head east, adding:
This system will bring numerous complexities to the forecast for Iowa over the weekend and into early next week.
Keep in mind, this is still a few days off, so a lot can change, especially in the month of March.
This problematic storm system could be impacting the area Sunday-Monday.
The GEM Model (Global Environmental Multiscale or CMC (Canadian Meteorological Centre) says that the majority of the snow could fall around the Des Moines-area to the tune of around 7". Ouch. This model suggests that the Cedar Valley and the Quad Cities-area may see around 4" of unwelcome snow.
As for the GFS Model (Global Forecast System), it has most of the snow falling in Northern Iowa, from areas around Mason City to Chickasaw, Howard, and Mitchell Counties. Even Northern Bremer county could see around 5" of white crap.
In recent years in the month of March, Waterloo saw a total of 2.2" of snow in 2020. Just 1.5" in 2019, but just under a foot of snow in 2018. (7.6" fell on March 26, 2018)
Just don't put away your shovels yet. You never know what March is brewing up.
UP NEXT: See how much gasoline cost the year you started driving
Here are 50 of your favorite retail chains that no longer exist.