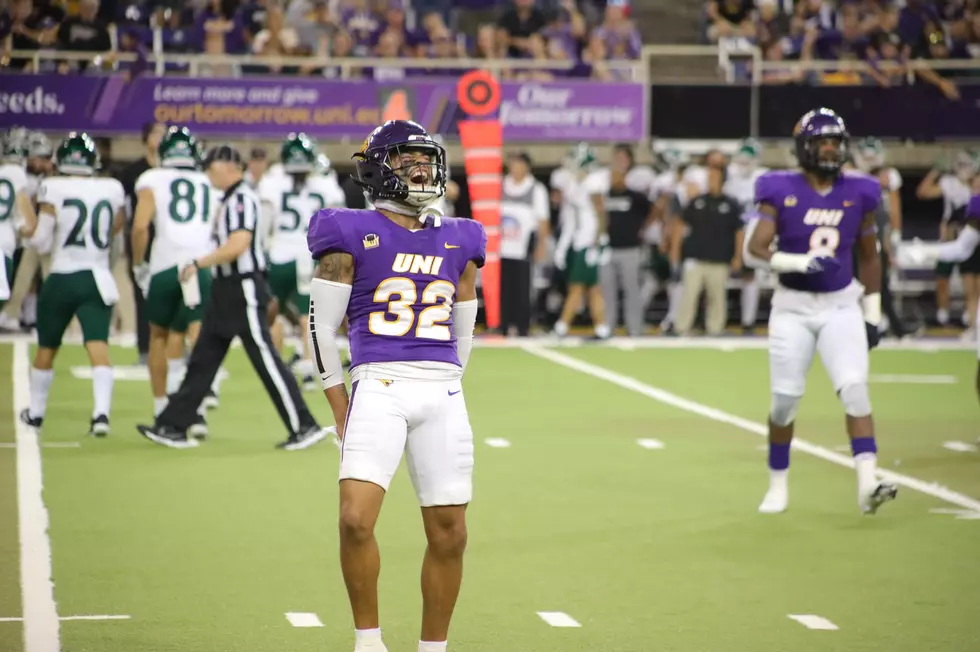 Back Against the Wall, UNI Takes on Western Illinois on Saturday
Andy Saigh for UNI Athletics
You heard it here first -- UNI Football is 0-3 for the first time since 1969. Even in down years when the Panthers haven't made the playoffs with a record of 5-6, they were able to squeak a win or two out in the opening three games of the season.
There's no time like the present -- or Saturday at 3 p.m. in Macomb, Illinois -- to get things turned around.
Lucky enough for the purple and gold, they'll take on the lone other team in the Missouri Valley Football Conference to start the season 0-3. Playing against the Western Illinois Leathernecks won't exactly bring the same challenges that were presented against FBS Air Force, No. 19 North Dakota, and No. 7 Sacramento State.
Here are three things to watch this weekend.
New Look Leathernecks
Western Illinois hasn't been a relevant team in the MVFC for a while. Over the last four seasons under Jared Elliott, WIU won a total of nine games. One of the 31 games they lost came last year in the UNI-Dome when the Panthers throttled Western by a score of 41-3 to end the regular season.
But these aren't those same Elliott-led Leathernecks.
New head coach Myers Hendrickson -- who played wide receiver in Macomb from 2008-20011 -- was hired to lead the program in December of 2021, taking over after being the head man at Kansas Wesleyan. He led the KWU program to an overall record of 30-4 over his tenure there, including two Kansas Collegiate Athletic Conference championship titles in 2021 and 2019.
In 2019, the Coyote offense put up 520.2 yards and 48.2 points per game. Their quarterback threw for over 4,000 yards and 50 touchdowns.
Don't expect those types of numbers this season from the Leathernecks, but Hendrickson will do his best to replicate that level of success at his alma mater.
Clean Up The Mistakes
Through the first three games of the season, we've seen a barrage of uncharacteristic problems and miscues from this Northern Iowa football team. Missed field goals, turnovers, and missed tackles.
Thus far in 2022, junior kicker Matthew Cook has made just 50 percent of his field goal attempts (3-6). Over the last three years as a Panther, he's made 80.2 percent. In 2021, he made one from 55 yards. Last week, he missed a 30-yard kick.
The turnovers have come due to incorrect routes, tipped balls, poor pass coverage, and lack of ball security. The UNI offense has fumbled the ball six times so far this season, with three of those fumbles going to the other team. Quarterback Theo Day has thrown three picks so far this season.
Defensively, it's quite simple. Too many plays that should have been a one, two, or three-yard gain became chunk plays of 20+ yards because of missed tackles. And like what was said on this week's episode of Cornstalks and Sports Talk, it's not the other team breaking tackles, it's flat-out missed tackles by the Panthers.
There were entirely too many plays last week against Sacramento State where a UNI defender would run in, lower the shoulder, and deliver a hit without wrapping up. It's time to go back to the early days of football and work on the simple techniques.
Mentality and Attitude
One thing every Panther fan should have their eye on this weekend is how the UNI football squad approaches this game. Will they walk onto the field excited to play despite their less-than-ideal start? Will they have a confident approach? Will the defense play without thinking about it too much?
The way senior linebacker and captain of the team Spencer Cuvelier summarized it to me in an interview this week puts it perfectly:
The way we fix (our defensive issues and win) is we play with our ears pinned back and just go. Not even think, just go and react.
To get an early preview of the game, check out my interview with Cuvelier that will be on this weekend's episode of Cornstalks and Sports Talk:
Quick Facts
UNI has won five in a row against Western Illinois, all of which have been by 14 or more points.
Coach Farley is 14-6 against the Leathernecks all time.
Western Illinois' losses have come at the hands of UT-Martin (42-25), Minnesota (62-10), and Southern Utah (17-10).
UNI's passing offense is No. 2 in the MVFC and No. 13 nationally.
The Panthers are No. 2 nationally for the fewest penalties per game.
QB Clay Bruno saw his first action for WIU last week in their loss to Southern Utah. He completed 19 of 31 passes for 220 yards and two picks. Two other quarterbacks have seen the field so far in Nick Davenport (18-40, 317 yds, 4 TD, 2 INT) and Henry Ogala (20-36, 139 yds, 1 TD, 2 INT).
Even with the variety of quarterbacks, receiver Naseim Brantly has put up gaudy numbers to start the season. He has 17 catches for 337 yards and four touchdowns.
No one has rushed for over 100 yards on the season on the WIU roster. Bruno leads the team with 84 yards on 19 attempts.
The Leathernecks have registered just one sack this season, by senior DL Jake Detiveaux.
The game is at 3 PM in Macomb, Illinois, and can be streamed on ESPN+.
18 Players from Iowa, ISU, and UNI Considered Among Best in CFB
The East-West Shrine Bowl just released its list of 1,000 best football players from across the country that are NFL Draft and all-star game eligible. Here are the 18 players on the list from Iowa's three state schools.
Iowa Born Sports Stars
What do each of these stellar athletes have in common? They all hail from the Hawkeye State.