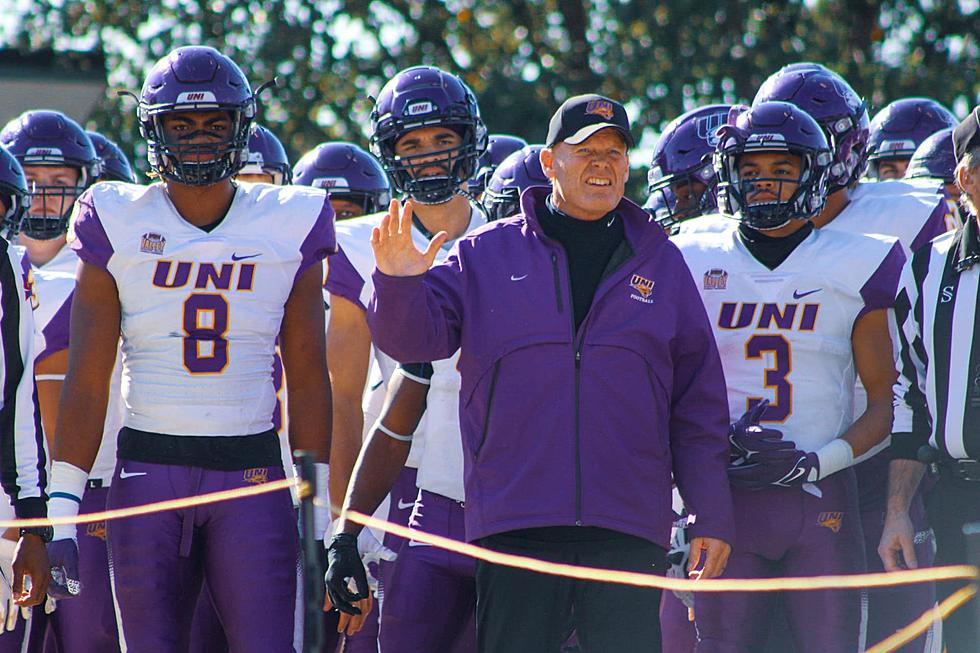 3 Takeaways from UNI Coach Mark Farley on MVFC Media Day
Andy Saigh
On Tuesday, UNI head football coach Mark Farley was made available via the Missouri Valley Football Conference (MVFC) media conference ahead of starting fall camp.
Coach Farley spoke and was asked questions for about 20 minutes in total (if you'd like to see everything he talked about you can go to my Twitter page), and these were three things to take away from his availability:
Bodie Reeder and Ryan Clanton Taking Over the Offense
With yet another championship-level defense under Coach Farley in 2021, the offense was lackluster despite a barrage of talent all over the place. It's been a recurring theme in Cedar Falls -- and it doesn't help that the Panthers have had a different offensive coordinator each year since 2018.
Last season under then-OC Shawn Watson was not up-to-par:
UNI fans are hopeful that with four-year offensive line coach in Cedar Falls Ryan Clanton and new co-OC and QB coach Bodie Reeder taking over, it will get a much-needed shot of adrenaline in its system.
Reeder was formerly the offensive coordinator at Utah State, North Texas, and Eastern Washington, and on staff at Auburn. The expectation is that he'll bring pace and creativity to the offense.
Coach Farley said the one thing that stood out to him about Reeder's experience was this:
He's shown he can score points while leading an offense.
Quarterback Competition
Just like every other year heading into fall camp, Farley has not designated a for-sure starter going into week one at Air Force.
With the new offense comes new responsibilities at the quarterback position, and incumbent starter Theo Day will have to learn what's required of him just as much as backup Matt Morrissey.
Last season, Day finished with 2316 yards and 16 touchdowns to earn a spot on the MVFC All-Newcomer team. He took over for then-starter Will McElvain in the second half of the second game of the season against Sacramento State and led the Panthers to victory.
In regards to what Morrissey brings to the table, he last took regular snaps at Trinity Valley Community College where he completed 124 of 190 passes for 1,523 yards and 13 touchdowns in eight games. He was a JUCO All-American.
To quote someone close to the UNI football team,
I've never seen anyone throw it like he does. It looks so easy and he's so calm and good with pressure.
This is what Coach Farley had to say regarding the competition:
We'll take a good, solid two weeks to install (the offense) and make sure everybody gets the knowledge they need to show the talent they have. ... We'll see who rises to the top or separates themselves.

 
Defensive Line Will Anchor Despite Departures of Brinkman and Butcher
This will be the first time in five seasons Jared Brinkman -- two-time MVFC defensive player of the year -- won't suit up in the purple and gold. Replacing that type of talent will not be easy.
Not only that, but his counterpart at the defensive tackle position, Tim Butcher is gone, too. He put up 49 tackles, 14.5 TFL, and 4.5 sacks last year for the Panther defense.
Replacing their production will be big, but Farley rattled off a bunch of names that he says UNI will look to fill the void.
A Breakdown of UNI's 2022 Football Schedule
The Panthers will embark on their 2022 season in September of this year. Let's take a look at who they'll face, including some of the best in the Missouri Valley Football Conference.
10 UNI Football Players Earn MVFC Honors
Ten Panthers came away with Missouri Valley Football Conference honors after the 2021 season. See which of the men hailing from Cedar Falls were among some of the best in the best conference in the FCS.