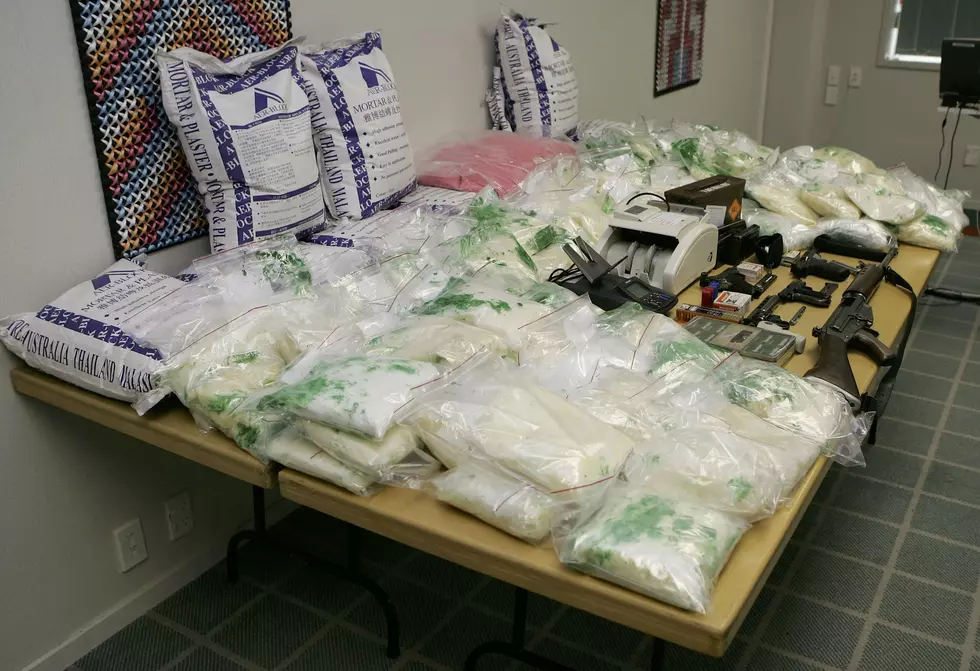 $1.6 Million in Meth Seized by Authorities on Interstate 80
Getty Images
Just a few days ago, an Iowa horse that races at Prairie Meadows in Des Moines tested positive for meth.
Maybe he got it from this RV in Lincoln, Nebraska.
In a wildly large drug bust by authorities to the west, the discovery of the drugs came to
60 one pound vacuum sealed bags of methamphetamine
2.16 pounds of heroin
0.58 pounds of Fentanyl
Per KCRG, the total of each drug could have amounted to
$1,632,931 worth of methamphetamine
$148,923 of Heroin
$36,831 worth of Fentayl
on the drug market.
The news site details the following from what was initially a routine traffic stop: "On Wednesday, around 9:50 a.m., members of the Lancaster County Criminal Interdiction Unit stopped a motorhome on I-80, near mile marker 391, for driving on the shoulder.
According to Sheriff Terry Wagner, their K-9 indicated the odor of narcotics which led to a search of the vehicle."
All of the aforementioned narcotics were discovered after law enforcement found that the gas tank had been tampered with.
Two individuals were in the vehicle when it was stopped,  60-year-old John Kirchner of St. Paul, Minnesota and 30-year-old Wesley Stayberg of Hudson, Wisconsin. Kirchner was the driver of the RV.
Upon further investigation of the vehicle, police found three guns accompanying the drugs. According to KCRG they found "a 9mm pistol reported stolen in Minnesota in January 2022, a .22 caliber revolver and a Taurus .380 caliber pistol."
Wagner said that both men are convicted felons and aren't legally allowed to possess firearms.
The news station continues, saying that both men were arrested on the following charges:
Possession of a controlled substance with intent to deliver Meth, (2) heroin, (3) Fentanyl
Possession of a firearm while committing a felony drug violation
Possession of a stolen firearm
Possession of a firearm by a prohibited person
Three counts of evading drug tax
Stayberg was charged with tampering with evidence
It was not reported as to whether or not Kirchner and Stayberg were headed east towards Iowa or west towards Colorado on I-80.
Most Commonly Used Drugs in Iowa
Here's a breakdown of how much we use legal and illegal drugs in the Hawkeye State -- all with the statistics to back it up. Some of it isn't pretty, but it's the truth.
$1.3 Million Seems Like A Good Deal For This Iowa Farm
Do you think this farm is really worth the $1.3 million?