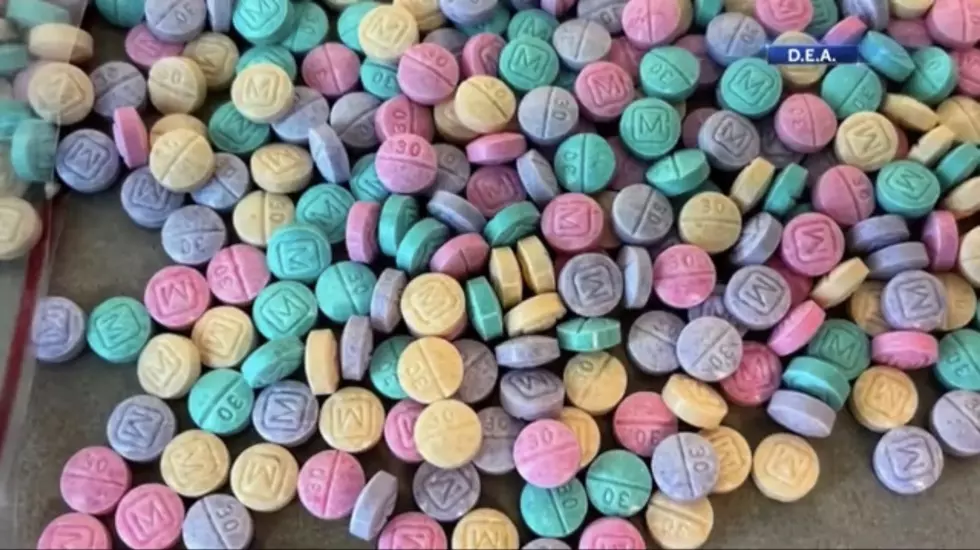 Deadly Drug Disguised as Candy Expected Be in Iowa By Halloween
WHO13 YouTube Channel
Halloween is right around the corner. Having grown up in small-town Iowa, being worried about what folks may have put in the candy they were handing out wasn't really a concern of mine. Sure, we've heard stories about people poisoning candy and the story of a man putting razor blades in apples, but we never had to worry about it.
The Des Moines Police Department warns that it may be time to check your children's 'candy' just in case.
Apparently, fentanyl disguised as candy may be on its way to the Hawkeye State -- specifically, rainbow-colored fentanyl.
According to WHO13, Sargeant Paul Parizek of the DMPD says that though the drug hasn't made its way to the state of Iowa yet, but he expects it to be here sooner rather than later:
Like anything else, it just takes a little longer to make its way to the heartland.
For those unaware of just how dangerous the drug is, the U.S. Drug Enforcement Administration has a mouth-dropping stat: "The CDC estimates that in the 12-month period ending in October 2021, more than 105,000 Americans died of drug overdoses, with 66 percent of those deaths related to synthetic opioids like fentanyl."
It adds that in 2021, the DEA seized more than 15,000 pounds of fentanyl. That's enough to kill every American.
Sargeant Parizek elaborates on the issues the drug presents:
The biggest concern we have is the same with the M30 pills, it's the inconsistency of the fentanyl in each pill and that creates such a dangerous situation for the user. You might see one pill with half a milligram in it and one that has almost eight milligrams of fentanyl in it. Well, two milligrams is about a fatal dose, so you might have one person who takes one and thinks, oh, I need to take two and the next thing you know they're dead.
The main concern regarding the new rainbow fentanyl is the variations in color, and the possibility of a child believing the drug is candy.
Parizek continues:
That's a risk if you have any type of narcotic in the house. When it comes to illegal and illicit narcotics, people aren't too careful with those anyway so it is a concern if you have those in your home and you have small children.
So far, though the DMPD hasn't had any interaction with the rainbow variety, it bases its assumption that the drug will arrive soon due to the "record amount of counterfeit M30 pills they've seized laced with the deadly drug. So far in 2022, they've confiscated nearly 20,000 pills," per WHO13.
Emily Murray, spokeswoman for the regional U.S. Drug Enforcement Agency office in Omaha, offered this advice to Radio Iowa and parents concerned about their kids interacting with the drug:
If somebody pulls something out of their purse or pocket, whatever it may be, and it's not in the original packaging, just pass, don't take it, because it's not worth the risk. We all have positive, wonderful thoughts about our friends or family, whoever it may be, but if you don't know 100% where that product is coming from, in this day and age, unfortunately, it's just too big of a risk to take.
Most Commonly Used Drugs in Iowa
Here's a breakdown of how much we use legal and illegal drugs in the Hawkeye State -- all with the statistics to back it up. Some of it isn't pretty, but it's the truth.
10 Alternative Rock Songs Written Under the Influence of Alcohol or Drugs
Drugs are a part of life. They are also a part of rock — even alternative rock. So because heavy metal and classic rock already have so many inebriated tales of their own, here are a few from the alt-rock end of things.