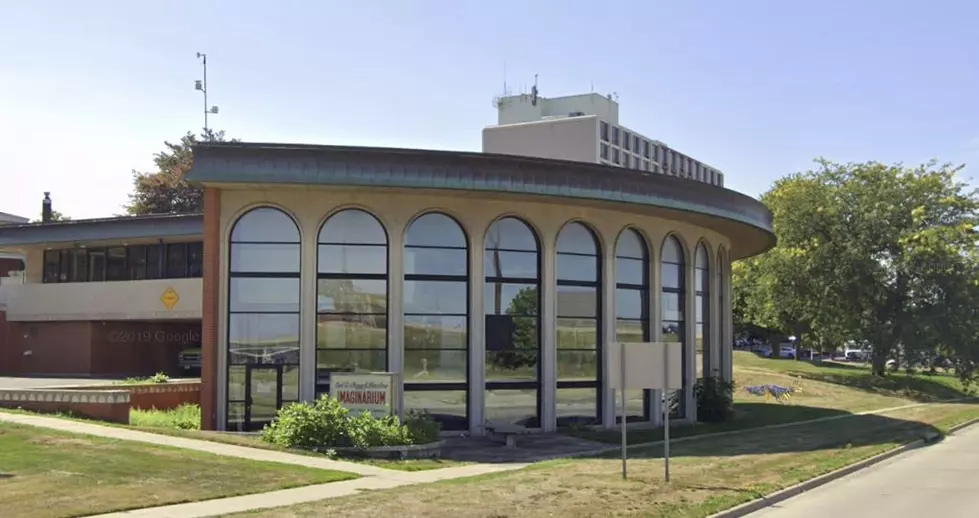 Waterloo's Bluedorn Science Imaginarium Reopening Thursday
Google Maps
If you are a fan of Chuck E. Cheese, you probably remember the restaurant's famous slogan, "Where a kid can be a kid." That motto also works for the Grout Museum District's Bluedorn Science Imaginarium in Waterloo. Cedar Valley kids can once again, "Touch it, See it, Feel it" at one of the area's favorite family attractions.
After over a year of being closed to the public, the Imaginarium is reopening on Thursday, June 3rd.
The Imaginarium is opening just in time for summer fun!
As the school year comes to a close, parents are looking for fun things for their kids to do to keep them entertained. After a long closure to the public, of course, due to the pandemic, parents will be excited to hear that the Imaginarium is opening its doors for learning this summer.
New temporary hours for the Imaginarium
The Imaginarium's new temporary hours are Tuesday-Saturday, 10 a.m.-12:30 p.m. and 1 p.m.-4 p.m. They have you and your child's safety in mind. They will close for 30 minutes every afternoon between 12:30 p.m. and 1 p.m. for cleaning procedures. There will be a 25-person building maximum and masks are required to enter.
Don't miss the Imaginarium's Science demonstrations
Fun and educational science demonstrations will be held daily at 11 a.m., 1:30 p.m., and 3:00 p.m.
Imaginarium admission price
Admission is just $6.00 for adults and kids 4 and up. 3 and under are free. Plus, according to a press release, those on SNAP or WIC benefits can receive $2 admission to the Grout Museum District simply by presenting their EBT card and photo I.D.  through the Museums for All program.
Also, the Grout Museum District is also part of the Blue Star Program, which provides free admission to the nation's active-duty military personnel, including the National Guard and Reserve, and their families, to museums across the country from May 15th - September 6th.
It's time for summer fun, so load up the kids in the mini-van and let them have fun while they're learning.  For further details, call 319-234-6357 or visit gmdistrict.org.
Another Waterloo kid's attraction has also re-opened
After temporarily closing more than a year ago due to the COVID-19 pandemic, the popular Phelps Youth Pavilion inside the Waterloo Center for the Arts in downtown Waterloo has reopened its doors.
Kids can "Discover, Learn & Create" at this children's museum Wednesday through Saturday, 10 a.m.– Noon and 2 p.m.– 4 p.m. along with Sundays from 2 p.m.– 4 p.m. Daily admission is $5, free for members and kids under the age of 1. According to a press release, safety guidelines will also be in place. Capacity will be limited to 50 visitors at a time. Visitors are also required to wear a mask while inside the Phelps Youth Pavilion.
HISTORY LESSON: Waterloo's Oldest Neighborhood-Highland Historic District-Photo Gallery
Check out some the homes from yesteryear, in Waterloo's first suburban residential development. Many of them are over a century old, and have survived the test of time. You'll find that most of them are well kept up and are still in pretty good shape.
Farmers Markets in the Cedar Valley & NE Iowa - List
There's a Farmers Market in Waterloo, Cedar Falls or in the surrounding area almost every day of the week! Check 'em out and support your friends and neighbors. Buy Fresh - Buy Local