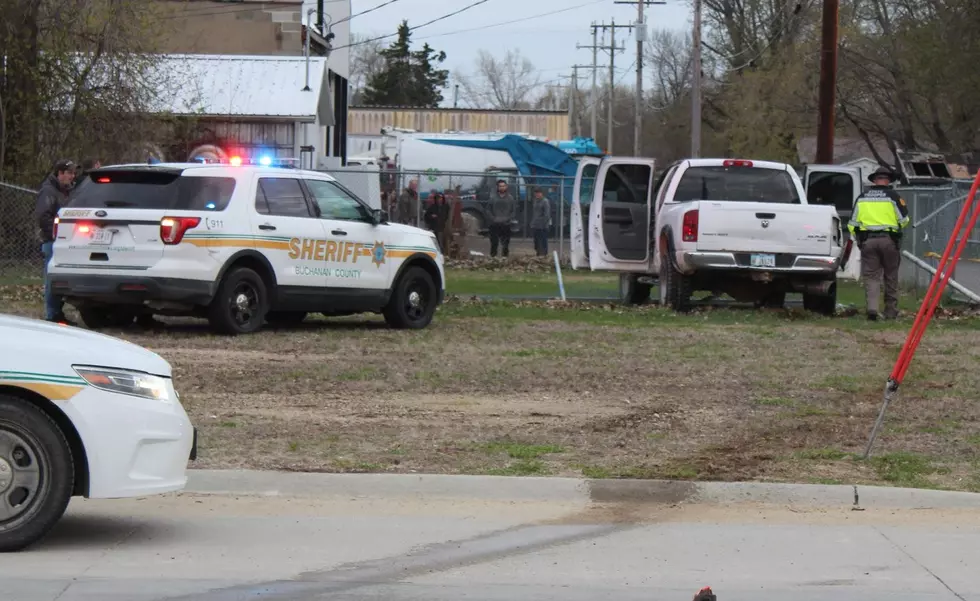 Teen Girls Lead Officers on High Speed Chase
Photo from Buchanan Co. Sheriff
Buchanan County authorities have arrested two teenage girls following a chase starting in Independence, and ending with a crash in Hazleton.
The incident began shortly after 7 PM Sunday, when sheriff official's got a 911 call about a vehicle that had been taken without permission from the Mental Health Institute (MHI) campus in Independence. Just minutes later, authorities received another report that two juvenile females had run away from Four Oaks, a residential facility for juveniles, located at MHI.
According to a news release, an officer found the stolen vehicle in Independence and tried to stop it. That's when the chase began. The pursuit went through the city of Independence and northbound on Iowa Highway 150, reaching speeds of over 90 miles an hour.
The pursuit ended in Hazleton, where the vehicle turned onto Hayes Street and crashed into a street light, knocking it down. The vehicle also jumped a curb and ran into a chain-link fence. The two girls, ages 13 and 14, were arrested without any further incident.
Authorities took the 13-year-old juvenile into custody on charges of operating a motor vehicle with owner's consent, eluding law enforcement, reckless driving, and fifth-degree criminal mischief. She was also charged with several traffic-related offenses: no valid driver's license, failure to maintain control, and speed and stop sign violations.
The 14-year-old was charged with operating motor vehicle without owner's consent, eluding law enforcement, fifth-degree criminal mischief, and other simple misdemeanor violations.
Both girls were taken to a juvenile detention facility, and referred to Juvenile Court Services.
Law enforcement agencies involved in the incident were: Buchanan County Sheriff, Independence Police, Fayette County Sheriff, Iowa State Patrol, Hazleton Fire Department, and Oelwein MercyOne Ambulance.
No injuries were reported.