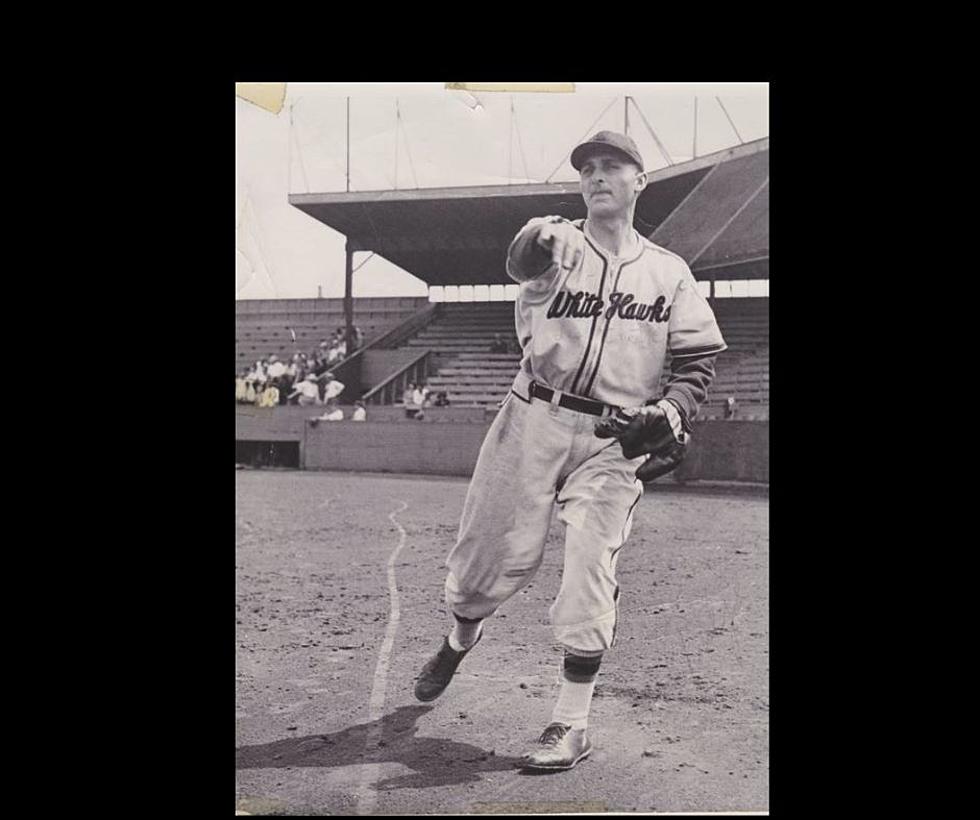 Sumner Iowa's Only Pro Baseball Player to be Celebrated This Sat.
Leslie William "Toots" Tietje - Waterloo White Hawks 1931 - Photo submitted by Rich Holm
As Major League Baseball celebrates "All-Star Week", we remember one Iowa man who saw his boyhood dreams come true when he "got called up to the big show".
Leslie William "Toots" Tietje was born in Sumner on September 11, 1910. And before I go any further, let's first recognize what a great baseball nickname that is..."Toots"...love it!  Anyway, the 1929 Sumner graduate pitched for both the Chicago White Sox and St. Louis Browns. When Tietje made his major league debut on Sept. 18, 1933, at Yankee Stadium in New York, he did it in the biggest of fashions. "Toots" beat the "Babe", as in Babe Ruth, Lou Gehrig, and the Yankees, 4-3.
Celebrate Les Tietje Day during the Sumner Days this Saturday
Memories Are Forever Museum, 300 W. 4th Street in Sumner is housed in a historic 1901 school with 20 rooms that are filled with memorabilia from Sumner and surrounding towns in northeast Iowa.
This Saturday, from 10 a.m. to 5 p.m., the museum will be celebrating Les Tietje Day during the Sumner Days celebration. Plus, a limited number of rookie baseball cards of Sumner's only major league baseball player will be given away free starting at noon by members of Tietje's family. Many members of his family will be in attendance on Saturday.
"Toots" was a pitcher for the Waterloo White Hawks
According to Wikipedia, "Toots" got into professional baseball with the Waterloo White Hawks. He held a record of 8–13 with a 5.03 ERA. He spent 1932 with Waterloo, going 8–14. In 1933, he spent most of the season with the Dallas Steers, going 14–10 with a 3.51 ERA. And, as mentioned, on September 18, 1933, he made his Major League debut.
How did he get the nickname "Toots"?
The Memories Are Forever Museum discovered how he got the nickname  "Toots", President Ronald Reagan gave it to Les who was an up-and-coming baseball star in Iowa. Reagan was a sportscaster for WHO radio in Des Moines and he did many Chicago Cubs games.
By 1934, Tietje was starting to develop arthritis in his arm, which slowed down his career, and he played his final big league game on September 4, 1938. However, he did stick around and played in the minors until 1942, which included another stint in Waterloo in 1941.  At that point, he retired to concentrate on raising a family and starting a business. Tietje passed away in 1996 and the age of 86 in Kasson, Minnesota.
Baseball fans can head to Sumner this Saturday to learn more about his career, including many photos and stories of Tietje that will be on display. Once again, it's this Saturday, during Sumner Days at the Memories are Forever museum.
Keep scrolling for more photos and info about "Toots"
Les "Toots" Tietje - Sumner Iowa's Only Major League Baseball Player - Photos
-
A "thank you" to Richard Holm for contributing the photos and background information. Holm is a retired teacher of 30 years at Fredricksburg and North Fayette. He was also the sports editor at Oelwein 1970-75 and wrote sports for West Union newspaper for 40 years,
Check it baseball fans - Former Waterloo Bucks Players Now On Major League Baseball Rosters
LOOK: 50 images of winning moments from sports history
Sometimes images are the best way to honor the figures we've lost. When tragedy swiftly reminds us that sports are far from the most consequential thing in life, we can still look back on an athlete's winning moment that felt larger than life, remaining grateful for their sacrifice on the court and bringing joy to millions.
Read on to explore the full collection of 50 images Stacker compiled showcasing various iconic winning moments in sports history. Covering achievements from a multitude of sports, these images represent stunning personal achievements, team championships, and athletic perseverance.