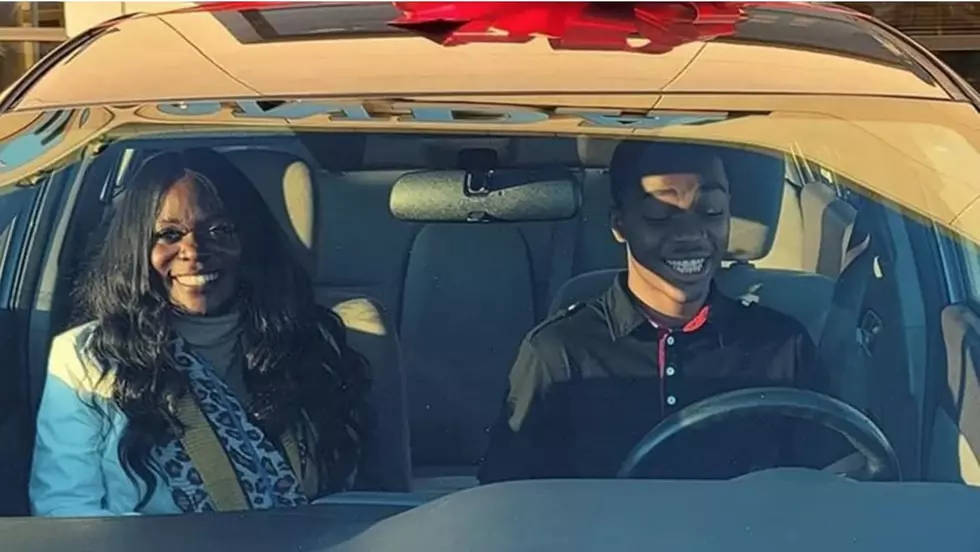 Good Samaritan Gifts Car To Teen Who Walked 7 Miles To Work Everyday
Lavonda Wright Myers via Facebook
Jayden Sutton, an 18-year-old high school senior from Atlanta walked 7 miles to and from work every day to save up to buy a car just had a life changing gift.
Lavonda Wright Myers had encountered the teen walking on the side of the road in the rain in December, and immediately felt she needed to give him a ride the rest of his way to work.
After talking with Jayden, Lavonda learned that he was walking 7 miles each way to work, because he couldn't afford Uber rides, and he was one day hoping to buy a car for himself so he could drive to work.
"Once I dropped him off to work his heart and determination filled my eyes with tears. He said 'Ma'am, I walk because I have to,'" Myers told Fox News. "He was smiling in good spirit and that's a child worth blessing."
Lavonda started a GoFundMe page, and two days later she'd raised $6,365 for the cause.
As a surprise, she purchased Jayden a car at a dealership with a $7,000 check. She added $635 of her own money after the general manager lowered the price from $7,800.
A local Fox station caught the whole surprise on video.
Jayden said he would get out of school around 3:30, and go straight to work, for a 6-7 hour shift at a restaurant, and would then walk home after.
"I knew that if I had to walk to work every day to get a car, that is what I was going to do," he said.
"If you're doing something good or trying to reach a goal keep doing it," he told Fox5 Atlanta. "You might get some help. That's what happened to me."
---
Listen to our conversation with Lavonda below.
---
Enter your number to get our free mobile app