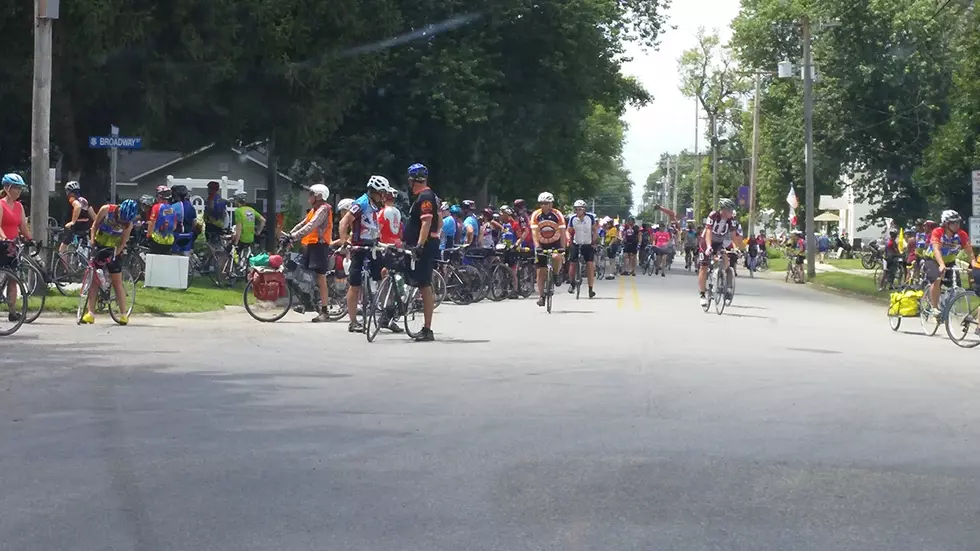 RAGBRAI 2020 Is Postponed; Waterloo Will Serve As 2021 Host
Photo By: Elwin Huffman - Townsquare Media
For the first time since the event began in 1973, RAGBRAI will not be held this summer.
Organizers of the Register's Annual Great Bicycle Ride Across Iowa announced in a press release Monday that the 2020 event is being proposed until next year.
"As we've watched the impact COVID-19 is having on the world, we've continued to plan and adjust our timelines, hold key conversations with our trusted partners, and determine the best course of action for all parties involved," the press release read. "After deep consideration and collaboration with the eight overnight town executive committees, government agencies, the public health department, and official business partners of RAGBRAI, we've made the difficult decision to postpone RAGBRAI XLVIII to 2021.
The 48th annual event was scheduled for July 19-25, with Waterloo hosting an overnight stop on July 22.
"There were a multitude of factors that went into this decision," said Tavis Hall, Executive Director of Experience Waterloo. "Ultimately, the success of each stop is predicated on the success of the stop before, and we need each Iowa community to be able to execute a safe plan to move riders to and through their communities, while providing a glimpse into their community's unique dynamic. It became apparent that there simply wasn't enough resources, given the scope of COVID-19, to adequately plan and execute all of the moving parts of this ride."
Hall continued: "It is important to note that this decision was not made lightly. We want to stress that the decision was made at this time because of the nature of RAGBRAI being a statewide effort. While (the) postponement was RAGBRAI's decision, it should not preclude the other events from weighing the interest of their event and the general public's health and well-being as they decide their own path forward. We look forward to once again celebrating our community with family and friends when safety concerns have been met."
The RAGBRAI XLVIII route will remain the same for 2021, with next year's event scheduled for July 25-Aug. 1. Waterloo will host riders overnight on July 28.
Towns along the route have already put a substantial amount of work and resource into planning and will have the opportunity to showcase their communities in 2021, organizers said. The full route with meeting and pass-through towns will be announced later.
According to Hall, over 100 Waterloo volunteers serving on 19 committees to help with entertainment, route set-up, tear-down, camping, cyclist hosts, and others will continue working on the overnight stop for next year.
"We are proud of the people that have already put numerous hours of work into the RAGBRAI overnight stop," he said. "Luckily, all their hard work will be put to use next year."
According to organizers, all registered riders for 2020 will either have their registration transferred to the 2021 event or they can request a full refund. RAGBRAI riders can also donate their 2020 registration to the Iowa Bicycle Coalition, a non-profit that works to improve bicycling in the state.
Enter your number to get our free mobile app