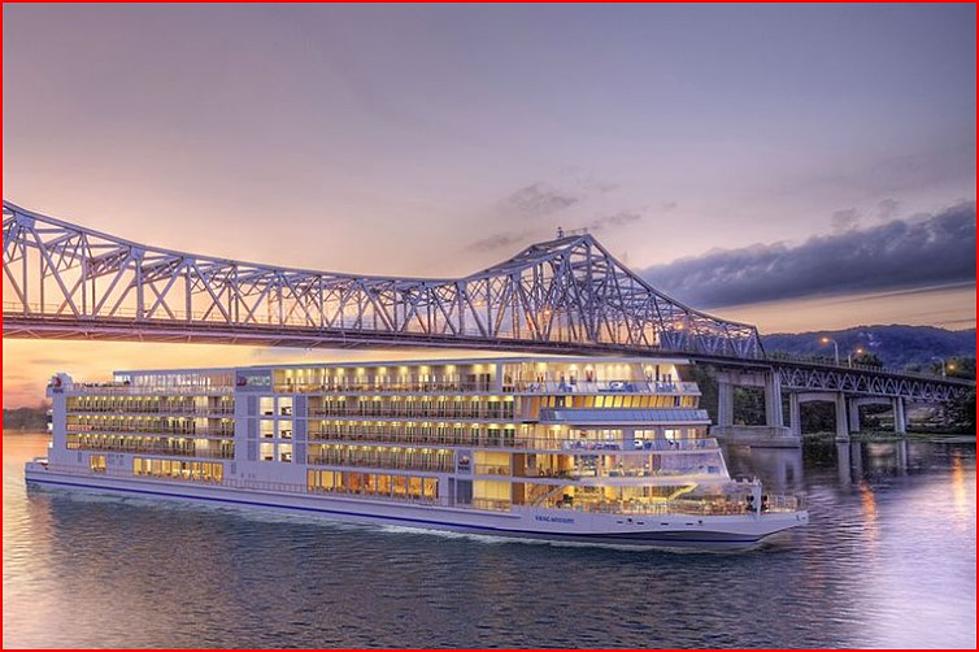 Iowans Can Set Sail on New Mississippi River Cruise Ship [PHOTOS]
Viking Cruises
They aren't the first ones to do it, but a company called Viking River Cruises of Basel just took a step toward reality. A new ship that touched water for the first time was floated out of a Louisiana Shipyard.
This is a plan for the 386-passenger ship coming to fruition for Viking 7 years after it was first announced, and they will join American Queen Voyages of Fort Lauderdale, Florida, and American Cruise Lines, based in Guilford, Connecticut in transporting luxury cruise-goers across the 2,350-mile Mississippi River.
What sets the Viking apart?
American Queen features three paddlewheel cruise boats operating on the Mississippi, carrying anywhere from 166-417 passengers. A spokesperson said it will accommodate a total of 20,000 passengers this year.
American Cruise Lines has two paddle wheelers and three modern riverboats on the river and plans to launch a fourth modern riverboat in late 2022. With their boats planning to carry 30,000 passengers this year, the race is on, as a spokesperson for them took a bit of a dig at their new competitor, the Viking Mississippi.
Viking's boat will also be lovely, but American Cruise Lines' new modern series riverboats are equally if not more beautiful,
With those two other competitors in its sights, Viking River Mississippi is already touting itself as "the largest and most modern ship in the region", according to the Cedar Rapids Gazette.
On its maiden voyage this year it will stop at such exotic locations as:
Baton Rouge, Darrow, New Orleans, and St. Francisville, Louisiana
Natchez and Vicksburg, Mississippi
Memphis, Tennessee
Hannibal and St. Louis, Missouri
Burlington, Dubuque, and Davenport, Iowa
LaCrosse, Wisconsin, and finally:
Red Wing and St. Paul, Minnesota
But seriously, who needs Aruba, Jamaica, and the rest when you can simply sail in luxury across the mighty Mississippi? This year, it will accommodate 7,500 passengers. Its first full sailing season will be in 2023 when it expects 17,600.
Purpose-built for the Mississippi, the ship's cutting-edge design, expansive windows, and comfortable amenities will make it the first truly modern cruise ship in the region.
Yes, it is pricey, but the good news is you can break it up into smaller itineraries for a lower cost. See more about what this experience will be like for you as a passenger by visiting Viking Cruises' website here.
You Can Own an Entire Midwestern ISLAND, Including an Amazing Mansion
Have you ever dreamed of owning an island? The mansion on the island alone is enough to get anyone excited.
See How Bridges Along the Mississippi River Show Support for Ukraine
As the Russian invasion of Ukraine continues, many in the U.S. are standing in support and solidarity with the Ukrainian people. Bridges along the Mississippi River are lit in the Ukraine flag colors.