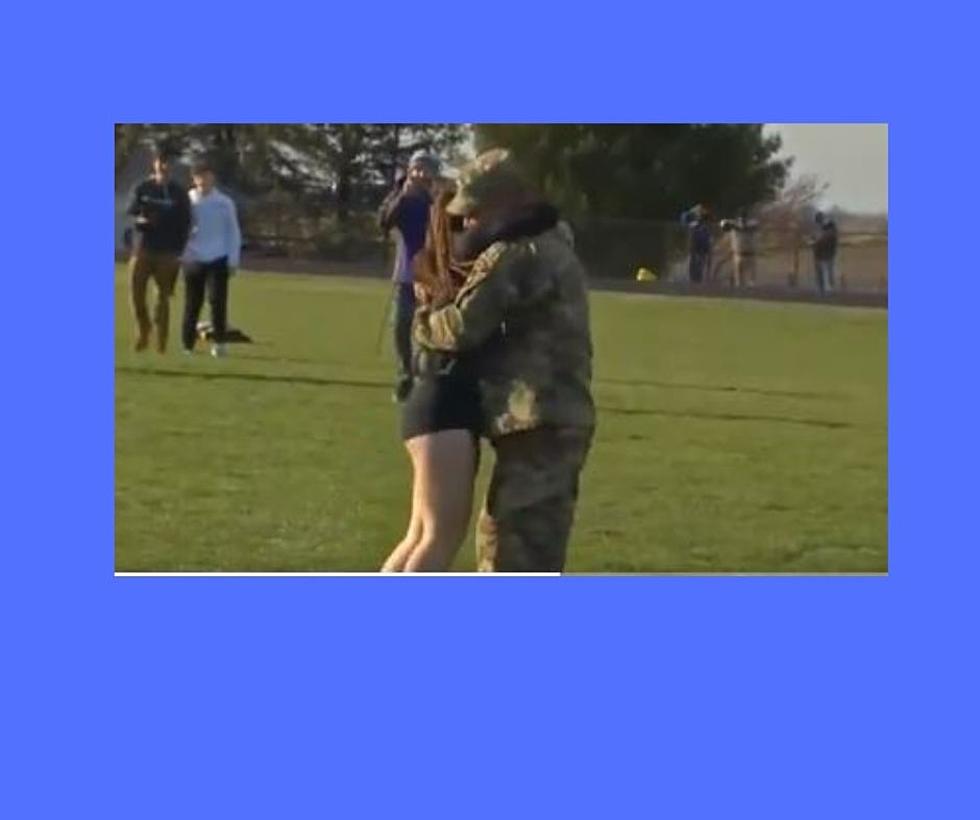 Iowa Teen Reunites With Her Army Dad at Track Meet [Video]
Credit - Mike O'Brien via Twitter
Nowadays, you see videos of touching family reunions, where the military parent comes home and secretly surprises their son or daughter, and guess what? They never get old.
On Tuesday, Midland High School (Wyoming, IA) freshman, Gracie Harrington was running in her first high school track meet at the North Cedar meet in Stanwood. Little did she know that her father, Robert, had returned home from overseas in the Army and was hiding in a shed behind the track.
As reported by KCRG-TV9's Mike O'Brien, after Gracie finished her race, the PA announcer directed everyone's attention to across the field and there stood her father. Appropriately enough, (at a track meet) the two ran towards each other and embraced in the middle of the football field. Followed by a lot of crying, cheering and smiles.
The father and daughter have talked via video chats, but hadn't seen each other in person for over a year.
In this day and age of social media, everyone talks about "timeline cleansers". The unbridled emotion of the teen seeing her father paired with the sense of relief that their loved one is home safe, is the kind of content I'm here for.
Source: KCRG-TV9
LOOK: Here are the best small towns to live in across America
SIGN UP TODAY: Summer Iowa Games - Register for One of These Fun Events - Photos
Registration is now open for many of the over 50 sports offered during the Summer Iowa Games. Most of the competitions will be held from July 10 - August 1. The majority of the sporting events and competitions will take place in the Ames community, Iowa State University campus and in the Des Moines area. Check out the full list of events
here
. Most events will have an early, middle and final deadline. Check your favorite sport for details and deadline dates. If you get signed-up early, you'll save on registration fees.