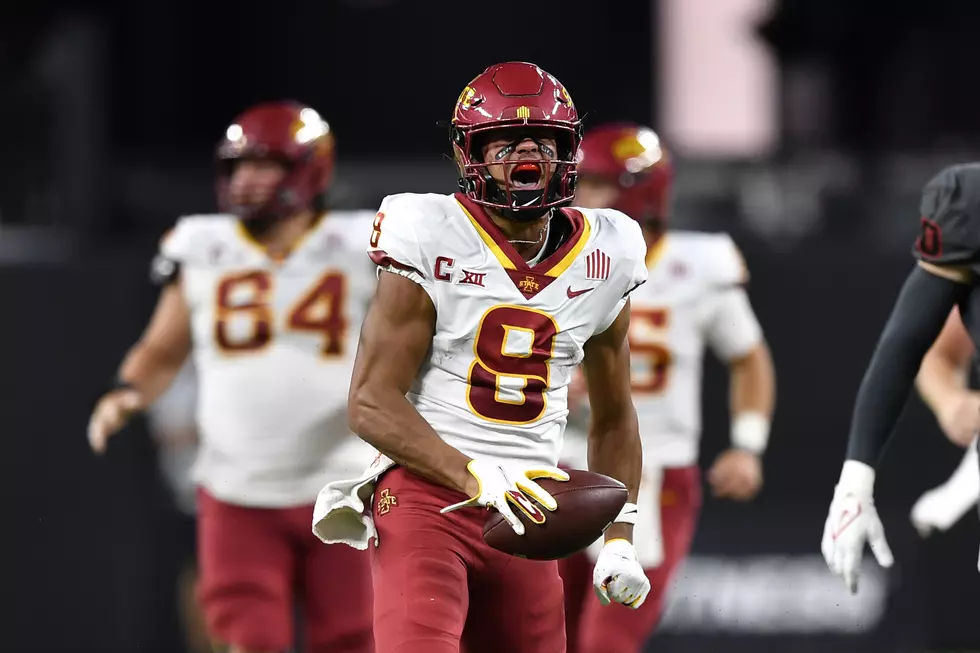 ISU Wideout the Lone Player from Iowa on Maxwell Award Watch List
Getty Images
Of all the players on Iowa's and Iowa State's football rosters going into the 2022 season, this Cyclone wide receiver may be the one I'm most excited to watch.
That's probably why Xavier Hutchinson earned a spot on the 2022 Maxwell Award Watch List.
Though 2021 was largely considered to be a pretty disappointing year for Iowa State, Hutchinson put up gaudy numbers, and he looks like he may be the best receiver in all of college football this coming season.
Last year, he set a school single-season record by grabbing 83 catches and finished with 987 yards and five touchdowns. He earned his second-straight spot on the Big 12 First Team.
Behind his stats from last season, he now has career totals of 147 receptions (T-14th nationally), 1,758 yards (18th nationally), and nine TDs. He leads all active Big 12 wideouts in career receptions and receiving yards.
Iowa State beat writer for 247Sports Nick Osen and I talked about Hutchinson's potential and our expectations for him this season on this weekend's edition of Cornstalks and Sports Talk. You can listen on Apple Podcasts, Spotify, or wherever you get your podcasts.
The award is annually given to the most outstanding player in college football -- synonymous with the Heisman Trophy, but with less glamor attached to its name.
Hutchinson is placed on the list along with other notable names like QB Bryce Young (last year's Heisman Trophy winner) and DE Will Anderson from Alabama, QB C.J. Stroud from Ohio State, QB Spencer Rattler from South Carolina, and QB Caleb Williams from USC.
The only players from either Iowa or Iowa State to win the award were Iowa's Nile Kinnick in 1939 and Chuck Long in 1985.
The following players in the Big 12 Conference are also on the award's watch list:
Deuce Vaughn, RB Kansas State
Dillon Gabriel, QB Oklahoma
Spencer Sanders, QB Oklahoma State
Quentin Johnson, WR TCU
Bijan Robinson, RB Texas
Xavier Worthy, WR Texas
JT Daniels, QB West Virginia
No players from the University of Iowa were placed on the list going into this season. In addition to Ohio State's C.J. Stroud, the following players from the Big 10 find a spot on the preseason list:
Chase Brown, RB Illinois
Taulia Tagovailoa, QB Maryland
Blake Corum, RB Michigan
Payton Thorne, QB Michigan State
Jayden Reed, WR Michigan State
Mohamed Ibrahim, RB Minnesota
Evan Hull, RB Northwestern
Jaxon Smith-Njigba, Ohio State
TreVeyon Henderson, RB Ohio State
Sean Clifford, QB Penn State
Aidan O'Connell, QB Purdue
Braelon Allen, RB Wisconsin
18 Players from Iowa, ISU, and UNI Considered Among Best in CFB
The East-West Shrine Bowl just released its list of 1,000 best football players from across the country that are NFL Draft and all-star game eligible. Here are the 18 players on the list from Iowa's three state schools.
Iowa, Iowa State, and UNI Football Players Headed to the NFL
Young men from all three state schools are getting their opportunities to play at the next level, whether they were drafted or picked up as free agents. Here's where they landed!