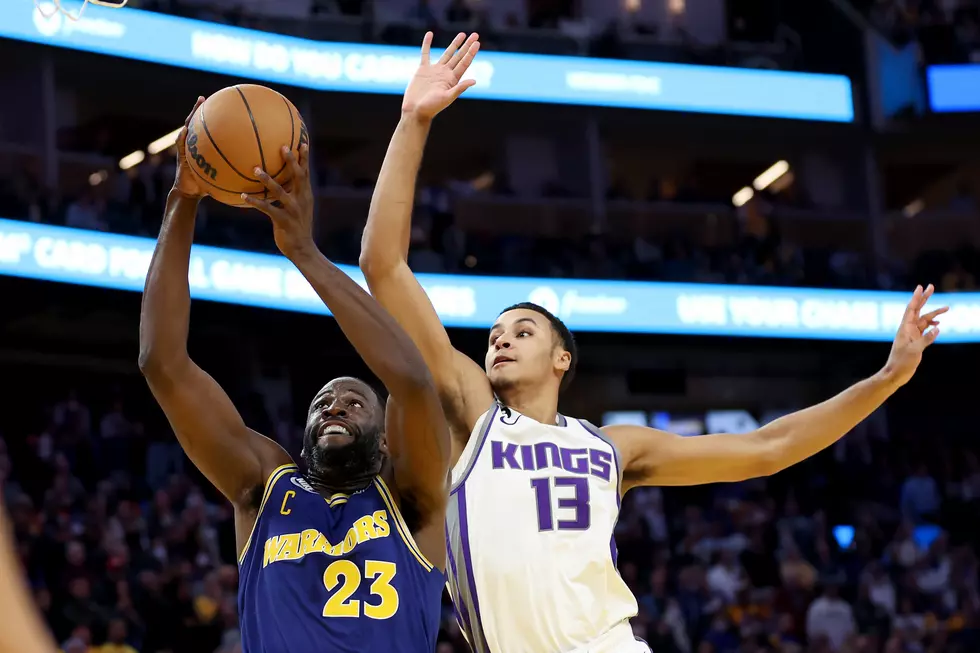 Four-Time NBA Champion Has High Praise for Keegan Murray [VIDEO]
Getty Images
The 2022 NBA season is still young, but former Iowa Hawkeye Keegan Murray is getting some attention from his opponents already.
Last night, he and the team that drafted him -- the Sacramento Kings -- took on the dynastic Golden State Warriors. In that game, Murray finished third on the Kings in scoring with 21, grabbed four rebounds, and stole the ball three times, all while shooting 8-15 from the floor and five of nine from three. The Kings won 122-115.
He played well enough to garner some praise from four-time all-star, 2016 Defensive Player of the Year, and four-time NBA Champion, Draymond Green.
This is what Green had to say after the game to Cameron Salerno of the Sacramento Bee:
He can play. He can shoot the ball, he can post, he can put the ball on the floor, he can get to the paint and finish. He understands the game. He looks like he's been out there for six, seven years already. ... He's been continuing to grow this year, and he's not gun-shy at all. He's a really, really, really good basketball player.
Here's the whole clip of Green's answer:
It's not just opponents that have heaped on the praise of Murray, either. His teammate and veteran point guard De'Aaron Fox is a fan of the Cedar Rapids native's game, too.
He said this to Green on Draymond's podcast in late October:
It's crazy how good he is, but he also has that Tim Duncan demeanor. ... He's the most efficient guy I've ever been around. You look over and he's just shooting -- he's not missing.
Here's that clip:
Over 11 games this season, Murray is averaging 12.7 points, 3.7 rebounds, and 1.1 steals over 32 minutes per game. He's also shooting 38.6 percent from three and 45.7 percent from the field.
Salerno and I discussed Murray's game on an episode of Cornstalks and Sports Talk this summer:
Some Iowans Will Appear in One of 2022's Most Popular Video Games
A few kids that grew up right here in Iowa will represent their home state in this year's edition of NBA 2K23. They'll be joined by a few guys representing the Hawkeyes and the Cyclones.
The Lions and Dogs of Brucemore Mansion
Howard Hall and his wife Margaret moved into Cedar Rapids' Brucemore mansion in 1937. Over the course of 14 years, they owned three lions, all named Leo. Below are photos of those lions, and the family's German Shepherds.