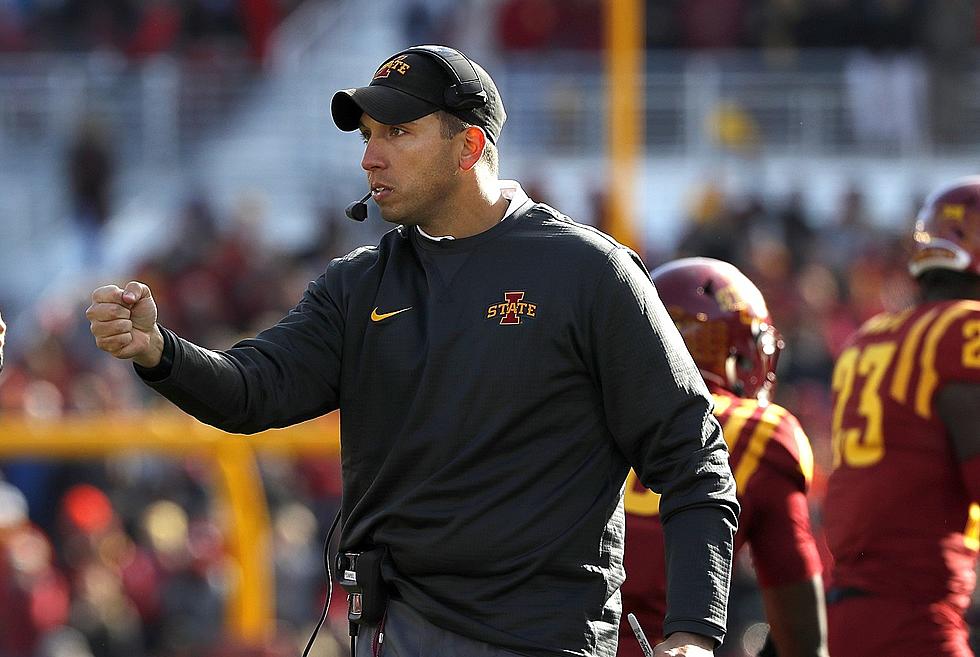 Iowa State Signs Coach Matt Campbell To Extension
David Purdy, Getty Images
When a coach get hots, his name comes up for seemingly every job opening. The name Matt Campbell remains hot. He has transformed the Iowa State football program into a Big 12 title contender, and the school recognized they needed to make sure their hot commodity was under contract for as long as possible. Mission accomplished.
The Cedar Rapids Gazette reports that ISU and Matt Campbell have agreed to a three year contract extension that will keep Campbell in Ames at least through the 2028 season. Previously, Campbell has preferred to go the one year route on the extensions, so this three year deal is a good sign for Iowa State fans. The details of the contract were not released.
The Gazette says that all Iowa State athletics staff were supposed to take a 10 percent pay reduction this year to help offset the expected shortfall that the ongoing pandemic has brought with it. ISU athletic director Jamie Pollard stated that Campbell took an even bigger pay cut so that his staff and support staff wouldn't have to take the 10 percent cut.
How big of a break through did Iowa State have under Campbell in 2020? They won their first Big 12 regular season title in more than a century. They won the Fiesta Bowl, the schools first ever New Year's big six bowl game. Plus, due to the COVID-19 pandemic, college football players get an extra year of eligibility so Iowa State will return 19 of 22 starters for the 2021 season. How high can the Cyclones fly?
Seems like this Campbell guy is worth keeping around!
Enter your number to get our free mobile app
KEEP READING: 10 Iowa Towns Out-Of-Towners Can't Pronounce