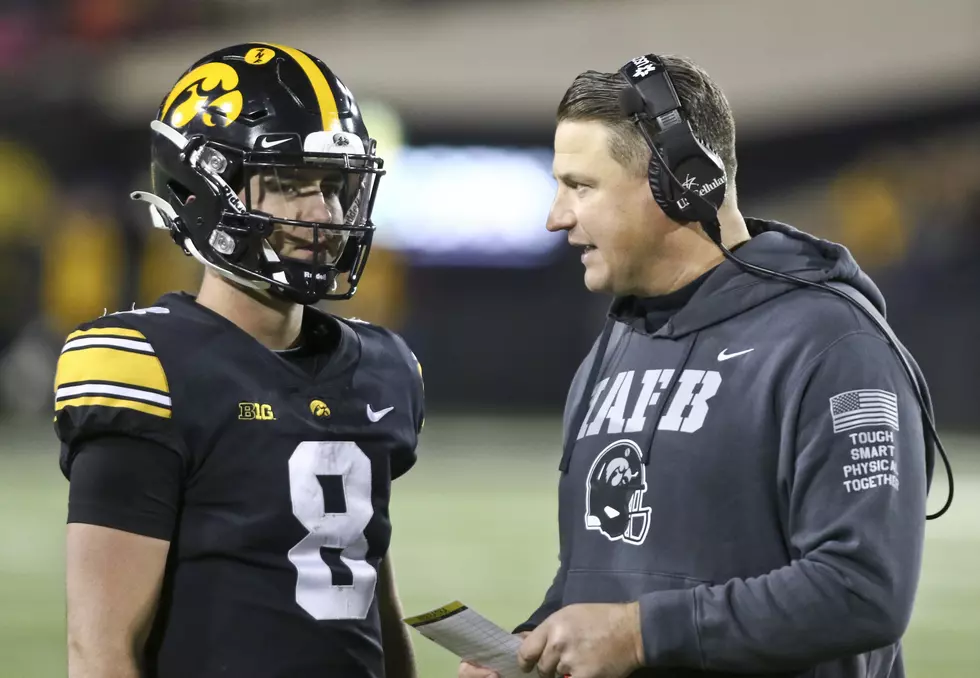 Iowa Quarterback Enters the Transfer Portal
Getty Images
Back-up and at-one-time starting quarterback for Iowa, Alex Padilla has entered the transfer portal as a graduate transfer.
The junior from Greenwood Village, Colorado made the decision on Tuesday after the Hawkeyes fell to the Nebraska Cornhuskers, 24-17 on Friday, November 25. The loss came to Iowa's rival to the east with the Big Ten West title and an appearance in the Big Ten Championship game on the line.
In the contest, Padilla completed 16 of 33 passes for 141 yards, a touchdown, and an interception.
After the loss, he had this to say to the media regarding his future:
I haven't had the chance to really think about any of that right now. I'm just reflecting on this loss, and I'll continue to try to progress as a player myself and look towards the next couple of weeks as kind of building a steppingstone for myself. I have time to reflect in the next couple weeks, but we'll see what happens.
Over his three years of playing time in Iowa City, Padilla has played in 13 games, including three starts in the absence of starter Spencer Petras. He completed 77 of 157 passing attempts for 821 yards, three touchdowns, and four interceptions. He was undefeated as a starter.
Out of high school, he was considered a three-star recruit by 247Sports and received scholarship offers from Georgia, Central Michigan, Nevada, and others in addition to Iowa.
Rumors of Padilla transferring began to circulate last offseason after his play when he took over for Petras. He ultimately decided to return and compete for the starting job.
Those same rumors began to circulate once again after offensive coordinator Brian Ferentz was asked "What's the downside of starting Padilla?" to which Ferentz responded, "What's the upside?"
Most Memorable Moments of the 2022 Iowa Football Season
Iowa finished the regular season 7-5. It will be remembered as a year the defense carried a team whose offense struggled mightily throughout the season.
18 Players from Iowa, ISU, and UNI Considered Among Best in CFB
The East-West Shrine Bowl just released its list of 1,000 best football players from across the country that are NFL Draft and all-star game eligible. Here are the 18 players on the list from Iowa's three state schools.