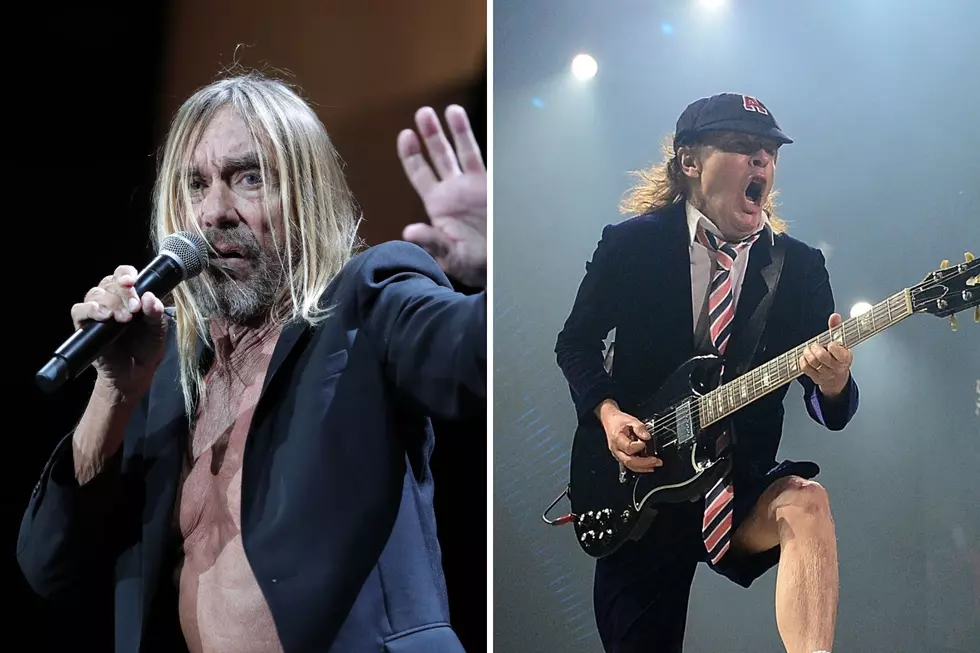 Iggy Pop Says He Was Asked About Joining AC/DC – 'They Were Looking For a Singer'
Neilson Barnard / Jeffrey A. Camarati, Getty Images
Iggy and AC/DC? The punk rock icon Iggy Pop recently recalled when he was asked if he'd be interested in joining AC/DC. It apparently happened at some point after the 1980 death of the classic Australian rockers' influential lead singer Bon Scott.
That's how Iggy, the legendary vocalist of The Stooges, remembered things in a new interview.
Iggy Pop's latest solo album, Every Loser, arrives this week. To The New York Times, the singer remembered palling around with Scott before the AC/DC singer's death.
"I had some very wonderful encounter with Bon somewhere, and we were both drunk and stoned," Iggy says in the interview that emerged on Sunday (Jan. 1).
"I see pictures sometimes. I go, I don't remember, but that's me with Bon!" he continues. "I loved what he did. They had a manager many years ago when I hadn't re-formed the Stooges, I hadn't moved to England, and this guy said, 'Are you interested in joining AC/DC?' They were looking for a singer."
However, the punk godfather suggested he didn't seriously consider the offer. "I listened to their record," Iggy explains. "I thought, I can't fill that bill. I wasn't like, ugh, I don't like them. It was quite well made. They do careful work. But I'm not what they needed."
Last month, the 75-year-old punk rocker promised he'd never stage dive again. Last year, Derek Scott, the brother of Bon Scott, publicly opened up about his late sibling for the first time in a TV documentary.
Iggy's Every Loser is being released by superstar producer Andrew Watt's Gold Tooth Records. The first single, "Frenzy," features musical backing from Guns N' Roses' Duff McKagan and Red Hot Chili Peppers' Chad Smith. Ozzy Osbourne fans will recognize the team of as having worked together on the former Black Sabbath vocalist's Patient Number 9 (2022) and Ordinary Man (2020). Watt came to prominence producing material for pop artists such as Post Malone and Lana Del Rey.
Below, listen to "Strung Out Johnny," the newest single from Every Loser, out Jan. 6. Pre-order it here.
Iggy Pop, "Strung Out Johnny"
Most Anticipated Rock + Metal Albums of 2023
2023 is looking good for rock and metal albums already.