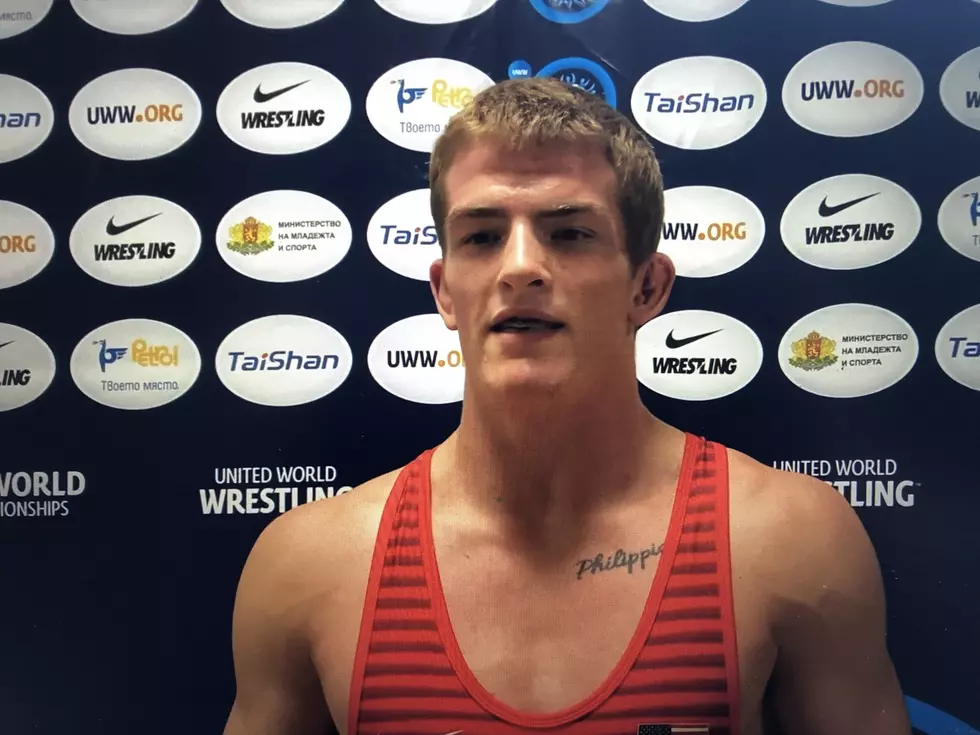 Hawkeye Football and Wrestling Recruit Wins World Championship
USA Wrestling YouTube Channel
Ben Kueter is a young man of many talents.
The Iowa City prep is a three-time state champion wrestler committed to wrestle and play football for his hometown Iowa Hawkeyes.
And now, he's a 2022 U20 FreestyleWorld Champion at 97 kilograms (about 214 pounds), and he did it in dominant fashion.
As shared by Cody Goodwin -- who covers wrestling for the Des Moines Register -- on Twitter, Kueter pinned his opponent from Turkey in one minute and 40 seconds.
Here's what he said about the pin following the match:
I tried to use my folkstyle background. (Other countries) don't wrestle folkstyle, and we do. They're not used to bar-arms, and I am. I put the bar-arm in, and I just tried to roll through and he couldn't defend it.
As to how he felt after the victory in Sofia, Bulgaria, this is what he said:
This is something you dream of since you're a little kid, man -- when you start the sport that's what you're thinking of -- world champ. I'm a world champ. It's unreal to say that. ... If you told me a year ago that I'd be a world champ, I would have been like 'You're freaking crazy, man.' ... I've put so much work into this.
This is all after he came back from an 8-0 deficit yesterday to win 17-14 over his semifinal opponent, Georgia's Luka Khutchua, a U20 European bronze medalist.
Keuter has one year of prep football and wrestling left for the Little Hawks before he makes the jump to the Division I level. Last season on the gridiron, he led his team in tackles with 101. He also registered 11.5 sacks and 41 tackles for a loss. Offensively, Kueter caught 24 passes for 369 yards and nine touchdowns in 2021.
He and his high school football teammates will open their season on August 26 at Kinnick Stadium versus Iowa City Liberty.
Iowa: 2021 NCAA Wrestling National Champions
The Iowa Hawkeyes won the 2021 NCAA Wrestling Championship, their first since 2010 with a total of 129 points. Penn State finished second with 113.5. Iowa's only national champion was 125-pounder Spencer Lee. It was Lee's 3rd national title.
18 Players from Iowa, ISU, and UNI Considered Among Best in CFB
The East-West Shrine Bowl just released its list of 1,000 best football players from across the country that are NFL Draft and all-star game eligible. Here are the 18 players on the list from Iowa's three state schools.